British Lion eggs has launched a series of six super quick one-pot egg recipe videos to appeal to social media egg lovers.
The videos have been produced to inspire consumers with quick, tasty and convenient ways to get their egg fix throughout the day. The recipes, which were created by celebrity chef Simon Rimmer, promote the ease, versatility, speed and nutritional benefits of cooking with eggs.
The recipes are inspired by some of the most popular current food trends and include a Scandinavian inspired breakfast, 'The Full Scandi', and a healthy Mexican style 'No Bread Burrito'.
The 30-second videos have been created in a style that is shareable, using fresh and tasty ingredients to make the viewer hungry to try the dishes out for themselves and share with their friends. The videos will be promoted on social media sites Instagram and YouTube as well as on numerous top food blogs.
With the Egg Recipes YouTube channel recently recording one million views, the videos are expected to be well received by online egg fans. British Egg Industry Council Chairman Andrew Joret said: "With more than one million views recorded on our YouTube channel,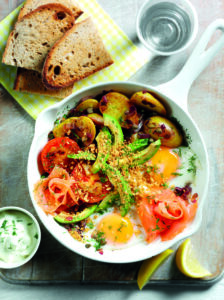 we're expecting the new one-pot videos to be a social media smash. Egg sales are soaring and consumers are desperate for inspiration – it's the perfect recipe."
The full set of one-pot egg recipe videos