Following the election,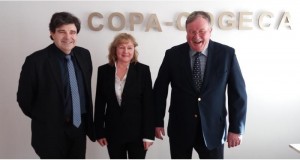 Bourns stepped up pressure to call for support for poultry producers who have been suffering from the impact of bird flu on their flocks, saying a quick solution to the problem must be found.
"Our poultry producers who have invested heavily in their free range units have been hit badly by the impact of bird flu on their flocks," he said. "A priority for me during my two year mandate will be to resolve this problem both now and for future outbreaks. Flexibility must be introduced into current EU rules to allow for such epidemics. Poultry and egg prices are below the five year average and 2017 is likely to be a difficult year due to bird flu and a cut in exports to our Japanese market if action is not taken". 
He pointed out that the H5N8 strain of bird flu, caused by the migration of wild birds, has resulted in over 80% of free range laying hens across Europe to be kept indoors to avoid infection. This strategy has been successful but current rules state that eggs from laying flocks kept indoors beyond a 12-week threshold should be downgraded from free range to barn, causing very few free range eggs to be available to consumers in the EU in the months ahead. 
Farming organisations have urged the European Commission to issue a derogation to allow free range flocks, that remain housed after 12 weeks because of the present bird flu problem, to be able to maintain their free range status for a slightly longer period as farmers who have invested heavily in free range facilities will otherwise suffer enormously.
But so far the Commission has rejected our calls and we are keen to continue working with them to find a solution. We urge the Commission to act quickly to the benefit of both consumers and farmers.
Bourns will be supported by two vice-chairman – Jean-Michel Schaeffer from France and Anna Zubkow from Poland.