The first batch of fresh eggs from the United States will arrive in South Korea on Saturday to ease the country's egg shortage caused by its worst-ever bird flu epidemic.
South Korea's two major airliners — Korean Air and Asiana Airlines, will each carry 100 tonnes of eggs, Reuters has reported. Spokesman from both airlines confirmed the shipments.
These are the first fresh egg imports from the US to South Korea and the first fresh eggs imports since 1999.
The shipment follows the announcement last week of measures to bring eggs to South Korea from overseas to alleviate a nationwide egg shortfall.
An additional 200 tonnes of eggs will be transported by two Korean Air aircraft sometime next week, according to the report.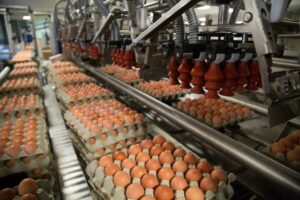 Since the first bird flu outbreak was confirmed in November last year, South Korea, Asia's fourth-largest economy, culled a record of over 31 million farm birds, mainly egg-laying hens, that caused a sharp increase in egg prices.