Four chickens have been rescued by the RSPCA that were running loose around an Essex cul-de-sac.
The three cockerels and one hen were found in Rundells estate, Harlow, and it is believed they had been abandoned.
Neighbours said they first noticed the birds on Boxing Day but did not at first realise they had been left without anyone to care for them. They called the RSPCA and Animal Collection Officers (ACOs) Lucy Fackerell and Joe White collected them on 11 January.
"They were scurrying around the maze of residential streets and it took two of us – plus some neighbours – to play tag team trying to round them up using boards and nets," said Fackerell.
"They had been causing quite a bit of chaos around this residential area – not somewhere they could have survived on their own for very long.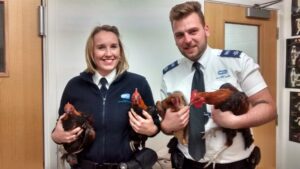 "We can't be sure what happened but it seems likely they were abandoned. This happens more often than you would hope with cockerels because people don't always realise that they can be noisy and require a lot of time and proper resource to care for them properly."
Anyone with any information about how the chickens came to be left in this way should call the RSPCA on 0300 123 8018. If no information about a responsible owner can be found, the birds will soon be available for rehoming.