Tackling antimicrobial resistance is a priority for the World Organisation for Animal Health (OIE), its annual meeting has heard.
Speaking in Paris, director general Monique Éloit, who took up the post a year ago, laid out the organisation's ambitions for the year ahead.
Éloit said the strategy to fight antimicrobial resistance was progressing well, and commitments made by the OIE's 180 Member Countries will help to preserve the efficacy of antimicrobials. "A significant highlight of 2016 was the occasion last September when, for the first time, three organisations spoke as one at the United Nations General Assembly to gain the commitment of countries to deploy the Global Action Plan on antimicrobial resistance in their own territories." 
Éloit emphasised the three strategic priorities which will continue to guide the Organisation's work:
·         To improve animal health and welfare by appropriate management of the risks encountered at the human-animal-environment interface;
·         To reinforce trust through transparency and good communication about the animal health situation and OIE standards on the sanitary safety of international trade;
·         To support and strengthen the capacity and sustainability of national veterinary services.
On avian influenza, the OIE said it was modernising and diversifying its channels of communication, including a renovated website, and more social media presence.
In other areas, the OIE continued to support Member Countries in the implementation of its global strategies, for example, by providing millions of doses of vaccines through its Vaccine Banks.
Éloit said the objectives of the OIE can only be met by an effective and high-performance veterinary profession. "For this reason, safeguarding the training of veterinarians remains a priority for the OIE, which, last June, organised a global conference on veterinary education, with the aim of encouraging harmonisation on a global scale. This conference also allowed highlighting of the vital role of veterinary para-professionals. The OIE is committed to developing appropriate guidelines for their training."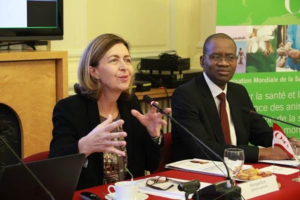 The next major meeting, the OIE General Session, will bring together the delegates of 180 member countries, and will be held from 21 to 26 May 2017 in Paris.