Two Dutch MEPs have warned egg producers that bird flu restrictions may impact on the free-range status of their birds.
In a written question submitted to the European Commission, Bas Belder MEP and Jan Huitema MEP, point out that current restrictions that require poultry to be kept indoors may put farmers in breach of free-range standards.
"Trading standards stipulate that if access to the free-range area is restricted for more than 12 weeks on veterinary grounds, free-range status lapses (Regulation 589/2008, Annex II)," the written question states.
"The current bird flu is highly infectious, more so than past strains, and may persist for longer than 12 weeks.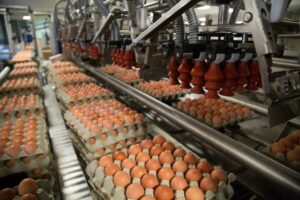 "In the event of loss of status, consumers will be denied the freedom of choice to continue to opt specifically for eggs from hens which, for the greater part of year, as soon as it is safe to their health, have access to free-range facilities, for which animal welfare investments have been made that entail financial commitments throughout the year. Have today's consumers of free-range eggs been asked whether they wish to surrender or retain the above freedom of choice if laying hens are compelled to stay indoors for longer than 12 weeks on account of a risk of infection? If so, in what survey?
"Will the Commission amend the trading standards dating from 2008 so that, where veterinary restrictions apply because of bird flu, free-range status is not lost after 12 weeks, and when could such an amendment be implemented? It should be borne in mind in this context that loss of status not only has consequences for producers of free-range eggs but would also distort the market for barn eggs and undermine investment in free-range facilities."