A new bale processor aimed at the poultry and pig sectors has been developed by Teagle Machinery, focussed on minimising livestock disturbance and risk of bio-contamination.
The 500B enables bedding material to be processed outside the building, reducing entry points for both vehicles and people. Distribution of the material, which has a moisture content of 20%, can be achieved through a fixed manifold system or 127mm flexible pipe using a quick-fit connection to the mill. The machine is remotely controlled by the operator using Bluetooth technology from a maximum distance of 80 metres.
Jacques Lapegue and his sister Catherine are duck breeders, based near Saint-Etienne, France. They breed six flocks of 6,000 ducks per year. They invested in a Teagle 500B bale processor in order to mechanise the mulching and bedding of their various buildings.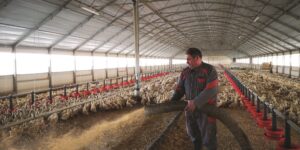 "We were looking for a machine capable of chopping consistently short straw, because we we wanted to simplify the process and save time during mulching operations, because we were buying in long straw and it is very restrictive and time-consuming," says Mr Lapegue.
Until the ducks are 30 days old, their housing must be mulched every day. After 30 days, ducks start to emerge from the buildings and litter maintenance is simpler with one mulch per week and up to three mulches per week during bad weather. This operation used to take more than 45 minutes per building and was done with a fork.
The new machine has reduced the mulching time to 15 minutes, including preparing the building. In addition to the considerable time savings, Catherine and Jacques say there has been marked improvement in the quality of the litter and the atmosphere in the building, which appears to be drier. 
They also found better development of the ducklings with less disparity in live weight. From an early age, ducks can move easily on the calibrated straw bed and have no trouble drinking and feeding themselves, which is not necessarily the case when starting in litter from long straw.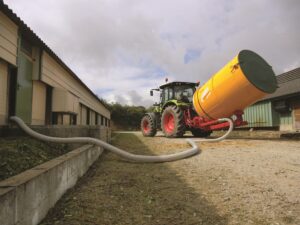 "We are really satisfied with our investment. I would add that our machine is equipped with a misting device which is a real plus on this material which considerably reduces dust during mulching. There is also the ability to add disinfectants in the tank, we use natural based products in order to best secure our sanitisation," says Mr Lapegue.
Bridging the bio-security gap
Teagle Machinery has established itself as specialists in the bale processor market with a comprehensive range of products under the Tomahawk brand.
The Tomahawk 500B is available with a wide choice of options:
Flexible hose kit – 127mm diam. x 20m
High specification mechanical diverter valves to enable assembly of bespoke fixed manifold systems
Choice of screens from 10mm – 120mm
Dust suppression kit
Trailed chassis
The target market is principally poultry and pig producers, who use consistently short-chopped straw as the main bedding material.