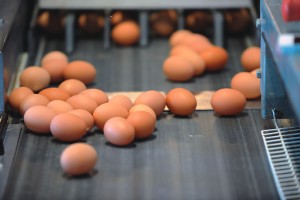 A new egg-grading machine has been launched by Sanovo.
The GraderPro is the result of six decades of accumulated knowledge and comprises many  innovations, said strategic product manager, Lar Kops.
"It offers producers and packers the highest capacity in the industry, by handling up to 800 cases per hour," said Kops.
One of the innovations developed for the GraderPro is a system that ensures the eggs are handled gently. "Most damaged eggs are cracked due to side impact on the eggs," said Kops. "Side impact appears when you transfer eggs through a machine in one direction, and while the egg is in movement, changes the direction.
"To avoid this side impact, the company has developed a system that only transfers the eggs in one direction at a time. Eggs are delivered one way – downwards. And the downward delivery eliminates side impact and ensures gentle egg handling," said Kops.
As well as technology to avoid side impact, the company has also rethought and renewed the transportation in the main frame of the grader, resulting in a track speed that it claims is reduced by up to 25% compared to other manufacturers' machines.
The GraderPro also offers traceability through the entire machine, which means that every single egg can be individually controlled and traced back if necessary.
And the company says that the machine is also easy to clean. "We made a hygienic design by making sure that all parts of the machine can be cleaned leaving no blind spots. There's no need for disassembling the machine for cleaning," said Kops.