Outstanding individuals, business excellence, and investment in the future were all celebrated at the National Egg & Poultry Awards 2023, held last night in London with hundreds of guests from every part of the industry.
Business leaders from all the major egg and poultry firms, representatives from industry bodies, and egg and poultry producers met in London for the awards ceremony, drinks reception and gala dinner to celebrate the achievements from across the spectrum of the sector.
Comedian Patrick Monaghan hosted the ceremony, where a total of 15 awards were handed out, covering all aspects of the industry from poultry processing, through to innovation in schemes that support egg producers, and three awards specifically rewarding young people making a difference.
Derek Kelly was awarded the lifetime achievement award, in recognition of his huge contribution to the turkey sector over more than 60 years in the industry. In an emotional speech his son Paul Kelly paid tribute to Derek, who founded Kelly Turkeys, having started his career working with Bernard Matthews, and is continuing to innovate and work at 93 years old.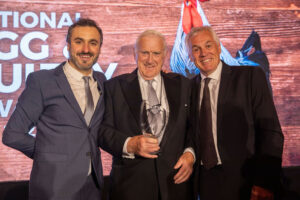 The National Egg & Poultry Awards was launched in 2018 as an annual event by Poultry Business magazine and Lewis Business Media to recognise excellence and innovation in the egg and poultry sectors.
Everything from record productivity on layer units, excellence in pullet rearing, and superb results from broiler growers was recognised with a judging panel made up of BPC chief executive Richard Griffiths, turkey farmer Paul Kelly, BEIC chief executive Mark Williams, poultry farmer Charles Bourns, NFU poultry advisor Aimee Mahony, specialist in poultry veterinary medicine Kannan Ganapathy, and Poultry Business editor Chloe Ryan.
The winners announced last night in London are:
Processor of the year: 2 Sisters Food Group
Young Farmer of the year: Ivory Arden, Chirpy Egg Company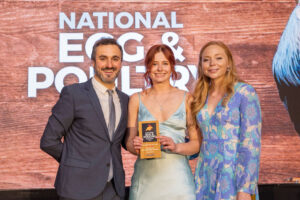 Young Farm Vet of the year: Emma King, Poultry Health Services
Innovation of the year: LJ Fairburn & Son
Hatchery of the year: Joice & Hill Poultry
Grower of the year: Shirley Copeland, EC Drummond & Son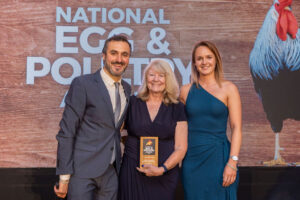 Egg producer of the year: Lower Yardro Poultry
Egg packer of the year: Yorkshire Farmhouse Eggs
Sustainable Farming Award: Upper Moorend Farm
(Highly commended: Moy Park)
Pullet rearer of the year: Browne Poultry
Unit manager of the year: Chris Forster, AJ Forster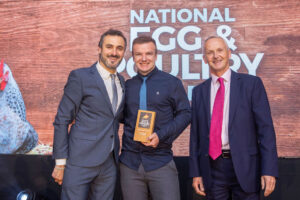 Young processor of the year: Atif Alam
Trade supplier of the year: Livetec Systems
Lifetime achievement: Derek Kelly
Poultry Business of the year: St Ewe Free Range Eggs