NEPA Grower of the Year Steve Tinkler has quietly gone about his business, posting impressive production figures from the farm in Cumbria. Steve Tinkler is a classic case of someone falling into the poultry industry somewhat by chance and then getting hooked. In just a few years, the 38-year-old from Penrith in Cumbria has gone from novice to veteran, with no better evidence of his rapid progress than his achievement of winning the Grower of the Year category at the 2022 National Egg & Poultry Awards. It could all have been so different. Tinkler had worked as a shepherd for many years, and it was only when he came to A J Forster's Beaver Lodge Farm five years ago to help out with a few turnaround jobs that he became known to the business and was subsequently offered an assistant manager's role. Acquitting himself to his new opportunity, Tinkler was promoted to manager within six months. "I'd been a stockman all my life so I just slotted straight into it," Tinkler recalls. "It's a different animal, but I think my previous experience helped. People say I'm probably doing well because I look at things differently. Having been a stockman and knowing animals, maybe I see more than other people."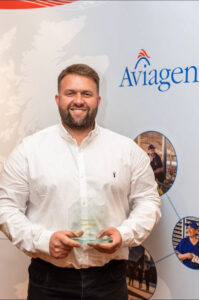 Indeed, Tinkler's feel for the job has led to some impressive production figures. In 2021 he achieved an average EPEF of 424, which he improved to 436 in 2022. Average liveweight is 2.46kg at 36.4 days old, with FCR of 1.52, mortality 3.29% and rejects at 1.16%. He has achieved two Aviagen 420 Gold Awards in a row, with his highest crop result being a 452. A J Forster is a family business that owns two broiler farms, with 350,000 birds at Beaver Lodge and 300,000 at Greengill Foot. Beaver Lodge has 14 houses, with natural flow ventilation and biomass heating, while Greengill Foot has 12 houses with reverse flow ventilation and biomass heating. The farms grow Ross 308s for Hook2Sisters, which are processed at the company's Sandycroft facility. The somewhat isolated farm location in Cumbria has its pros and cons, with the new requirement to achieve 440 for the Gold award made more difficult by the fact the birds have a 100-mile journey to the factory. "Since they changed it to 440s we are not quite as consistent as we were with the 420s," he admits. "We are out the way in Cumbria and the birds have to travel three and a half hours to Sandycroft, and you lose half a day's growth in that travelling time so it affects our performance. We are still doing well, but people who are closer to the factory have a benefit there. There's not much you can do about that." Regardless of whether it leads to awards or not, Tinkler says that bird welfare is a high priority and the farm does everything to be the best it can. And the more isolated nature of the farms does have ticks in the plus column when it comes to the challenge of keeping on top of avian influenza (AI): "Our biosecurity has always been good so we haven't had to change anything since this year's outbreak," he explains. "So far AI hasn't affected us because everything is already up to the standard it should be, and we are so out of the way in Cumbria and there are not a lot of poultry farms here. If you're in Hereford it's a totally different matter because the farms are so much more condensed." A bigger issue, Tinkler adds, has been dealing with the rising feed and fuel costs, but again he remains sanguine about the challenge. "We try to manage it as best we can, but you have to heat the sheds and feed the birds so it is what it is," he says. "We used to have heat exchangers in some of the sheds, but we made them redundant at the time because we didn't feel the performance was good enough from them. We adapted them and turned them back on over the last two crops, doing trials with them to see if we can get better performance and save on fuel. It seems to be going alright at the moment."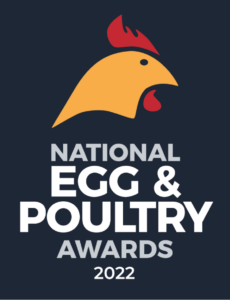 It's fair to say Tinkler is understated when it comes to shouting about his and A J Forster's achievements, but a further reflection of his performance came this summer when he was promoted to the position of overseeing the farm managers at both Beaver Lodge and Greengill Foot, offering advice to staff at both sites.
Tinkler sees that role of sharing what he's learnt as something he'd like to do more of, and notes that his part of the country could benefit from more support for the next generation. "I feel like there's not really enough training for the poultry industry," he says when asked about how to attract new entrants to the trade. "At the colleges in this area, you can do a course on dairy cows or sheep but there's nothing to do on poultry. As I get older I'd like to help teach and advise people and pass on the knowledge I've learned."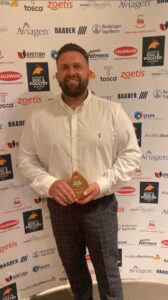 Tinkler says he does occasionally attend industry events, but doesn't spend his time 'fretting about the state of British farming'. While he expresses sympathy for what's happening in the egg sector, he is confident that the broiler side has a good future and is sure that the business he works in is in safe hands. Away from work, Tinkler focuses on his partner and children, believing enjoying life at home is the best way to unwind. "I haven't got lots of hobbies as such, but we do like to travel and get about and go abroad two or three times a year," he says. Of his Grower of the Year award, he professes himself to be "very proud", particularly with so many others also achieving great things. One suspects he won't be bragging about it, but he'll continue to quietly go about his business and do his best to keep achieving the best he possibly can.
More information
Read more about the 2022 National Egg and Poultry Award winners here.
For news and updates about the NEPA awards 2023, follow
National Egg and Poultry Awards