Organic foods in Britain are experiencing the strongest growth in customer demand for over a decade.
In the last year alone, Tesco has seen organic sales rise by 15%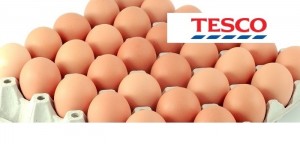 .
While fruit and vegetables continue to be the most popular choice for shoppers, over the last 12 months the retailer has seen increasing numbers of customers looking to buy organic fish, dairy produce and general grocery items.
The increase in demand is a direct result of the supermarket's commitment to offering customers a wider range of quality organic foods in more of its stores and lower more stable pricing – making it a more accessible option for shoppers across the country.
Areas that have seen the strongest growth include:
Fruit and vegetables including apples, bananas, carrots, salads and root vegetables – up by nearly 17%

Grocery items such as olive oil, pasta and cooking sauces – up by nearly 16%

Fresh meat including chicken, lamb chops, steak and eggs – up by 13%

Chilled foods such as milk, houmous and cooked meats – up by nearly 13%
Tesco organic food spokesman Tina Moore said: "Due to our long-term partnerships with suppliers and producers across the UK, we've been able to improve the quality, range, availability and price of our organic products for customers.
"We are seeing that shoppers are increasingly looking to buy organic food but it needs to be affordable and consistently high quality all year round for it to be considered a viable option.
"The popularity of organic food began with fruit and vegetables but we are now seeing customers exploring areas such as grocery, fish and dairy, so you can now use organic produce for the whole meal."
Last Autumn Tesco teamed up with the Organic Trade Board on an initiative which helped customers discover the breadth of the range on offer in its stores.
They provided boxes containing organic goodies so that shoppers could create their own organic meal at home.
The Organic Unboxed initiative saw 7.5m Tesco online customers receive a free ingredients box with a recipe card and information on how to cook a tasty organic meal specially designed by a food blogger.
Adrian Blackshaw, chair of the Organic Trade Board said: "Traditionally the two main challenges for customers buying organic, is the price and the availability. Over the last decade we have seen this improve across the industry and now the organic market is in a clear growth phase in the UK.
"But there is much more we can do – there's a huge opportunity for Tesco to attract new organic consumers and in doing so, add value to their business."