The British Veterinary Association (BVA) has urged lawmakers to ensure animal welfare standards remain at a high level after the UK leaves the EU.
The organisation highlighted the fact that political campaigning in Northern Ireland, ahead of next month's election presented an opportunity to speak to an incoming group of new parliamentarians. The BVA said it was important that the EU referendum does not have a detrimental effect on the All-island Animal Health and Welfare Strategy, particularly essential partnership working and plans like the all-island approach to tackling disease.
BVA's 'The veterinary profession's manifesto Northern Ireland 2017 – 2022' was developed drawing on the expertise and experiences of BVA's members working throughout Northern Ireland and in all areas of the veterinary profession, and makes clear recommendations in three key areas:  safeguarding animal health, promoting animal welfare and recognising the vital role of veterinary surgeons.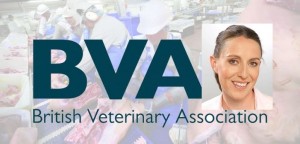 The Northern Ireland manifesto sets out over 20 policy recommendations that provide a clear pathway towards improving animal health and welfare, and challenges the next government to:
Ensure the All-island Animal Health and Welfare Strategy continues to provide a forum for discussion and practical cooperation on a wide range of animal health and welfare issues and that the impact of the UK's EU referendum does not have a detrimental effect on this strategy, associated essential partnership working or specific plans like the all-island approach to tackling disease.

Work closely with the UK Government to ensure the maintenance of the Common Travel Area, which is vital in order to facilitate movement in an all-island context for both work and study purposes.

Protect the welfare of animals by requiring all animals to be stunned before slaughter to ensure they are insensible to pain and, where there is little or no non-stun slaughter carried out, the next government should introduce measures to label meat as stunned or non-stunned to allow consumers to make an informed choice.

Back legislation to introduce mandatory CCTV use in all approved slaughterhouses and ensure Official Veterinarians (OVs) have unrestricted access to slaughterhouse CCTV footage.

Implement the recommendations from DAERA's review of animal health surveillance.

Support vets and farmers in combating endemic livestock diseases, for example through the compulsory bovine viral diarrhoea (BVD) testing scheme in Northern Ireland.

Review the outcomes of the Test and Vaccinate or Remove (TVR) project while moving towards a comprehensive bovine TB eradication programme that includes accepting and properly resourcing the TB Strategic Partnership Group's strategy and implementation action plan.

Continue to support the One Health approach, as outlined in the UK Five Year Antimicrobial Resistance (AMR) Strategy, to increase collaboration and integration of the veterinary and medical professions to promote the responsible use of antimicrobials.

Ensure robust enforcement of existing legislation to tackle illegal import of puppies across borders due to the associations with disease, dog welfare and behavioural problems.

Ban the keeping of primates as pets and use of wild animals in travelling circuses, whose welfare needs cannot be met.

Embrace partnership working between government and the veterinary profession, recognising the unique skills, knowledge and expertise of veterinary surgeons across animal health and welfare and public health.
BVA Northern Ireland Branch President Jean Wales said: "The veterinary profession in Northern Ireland looks forward to the valuable contribution our expertise can make to Northern Ireland's economy through the agri-food industry. We equally look forward to continuing to advise the government on matters of animal welfare."
BVA President Gudrun Ravetz said: "In all countries in the UK, the veterinary team brings an unique insight to the health and welfare of animals. It is from this position that we offer Northern Ireland's next government evidence-based advice and recommendations for animal health and welfare policy. We urge the next government and MLAs of all parties to join together to make sure the UK's decision to leave the EU does not affect the strong all-island work that protects and promotes animal health and welfare and supports agricultural industry on both sides of the border."