Award-winning young farmer Matt Donald has achieved a huge amount in his career so far, but as he tells Michael Barker, there's much more to come.
Matt Donald is a man with a plan. Last summer the 32-year-old from North Yorkshire added the Young Farmer of the Year gong at the National Egg & Poultry Awards to his win in the same category in the 2017 National Pig Awards, completing a unique double that reflects a growing mastery of his business. Now, with a position of influence on the NFU Poultry Board and a commitment to bringing new blood into the trade, he hopes to make a positive difference to the future of British poultry.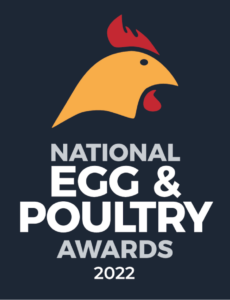 Donald farms alongside his father and brother Ben on a pig and poultry enterprise in Northallerton, with Matt now more focused on the poultry and Ben on the pigs. The business has two broiler breeder units producing fertile hatching eggs for PD Hook, as well as a 300- sow pig enterprise and a couple of hundred acres of arable. Matt and Ben are third-generation farmers, with the family farm dating back to 1959.
Donald was always destined for a career in farming, and although he attempted to explore different options, a brief period studying property at Northumbria University ended after just one year when the pull of farm life proved too strong. "It just wasn't for me," he recalls. "I was so used to being outside and on the farm. It was great the first year, but the second year the pace of life changed and people were going out less, and I was driving back down to the farm on my day off and it made me realise that's what I wanted to go into."
It was an unsurprising career choice for someone who describes himself as having been "immersed in farming since I could walk" and whose earliest memories are of going out to feed piglets and sheep with his dad. Fast forward to the present, and while at 32 Donald is still a spring chicken in farming terms, he's packed a fair amount into his relatively short career and has already been recognised with a place on the NFU Poultry Board.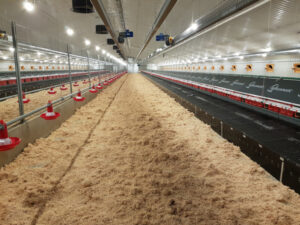 His involvement in industry affairs began when he started attending the Poultry on the Piste ski trips, where he had the opportunity both to socialise and interact professionally with other farmers, and that led to him applying for the NFU's Poultry Industry Programme. From there, it was a natural progression to the national poultry board, alongside which he also sits on the net-zero steering team. Donald is too modest to think he's made it, and describes his first couple of years on the poultry board as difficult as it fell during the pandemic when in-person meetings were impossible. "I was there with 12 or so other people, some of whom had been on the board for years, and it was a bit daunting," he says of those early meetings. "You're just joining and trying to get your opinion across, but in-person meetings are much better now. It's a great opportunity for me and a chance to help the industry as a whole."
That sense of wanting to take the industry forward is reflected in his input into the NFU's poultry resilience plan, which was launched during the union's conference in February and identifies three key priority areas for the sector – resource-use efficiency, carbon storage, and renewables and the bioeconomy. All of those tie into the wider net-zero ambition, but Donald has an interesting take on how that needs to be framed. "People are a bit fed up of the term net zero, and business resilience actually sounds better," he insists. "Everything we've listed will save your business money or generate more income for your business. Although it's contributing to net zero, it's a good thing for your business."
Expanding further, Donald cites alternative proteins and infrastructure upgrades as important focus areas, and says the Government needs to do more to support the farming sector to achieve its goals in terms of things like helping farmers install newer energy sources. He also has a laser focus on productivity – "you can knock 0.1 off your FCR with some small changes, which is the best resilience plan" – and that's permeated his approach to his own business too. His most modern unit breeds Ross 308s, and uses a system on Vencomatic single-tier nests. KPIs are 182 hatching eggs per bird; 159 chicks per bird; 87.3% cumulative hatch; 5.5% mortality; and 49.6kg per bird of feed.
"Our last flock out of the newer farm did 164.8 chicks per bird, which is a fantastic result," he explains. "It's a bit of everything that helped – it's getting the guys on the farm involved in KPIs and performance and benchmarking, not just against all the other PD Hook farms but against each unit. We've been breeding for a long time so we've learnt what has and hasn't worked. A big thanks for Hook, too, for investing in the hatchery, which improves our hatchability and our performance. Genetics plays a part as well. It comes down to attention to detail in every little thing, and small changes can make a big difference. But it's also getting on board with what's going on, having a clean site, and ensuring that at the start of the flock everything is perfectly done, all your disinfection protocols, dip slides and so on."
Donald is clearly someone who thinks deeply about both his own operation and the wider industry, as anyone who reads his regular column in Poultry Business will know. That mantra of productivity extends to his approach to sustainability, and while he doesn't want to commit to a net-zero target – which he notes is particularly hard to achieve given the industry's reliance upon soya in the feed chain – he does think it's important to do as much as you can.
"My belief is the main way to send yourself towards net zero is to improve your productivity," he emphasises. "Boosting productivity is the most profitable and easiest thing a business can do. If you can go from 155 chicks a bird to 165 chicks a bird, then you've got 10 extra chicks for just a bit more water and food, but chicks per kilo of feed used will be higher. And then add in things like solar panels, woodland and environmental schemes and all the other bits and pieces you can do."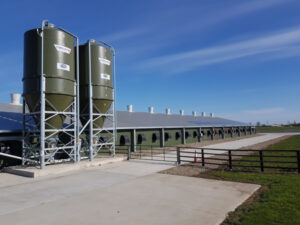 The approach of constant improvement is reflected in his time working in the Donald Pig & Poultry business. In 2017-18 the company acquired its second broiler breeding site, essentially building a brand new farm. And they aren't stopping there, with planning permission for a third site on a different farm that they hope to build in the next couple of years. That will take the business up to 106,000 breeders, turboboosting the current output of 11 million chicks a year.
Donald says biosecurity is the number one consideration when you have the blank canvas of a new site to build. While his farms haven't been hit by avian flu so far, Donald takes nothing for granted and says the best thing you can do is establish the traffic flow, bin positioning, showers and so on in such a way that makes it as easy as possible to operate the business, and in turn to attract staff.
"Having modern facilities is a big thing, and we invested heavily to make sure we are up to scratch," he adds. The company has invested in solar, biomass and groundsource heat pumps over the last decade, as well as planting trees where possible, and stresses the ventilation setup is aimed at optimising energy efficiency.
Beyond his own farm gate, Donald worries that both the wider pig and egg market have come through a "horrendous" time, calling it "market failure" on both. "We just need a bit of stability going forward," he continues. "To invest you have to have confidence, and going forwards there needs to be a lot more collaboration with the supermarkets. Fairness in the supply chain is essential."
Nevertheless, he's optimistic that the poultry sector is in a good place, with chicken representing an inexpensive, versatile protein that young people enjoy eating. He also stresses that, despite all the debate around animal welfare and slower-growing chicken, the industry shouldn't underestimate how far it's already come with broiler welfare.
"It's a bit offensive for someone to come out and say your welfare is crap," he argues. "15 or 20 years ago maybe it was, but it's changed now."
As a young, modern farmer, it's perhaps unsurprising that Donald has a keen interest in getting the next generation engaged in the industry, and his own business has hired a number of younger people over the past decade.
"I think the oldest person in our team is 38," he says. "Flexibility is key to attracting staff. With young people, you try to make the role fit what they want, whether that's a few extra days holiday or whatever. Since Covid, people have almost found time is more important than money. The business has quite a good reputation in the local area and word of mouth has got most of our members of staff."
Donald, it's fair to say, is an outdoor man. When he's not working, he lists his hobbies as skiing, road cycling and the occasional shooting session, as well as supporting his wife, who is into event horses. He describes his win in the National Egg & Poultry Awards as "recognition not only for me, but the family and the team," and he's conscious that while he wants to help the wider poultry industry as much as possible, his first commitment is to the family and the farm.
Despite having decades ahead of him, Donald already has in mind that his business needs a succession plan, and that sums up the attitude of a young farmer who is not leaving anything up to chance. "It's farming to leave a legacy. My dad has revamped the business, rebuilt it, expanded the numbers, and now it's mine and Ben's turn to do that."
More information
Read more about the 2022 National Egg and Poultry Award winners here.
For news and updates about the NEPA awards 2023, follow
National Egg and Poultry Awards