A passion for poultry runs through Chris Wright's blood. And winning the Unit Manager of the Year title at this year's National Egg & Poultry Awards has served to add more fuel to his fire.
By Rachael Porter
Chris won the award for his role as farm manager on an eight-shed modern broiler unit, based at Maidenhouse, Mill Farm near Grantham, which placed more than 340,000 birds per crop. The business is a contract grower for Moy Park.
And says he can pinpoint the moment when it all started – he was just six years old when he entered his grandfather's broiler shed for the first time.
From a farming family, that always ran broiler farms, it seems inevitable that Chris would become the third generation to take the poultry mantle.
But when he first left school, at 16 years old, he worked for a builder. It was only when he turned 18 that he was offered a job with Moy Park, working on a broiler unit that was a 45-minute drive away.
New entrants
"That didn't put me off – it was what I always wanted to do," he says, adding that he's now just as passionate about encouraging young people to enter the industry as he is about the industry itself.
"It's my life," says the 27 year old. "Even at my recent wedding, in my speech, I said I didn't know what to say. Although I was told not to talk about poultry," he laughs.
He was, in fact, on honeymoon when he found out he'd won the award – his boss, Richard Gill, collected it on his behalf and called him with the good news. "Your honeymoon is special – but that topped it off," he says.
Chris lives and breathes poultry and so it's no surprise that it's also a 'dinner table' favourite. "Hunter's chicken is the dish I love to cook and eat. My wife Abby likes it too, as does our two-year-old daughter. I'm sure our son will like chicken too, once he's old enough to start eating solid food."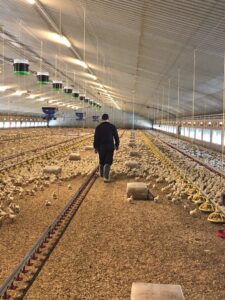 Poultry passport
Chris has been working in the broiler industry for 10 years and today he now works for Applied Poultry, managing a team of 15 employees across seven farms, plus office staff.
He worked for his previous employer for more than three years and has taken short courses for his poultry passport, including the Workplace Diploma in Agriculture.
And he already has a string of awards to his name – within his first year at Maidenhouse he was awarded 'Best Grower in Lincolnshire' by Moy Park, with a 384.16 EPEF and a 1.52 FCR.
"That's what really began to focus my mind and got me thinking about how I could improve these figures even further," he says.
He began by assessing the performance of chemicals used at wash and then looking at what worked best to get each crop off to the best start.
In 2017, on his 340,000 bird unit, he achieved an average EPEF result of 403.66 and 1.48FCR across eight crops. For 2018 the EPEF result was 402.77 with a 1.50 FCR across another eight crops.
Between 2017 and 2018 he has had nine consecutive 400 EPEF results with more than 2.93 million birds sold to market from these crops alone – without dropping out of the Aviagen 400 club.
Data analysis
When Wright was a farm manager at Maidenhouse he decided to go back to basics, analysing data every 15 minutes on graphs that constantly record as the birds grow on a Fancom system.
"This helps me to choose which chemicals to use and what vitamins to add to help the birds develop. More importantly, this 'real time' data allows us to act immediately if there's a problem –if a feed line stops working, for example.
"Although this system has a cost, it's also proof that money spent in the right areas can return a better profit."
As a manager, there was more to his role than looking after the birds – he had to motivate his team as well. "I did that by setting an example. If I do a job well, then I expect the same standards from my team. Staff know that cutting corners is not an option," he says. He also held regular meetings to make sure that the team knew what was going on and how he planned to move the unit forward. "It's also a chance for them to share any ideas or concerns that they may have and it's an arena to discuss any issues that have occurred."
Tight ship
When it comes to biosecurity, Wright runs an extremely tight ship. "I take a no-nonsense approach," he says. "I had staff shower on and off-site with clothes that are specifically for the farm and that stay on farm – these are also laundered on site.
"And we used a three-way barrier system with shed specific wellington boots, which must also be worn with over-shoes for added protection."
There's also an automatic wheel wash at the entrance of the site. "So, there can be no excuses for lorry drivers and maintenance staff when it comes to minimising the risk of disease being brought on to the unit."
Wright is also busy away from his day job. He's particularly keen for more young people to enter the industry – and for them to develop the passion and dedication to poultry production that he clearly has.
"Working at Applied Poultry, as head of UK broilers, we're planning to organise visits for school and colleges. It's important to talk to young people when they're considering their potential career paths – and furnish them with facts about poultry production.
"It's a brilliant industry to work in and we need to work together to shake off the preconceptions that many have about and open their eyes to the interesting roles and the technology and expertise that's required to produce top quality broilers in a high health and welfare and efficient system," he adds.
He also wants to demonstrate that it's an interesting and enjoyable career path. "It's also extremely varied – and that's what I really like about it. Even though there is routine, not two days are ever the same. There's plenty to keep me fired up and interesting. I never get bored and I wouldn't get this level of job satisfaction in any other industry," he says.
Poultry ambassador
Wright sees his future career filled with more exciting opportunities and wants to become an ambassador for the poultry industry. Some would say that with his young age, his passion and both his commercial and award-winning success that he already is.
"I've already had some amazing opportunities. I worked for Sir Peter Kendall, on a consultancy basis, for 18 months. And that was really good for me – I learnt a lot about myself and I certainly honed my communication skills."
And he says that working with David Speller, at Applied Poultry, is an honour: "He's been someone I looked up to since I started out in the industry. I always wanted emulate what he does. And that's still very much the case. Working with industry leaders like him, and Sir Peter, pushes me to work hard and keep progressing."
Future place
So, where does he want to be in 10 years – what's his plan? "Ultimately, I would like to own and manage my own broiler unit – this is probably about seven years away. "But, at the moment, everything is on hold due to the uncertainty surrounding Brexit," he says, adding that he's already drawing up a viable business plan.
"And it's based on a double deck system – to maximise birds per square metre. More birds can be produced from a smaller area of land. I'm keeping an eye out for a parcel of land in Lincolnshire, but I'm going to bide my time and see what happens regarding a Brexit deal and what happens when we leave the EU."
He says that, at the moment, the UK is 75% self-sufficient in poultry meat production. "if we had the opportunity and investment to push that up to, say, 110 or 115% then not only would be completely self-sufficient, but the UK would also be in a position to export our high health and welfare status poultry around the world."
In the meantime, he's going to enjoy the satisfaction of winning this latest award. "I was absolutely thrilled. It means so much to recognised and rewarded by your industry peers for all the effort that your put into making sure that a job is done to the very best standard.
"Good EPCFs and FCRs are one thing, but something like this is the icing on the cake. And I feel a responsible to do something meaningful with my success so the wider industry can also benefit from highlighting to exceptional job that all broiler producers do."