Cobb-Vantress has become the first company in Brazil to get recognition from the government that it has taken steps to prevent disease in its poultry.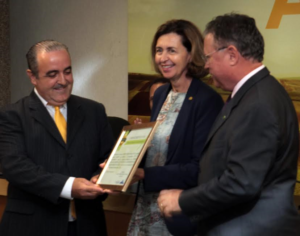 The certificate from the country's Ministry of Agriculture, Livestock and Food Supply (MAPA, is for "poultry compartmentalisation", and shows the firm is aiming to protect against avian influenza and Newcastle disease.
The certification was confirmed at a ceremony at the MAPA headquarters in Brasilia attended by Blairo Maggi, Brazilian Minister of Agriculture, and Francisco Turra, president of the Brazilian Association of Poultry Producers (ABPA), together with Monique Eloit, director general of the World Organization for Animal Health (OIE).
Poultry compartmentalisation is based on MAPA's Normative Ruling No. 21 established in partnership with the ABPA. This model is aimed at protecting against avian influenza and Newcastle disease through highly traceable bird health procedures, in addition to a plan for quick and efficient action for disease control in the event of an outbreak.
Bruno Pessamilio, director of the Agriculture Defense Secretariat, explained that compartmentalisation is designed to ensure that products can reach markets even during a global poultry health emergency.
Jairo Arenazio, Cobb-Vantress executive director for South America, said the company had been working to expand foreign trade for the last 10 years. At that time with the company only exporting to five countries, substantial investments were made to open up the possibility of supplying markets worldwide.