James and Angela MacLean are egg producers in the Scottish borders, supplying Purely Organic, a Noble Foods brand, with eggs from 30,000 Lohmann hens.
The fastest-growing brand in the Noble Foods portfolio, Purely Organic is the first organic egg brand in the UK to be certified carbon neutral by the Carbon Trust.
Purely Organic is available nationwide in Tesco, Sainsbury's, Asda and Co-op. The brand's position as the UK's biggest organic egg brand has been fortified by retail sales growth of 30% in the last year alone.
Passionate producers like Angela and James MacLean, one of 13 Purely Organic farms across the UK, are taking positive steps for their local environment and seeing the benefits first-hand.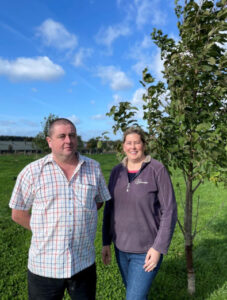 Reducing energy at MacLean Eggs
At their farm in the Scottish Borders, Angela and husband James set to work establishing MacLean Eggs six years ago. "We like setting ourselves a challenge," Angela says. Together with their son Fraser, the MacLeans are passionate about supporting their local environment and reducing their energy use along the way.
"That's been the drive behind everything, not just our growth but our passion to give it our all every day. It's people telling us we couldn't do it and a real passion to do what we do in the most respectful way – for our colleagues and our hens – that's kept us going strong," says James.
The 600-acre MacLean Eggs farm is home to 30,000 organic Lohmann Brown hens across a variety of sheds and was one of the first multi-tier systems in the country.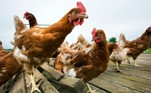 "My Granny had 12 Lohmann hens," says Angela. "They're a wonderful bird and they respond so well to the variety of enrichment we've given them." From the MacLeans' purpose-built viewing gallery, installed in 2019, it's clear to see their birds are relishing in their environment.
"It's bad luck that we opened our viewing gallery just before the very first Covid-19 lockdown. But we were very pleased to welcome a local school group not long ago. They had a great close-up look at how organic eggs are produced. The students were fascinated. But more so, they left with a good sense of how their eggs at home are actually produced. It was really rewarding to see them learn about what we do," says James.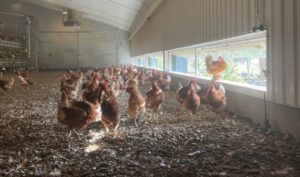 Together, Angela and James have been conscious of their environmental impact from day one. "It's the only way to be," says James. "When we first set out, our drive was simply to prove we could do it. But now, we're trying to run a smart and efficient business."
Angela adds: "Working at a larger scale than other organic producers has its challenges and limitations. But I hope we're living proof that you can operate profitably and sustainably at scale, without compromising quality and extremely high welfare."
Solar panels and trees
Along with planting thousands of trees on site and landscaping to help increase their biodiversity count – seen as a barometer for the health of the environment – their focus is on making better use of energy on site.
"For me, supporting the environment is crucial and we are proud to have been able to do this on our farm. So, in tandem with our wild-growing areas and plenty of natural tree cover and meadows for our hens, we're also thinking carefully about the way we draw in, store, and repurpose energy. Like any producer, we'd like to operate as best we can without wasting electricity and therefore, impacting our spend and carbon footprint."
Across the site, the MacLeans efforts are visible and working well. Almost all sheds have a great number of solar panels, and some of the mechanical systems in place are running at a lower voltage.
"All of the machines running in the sheds are German-made which means they run at 220V. We use a voltage optimiser to help drop the incoming power down from 240V. This makes a marked difference on our overall usage. We also installed a power factor correction capacitor which captures the spare electricity in capacitors and allows it to be reused in the shed. It's quite simple, but it's hugely effective," says James.
With the solar panels in full operation, everything used on site can run efficiently on green energy, with surplus going back to the grid.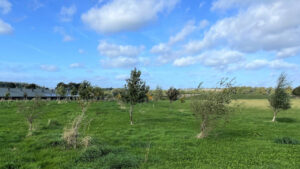 A series of solar panels has been installed to maximise the use of sunlight on one of the MacLean's sheds
In addition to powering the MacLeans sheds, the solar panels also charge the many pallet trucks dotted around the place; a quietly clever move, to further reduce the amount of energy being drawn from the grid.
The variety of trees on the MacLean Eggs site is also important, with species of oak, silver birch and maple. Noble Foods also supplied by fruit trees, which add variety to the landscape.
Carbon neutral
Noble Foods' group environmental manager, Glenn Evans, explains why the company chose to seek carbon neutral accreditation for the Purely Organic brand: "It's our responsibility at Noble Foods to take a market-leading step forward in carbon reduction, to ensure a more sustainable future for customers and producers alike.
"Purely Organic was the natural choice as the first product to be certified carbon neutral, because it already has strong environmental credentials, brand loyalists and fantastic producers such as Angela and James. Being organic already has many benefits for the environment – being free of pesticides and artificial fertilisers and the use of organic raw materials for poultry feed – and the addition of carbon neutrality to Purely Organic increases our appeal to our trade customers and consumers, while contributing to the wider environmental strategy for Noble Foods."