Poultry has a low environmental footprint compared to many other agricultural sectors, but there is no room for complacency
All eyes were on the COP26 conference last month, where 200 countries agreed to strengthen commitments to reduce emissions. Now 90% of the world is covered by net zero targets, up from 30% just two years ago.
Two years ago, the NFU set the ambitious goal of reaching net zero greenhouse gas (GHG) emissions across the whole of agriculture in England and Wales by 2040, ten years earlier than the Government's legally binding commitment for the whole of the UK. Since then, every poultry conference and event has been dominated by discussions of how exactly poultry producers can achieve this.
For many poultry producers, feed is likely to be the single biggest contributor to environmental footprint, thanks largely to soya. There are several tools available for producers which enable them to plot their environmental footprint and from there work out strategies to reduce or offset emissions through measures such as biomass heating, and alternative feed ingredients.
Nick Major of ForFarmers recently told the BFREPA online conference that while responsible sourcing of soya was something the feed sector had been committed to for many years, there were "good reasons to look at alternatives" such as rapeseed, sunflower meal, legumes such as peas and beans.
"Those more mainstream protein sources can be supported by amino acids and then precision feeding," he said.
Despite these significant efforts, the level of scrutiny focussed on agriculture will only intensify in the coming years. A new report from the NFU, published to coincide with COP26, points out that as other parts of the British economy decarbonise, the proportion of GHG emissions attributable to farming will start to go up, putting ever more pressure on agriculture to go further, faster. "That is why we must address our own footprint, and why we are absolutely committed to our 2040 net zero goal for agriculture," the report states.
There is however recognition in the report that not every farm individually can reach net zero, but rather the target is applicable to the industry overall. Nonetheless, every farm will things it can do – with the help of the whole supply chain – to reduce emissions.
Major told the BFREPA conference that the EU's recent decision to reauthorise the use of pig and poultry protein into animal feed provided a possible future source of soya-free feed, that was both sustainable and had "an attractive carbon footprint."
In addition, other large poultry businesses are trialling soya-free production, including PD Hook, which is growing broilers on one of its sites on a diet containing no soya. Production times are longer, James Hook told the EPIC conference in November, but he was positive about the direction the industry was moving in.
"We need the feed companies to produce us more environmentally friendly feed," he said.  "We can grow our standard birds in better way using more home-grown products. As usual we need to be on our toes."
The poultry producers working towards net zero
Source: NFU
Simon Barton, poultry farmer, Somerset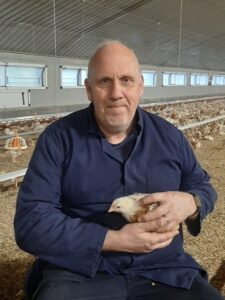 "I trialled three freely available GHG calculator tools to see how they work for a poultry business and, while each had its own benefits, none of them worked particularly well for broiler chicken production.
"Feed use is always likely to be the biggest single factor in poultry's carbon footprint and it's important that calculator tools better reflect this. We're making as many productivity improvements as we can, but our greenhouse gas footprint will always be affected by our high welfare standards.
"I intend to revisit the GHG calculation to track progress on the number of measures we've introduced on farm to help reduce emissions and minimise our climate footprint. We're currently putting the finishing touches to a new larger poultry shed which will be heated entirely by biomass so we won't have to rely on any fossil fuels. The shed is also fitted with better insulation and includes LED lighting which will further improve our energy efficiency.
"We already have 50kW solar panels on the roof of our poultry sheds. These produce more power than we need during the day so we export some of the surplus back to the national grid. We're also keeping a watchful eye on battery storage as a possibility to store any excess power produced for future use.
"The next project on the farm will be to lay some more hedges to complement the trees we have previously planted. This will help capture more carbon from the atmosphere and further reduce our impact on the environment."
Llyr Jones, mixed farmer, Denbighshire, Wales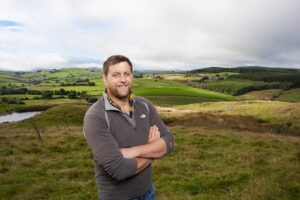 "Here in Wales we are so lucky with our environment. We have 1,600 acres of varied terrain which has allowed us to diversify in a number of areas.
"Alongside the sheep and cattle, we now have egg production, green energy and tourism. We also co-own Blodyn Aur – the rapeseed oil company selling over 6,000 bottles a month of Welsh rapeseed oil to Asda, Morrisons and Sainsbury's in Wales.
"We try to do lots of little things that we hope will help the bigger picture. Ahead of expanding the poultry units, I visited sites across Europe to learn how to improve productivity and limit the environmental impact. We invested in ammonia scrubbers to reduce ammonia emissions by an estimated 90%. We'll double egg production, but ammonia emissions will reduce. And the poultry business doesn't use any mains water – it all comes from our borehole.
"It gives me great pride that we produce green energy here at Derwydd. We have a huge amount of rainfall and big hills here, which are great for producing hydro-electricity. We installed a 30kW hydro-electric system in 2012, with 24kW photovoltaic panels as back-up when warm weather reduces the flow of water.
"For the poultry units we have 80kW ground and air source heat pumps warming the air. Because the hens use less energy keeping warm they eat less food, so I reckon we've saved around three lorry loads of feed per year. There are also solar panels on the hen sheds which power our Polaris Electric utility vehicle and the family car. Any energy not used on farm is exported back to the grid.
"Being environmentally friendly has actually benefited the farm. When I retire I want to give this farm to my children in a far better condition than I inherited it."