The UK's top supermarkets released their Christmas trading financials in recent weeks, showing how they performed during the festive period.
It is clear 2016 was the most unpredictable UK retail grocery market for years, but despite this, poultry sales were reassuringly strong.
With discounters Aldi and Lidl biting at the heels of the big four retailers – Tesco, Sainsbury's, Asda and Morrisons –  in a fierce battle to win UK consumers, value at the till was all-important.
Data from the crucial 12 week period covering October to December shows turkey and chicken both had a strong Christmas. According to Kantar Worldpanel data, in the 12 weeks to 1 January 2017, turkey – as it always does during the festive period – moved into volume growth, with whole birds and crowns the leading products.
Fresh chicken also continued to make gains, attracting 540,000 more shoppers in the 12 weeks to 1 January, and helping to bring the market back into value growth through breast, leg and whole birds.
The appeal of poultry and its success at attracting new shoppers is partly down to its value per kilo compared to red meat. And this is likely to be an important factor in the year ahead.
Value remained a key theme across all retailers. Sainsbury's had success with the best value turkey, beating its rivals by 39p/kg, according to the NFU; and Aldi, Lidl and Asda all sold Christmas vegetables at below 20p per a bag.
In contrast, more pricy lamb and pork both declined during the 12 weeks covering Christmas, with volumes down -7.3% and -4.1% respectively.
As food inflation and Brexit causes uncertainty in the sector, the outlook for 2017 is also to a certain degree unpredictable. Despite the best efforts of the whole supply chain, prices may have to rise for consumers.
The weak pound is key. With UK consumers eating more white poultry meat than whole birds, imports are necessary to fill the gap. According to AHDB, in 2015, the UK produced 1.69 million tonnes of poultry and imported 323,000 tonnes, meaning its self-sufficiency was 73%. In eggs, self-sufficiency stands at 85%, with 839 million dozen produced in the UK, and 158 million dozen imported.
Imported poultry meat, which primarily comes to the UK from the Netherlands, Poland and Ireland has become more expensive. The value of Sterling has slumped from around Euros 1.4 at the start of 2016 to around Euros 1.16 at the beginning of February 2017.
These additional costs will be borne by major processors buying product from oversees, but there are concerns that if retailers won't accept their share of rising prices, the costs may be back down the chain to the processors' other suppliers – British farmers.
Tesco has had a rocky couple of years, but at the moment it's performance is strong, and its recent announcement it is to merge with leading wholesaler Booker is likely to further boost its market-leading position.
Tesco dominated other food retailers during 2016, with food sales up 1.3%, transactions up 2.1% and items per trip up 1%, according to Kantar Worldpanel data. Morrisons had its strongest performance in seven years with like-for-like sales excluding fuel up 2.9%, alongside transaction growth of 5.2%. Aldi and Lidl also continue to tempt traditional supermarket shoppers to try something different – and they now have combined market penetration of 13.4%; both also saw an increase in sales over the festive season.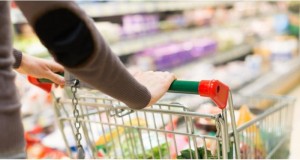 Despite all the unknowables, global growth for the year ahead is looking fairly healthy The IMF, which among its many functions projects and analyses developments in the global economy, released on 16 January an optimistic outlook.
"Our central projection is that global growth will rise to a rate of 3.4% in 2017 and 3.6% in 2018, from a 2016 rate of 3.1%," said Maury Obstfeld, the IMF's research department director, in a press briefing.
As well as improvements in stressed emerging markets, the IMF also thinks "more of the lift will come from better prospects in the United States, China, Europe, and Japan."
A faster pace of expansion would be especially welcome this year: global growth in 2016 was the weakest since 2008-09, owing to a challenging first half marked initially by turmoil in world financial markets.
In the UK, Obstfeld said there would be "definite transitional costs" associated with Brexit. One of the factors likely to drag down retail spending is inflation, likely to surge in response to the weak pound.
Whether this will benefit poultry, as consumers continue to switch away from more expensive red meats, or will simply cause margins to be further eroded, remains to be seen.