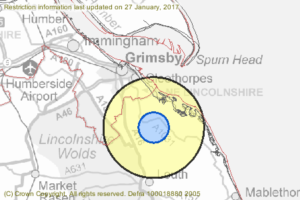 Defra has confirmed a case of AI H5N8 in a Bernard Matthews commercial turkey rearing unit in Frithville, Boston, Lincolnshire. This is the sixth case in commercial or domestic poultry in the UK since 16 December 2016. 
According to a report in local paper the Boston Standard, the farm supplies Bernard Matthews.
"Bernard Matthews can confirm that birds at one of the company's smaller farms showed signs of ill health on Wednesday, January 25," said a spokesperson for Bernard Matthews, reported the Boston Standard. "The business reported this to Defra immediately and they have detected the presence of the same strain of avian influenza virus that has been prevalent across Europe and the UK in the last six weeks, including outbreaks in Lincolnshire, Wales and Dorset. We are working with the appropriate organisations to manage the incident as safely and efficiently as possible."
Defra said 3km Protection Zones and 10km Surveillance Zones are now in place in several locations:
* a flock of pheasants at a farm near Pilling, Wyre, Lancashire (27 January 2017)
* a turkey flock near Boston, East Lindsey, Lincolnshire (26 January 2017)
* a flock of farmed breeding pheasants at a premises near Pilling, Wyre, Lancashire (24 January 2017)
* a commercial turkey unit near Louth, East Lindsey, Lincolnshire (16 January 2017)
* a small backyard flock of chickens and ducks on a premises near Settle in North Yorkshire (6 January 2017)
* a backyard flock of chickens and ducks on a premises in Carmarthenshire, Wales (3 January 2017)
The Prevention Zones in place across the whole of Great Britain will remain in place until 28 February 2017.
Keepers of poultry and captive birds must house them away from wild birds. They must maintain their biosecurity, and keep a close watch on the health of their birds.
Similar outbreaks have been reported across continental Europe, including in Poland, where there have been 33 confirmed cases.
Poland's deputy agriculture minister Jacek Bogucki last week announced an aid package will be made available to farmers who have suffered financially due to bird flu. The aid will be available to farmers within a ten kilometre radius of centres of the H5N8 virus outbreaks who did not have to destroy their birds but who were also not able to sell them due to restrictions
Those farmers who were forced to destroy birds will receive other support, Bogucki added. Most outbreaks were in the Lubuskie voivodship, in Poland's west, where more than a million birds have been destroyed.