Powell & Co is has completed a variety of poultry building projects in the past year, with varying specifications. Here's how the family-run construction company met the needs of its poultry clients. 
Coupland Beck Farm, Cumbria
On the outskirts of Appleby, by the A66, stands a Powell & Co free-range poultry unit for sixth generation farmer Will Patterson. Will and his wife Claire have recently taken on managing the farm business from his father William; they were looking for a new venture independent of the beef and sheep enterprise. Importantly they wanted a revenue stream that was not reliant on subsidies and would future-proof their business for the seventh generation.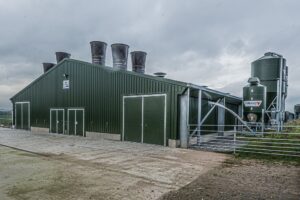 What started as a shed in the garden with 15 free-range chickens has now becme a steel-framed 457ft x 65ft free-range poultry unit housing 32,000 Lohmann Brown layers. It has been a steep learning curve for the Pattersons, but they have not looked back. The family produces eggs for Chippindale Foods, and has a Lloyds Animal Feeds contract. The eggs are sold in Morrisons stores.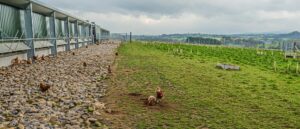 "We currently farm 100 beef sucklers and a flock of 700 of Aberfield X and Cheviot ewes as well as growing 40 acres of barley and additional acreage of stubble turnips, kale and fodder beet for forage," says Will Patterson. "With four young children we felt a new string to our business was required, and with my wife Claire wanting to get involved with the farm we decided her interest in poultry would be a commercial proposition worth perusing. Following lots of research we commissioned Powell & Co to build a free-range unit. The quality and finish of our building is second to none and is a real showcase from the A66." 
Special Features
Clear span steel frame
Don's doors comprising of clamped aluminium for perfect fit
Newquip 264 nest system
Chain feeder system from Collinsons silos
Multi tier system by Newquip
Powells specific bio-security layout
Raised packing room to 1.2 metres so lorries can load easily
Great Ness Poultry, Shrewsbury
Starting with four broiler houses in 2011, Ed Warner of Great Ness Poultry has grown his business to 11 houses designed and constructed by Powell & Co. Ed Warner farms in partnership with his brother William who runs the 1,500 acre arable side of the third generation farm business. When the local sugar beet factory closed and production ceased the family decided to go into poultry to generate a separate income stream and secure the business for future generations.
The latest four broiler houses have been built on their other farm located off the A5 north of Shrewsbury. The 336ft by 80ft steel-framed broiler sheds are on a 45-day cycle with a one to three-week turnaround. Fed by Lloyds Animal Feeds the broilers are contracted to Maelor Foods at Wrexham, processing British Red Tractor birds.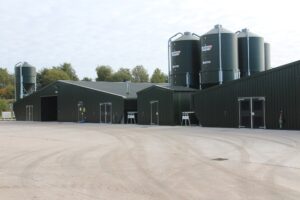 Warner's other site with seven broiler houses is supplied feed from 2Agriculture and birds are contracted to the 2 Sisters Food Group. The advantage of having an established site was that Warner could review with Jason Powell the changes he wanted to make before building the four new sheds. He installed gable end fans with tunnel ventilation to improve airflow; added canopies over the doors; planned the sheds to be built opposite, wider and longer; installed extra windows to create more natural light and a nice environment for both the birds and his team.
"I have stuck with a building design that works and all the internals are the same at both sites," says Warner. "Provided we listen to consumers and provide what they want, I feel the industry has a positive future."
Special Features
Dust baffle and canopy to allow the catchment of dust leaving the ventilation system
Automatic tunnel vent sliding windows
Composite panel weigh sheds
Full front control rooms incorporating offices, canteens and control rooms
Tunnel Vent – MTT ventilation system
Catching canopies with sliding catching curtain – aiding ease use of catching curtains
Toft Farm Growers, Staffordshire
The Holt family has farmed in Staffordshire for many years with the business originally comprising of a dairy herd and cereal production. Following a reorganisation of the family business in 2015 Mark Holt and his wife Sarah started trading as an arable only farm. After a visit to the Pig & Poultry Fair in 2016, the decision was then made to diversify into poultry production.
Trading as Toft Farm Growers they are contracted to Avara Foods, with their four units (each 300ft x 66ft) housing a total of 24,000 turkeys.
"The team have remained in touch and their support, enthusiasm and energy radiates through to myself as the customer," says Mark Holt.
Special Features
Steel framed olive green sheds
5m x 7.0m amenity block incorporating toilets, wet room, water room, electric room, boiler room, kitchen and two offices
Stand-alone dead bird shed
Heavy-duty mono rails
DraperVent air handling units
Solar Panels on two houses (currently an average 40% self-consumption usage). Likely to increase during the winter