Producers clearly enjoy growing the standard that is now being rolled out on many farms, but will it work commercially?
Simon Barton is one of a growing number of broiler growers switching to new standards laid out in the Better Chicken Commitment (BCC), otherwise known as the European Chicken Commitment or the Broiler ASK campaign.
"I like growing these birds," says Barton, who supplies Hook2Sisters and sits on the NFU Poultry Board. After a period growing standard birds, he switched earlier this year. The standard specifies a maximum of 30k/m2 stocking density, and the use of slower growing breeds such as the Hubbard JA757, 787, 957, or 987 and at least 50 lux of light, including natural light.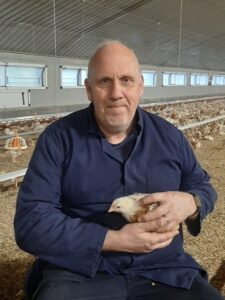 2 Sisters, which produces a third of all chicken in the UK has switched a significant proportion of its production to BCC, with more farmers making the transition during the course of the spring. At the plant in Devon where Barton's birds will go to be processed, 25% of throughput is now BCC. Retail prices are around 20% higher than standard Red Tractor assured chicken.
Changing the industry
The BCC is one of the biggest issues affecting chicken production in the UK. It was devised by a group of European welfare organisations including the RSPCA and Compassion in World Farming and urges the adoption by 2026 of additional standards for chicken production which exceed the requirements of current legislation in the UK and the voluntary standards set out in the Red Tractor assurance scheme.
It has proved controversial due to the increased costs, lower FCR and higher environmental impact laid out in a report last autumn commissioned by the NFU and written by ADAS.
But producers who have switched report they enjoy managing the birds. "You're picking up less birds and there is less mortality through the crop," says Barton. "There are fewer birds in the shed, meaning at certain periods in the crop it is easier to navigate the sheds."
"For the farmers that have grown this chicken, they wouldn't want to go back," says a senior manager at Hook2Sisters. "It's a lifestyle for them." Gary Ford, the NFU's chief poultry advisor, said back in February at the Northern Broiler Conference: "Farmers enjoy this standard, clearly it's a win for the farmers."
Chains including KFC and Casual Dining Group (which owns chains Café Rouge, Las Iguanas and Bella Italia) and retailers including Waitrose and Marks & Spencer have commited to switch all their sourcing to the new standard before 2026.
Room to Roam
Tesco launched a range of BCC compliant fresh chicken into stores in April called Room to Roam. John Kirkpatrick, Tesco agriculture manager for poultry and eggs, recently told Poultry Business consumers who couldn't necessarily afford to buy free-range or organic, were asking for a higher welfare product that fitted their budget.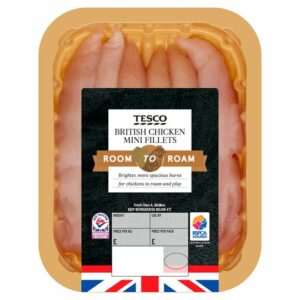 "We are not in a position of do nothing," he said in January. "It is a proactive move to demonstrate clear retail leadership to our farming base and our customers. We are listening to customers and customers are talking to us about health, sustainability, affordability and animal welfare. We have listened to customers, so it will be interesting to see what the customer response is."
Kate Parkes, senior scientific officer at the RSPCA's farm animal department, says the RSPCA had been pleased with the response among large companies to the scheme.
"It is a big commitment to make and some of the aspects are quite challenging," she tells Poultry Business. "I am encouraged we've got some big names like KFC. I am not surprised that some other companies are still looking at it, because it is quite a challenge to convert your whole supply chain over to the new requirements, particularly in relation to things like breed and space."
Parkes acknowledges there are big logisitical challenges but says that is why the deadline of 2026 was set. "If you were literally to say to everyone 'switch over from next month, or even next year', that's not realistic, you've got to have the parent and the grandparent stock in place.
"The breeds are available but it will take time. So even if a business made the decision today, it's going to be a couple of years. That is why we did put quite a long lead in time on the requirement of 2026."
Environmental challenge
But there are significant questions about the trade offs. "It is a very expensive way to produce a chicken," Ford said at the Northern Broiler Conference. Citing independent research carried out by ADAS and Crowshall Vets, Ford said the BCC resulted in an "18% increase in farm costs; it uses 22% more water and produces 23% more greenhouse gases without a demonstrable improvement in welfare."
"The standard is a huge challenge potentially to the environmental credentials of chicken," he added. "I don't want to criticise the production system, it has a lot of merit, but I'm concerned consumers are unlikely to want to pay for the standard. Changes in production should be consumer led not NGO-led."
Despite these concerns, the pace of change is rapid. Tesco is taking between 70-80,000 BCC birds per week, and has plans to ramp this up to 200,000 by the summer, according to a source familiar with the retailer's plans. And other foodservice businesses have committed to switch over by 2026, meaning many more growers will switch in the coming years.
This has big implication for the space required to grow chicken. ADAS estimated in its report reduced output per square metre means that additional housing will need to be brought into production in order to maintain supplies, assuming per capita consumption remains at current levels. If BCC accounts for 25% of the chicken market by 2026, approximately 14% more growing space will be needed than at present. Using current UK poultry housing costs (assumed to be £248 per square metre), this additional space would cost around £164 million to build, excluding planning and permitting costs.
Growing the new standard
For Barton, growing to the new standard is very similar to his experience of growing for Freedom Foods, which he did for 10 years starting in 2008 before demand tailed off. Freedom Foods was rebranded in 2015 as RSPCA Assured.
"It is the same standard, bar a few small differences," he says. "There is extra space due to the lower stocking compared to standard, so there is more room to walk through the birds when you are doing your daily checks. And because the breed is a bit more active, there is more space for you to walk and manage the birds."
Gloucestershire broiler grower Charles Bourns also grows for Hook2Sisters and is currently on his first crop of BCC birds, having switched from standard. "They are phenomenally lively and they feather up quicker," he says. "Standard birds eat, eat, eat, grow, grow, grow, but these birds rush around and by day 18 days they are on bails and perches, building their frame and building strength.
He has had very low mortality so far, he says. According to ADAS, estimated mortality for standard Red Tractor birds is around 4%, and 3% for BCC. However, Bourns says so far his flock has been at around 1% mortality.
Although as a stockman, the experience is enjoyable, the big unanswered question so far is money, says Bourns.
"The country is about to go into recession, so will consumers really want to pay the extra? They're easier to grow; I don't think there's a farmer in the country who wouldn't grow them by choice, but easier doesn't pay the bills and I want to invest in another shed at some point."
He points to his experience of growing Freedom Foods chicken, which was publicised heavily by Hugh Fearnley Whittingstall and Jamie Oliver in 2008, and then ultimtely did not perform well on supermarket shelves. "Everybody lost a fortune," he says. "Sitting here, I'm wondering am I going to be doing this long-term?"
Paying the bills
The birds are obviously more expensive to produce, but these costs are being covered by the processor and the retailer.
Barton, who serves on the NFU poultry board, says the industry as a whole is waiting to see how retail sales respond. If demand is strong, it could have cost implications. "If we were to do this on a large scale there would be more growing space required to produce the same number of birds per week."
The concern is that if demand rises then declines, as has happened with Freedom Foods chicken, the extra growing space could become redundant in a few years.
"If you go back say ten years, we were doing about 180,000 [Freedom Foods chickens] a week, and that has now been whittled down to about 40-50,000 per week due to just sales not taking," says Barton. "So if you produce that growing space to grow the same amount of birds that are needed and sales don't pick up, then that growing space could be surplus to requirement and there could be people who have to close their farms."
Who will buy it?
The obvious question is why would consumers buy BCC chicken if they are not buying Freedom Foods chicken? One answer is they will not have a choice if it is widely adopted as the baseline standard. This is true at foodservice outlets such as KFC, which have signed up to the BCC.
Barton says another factor is external pressure from animal rights groups, rather than straightforward consumer demand.
"Poultry farmers are under quite a lot of pressure from activists breaking in and trying to show bad practice and put pressure on farmers with the type of growing that they do. Activists are causing problems by breaking into sheds. My personal feeling is the industry must show people we can offer another solution if the public are prepared to pay for it, because that is the problem. We will grow whatever we are asked to grow, if the public will pay the increased cost."