Ian Cure, farm director at VetPartners, has urged farmers to follow government guidance on social distancing and self-isolation when vets are practicing on farm. 
"Like farmers, farm vets are categorised as key workers due to being involved in food production. Farm practices are working incredibly hard to continue to provide essential services during this difficult time," he said.
"Our priority is to maintain animal health and welfare while helping to ensure sustained production of safe food as well as minimising the risk of transmitting Coronavirus between vets and farm clients.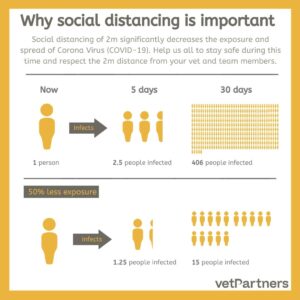 "The latest guidance from the BVA highlights various elements of farm veterinary work that can be carried out remotely, such as health planning and medicine reviews. Diagnosis and medicine dispense can also happen without the need for a visit, with the aid of video calling and a thorough conversation on the signs and symptoms.
"Those working in the supply of veterinary medicines are included in the key workers list released by the government, so we do not expect any major issues maintaining medicine supplies," he said. 
Vets will assess each situation, and when a visit to the farm is deemed necessary, it is important that social distancing guidance is followed, for the safety of both the farmer and vet.
"Government guidance applies as much in rural areas as it does in cities, and following advice is going to be imperative to ensure we can continue farm calling where necessary.
"When a vet is on farm, make sure animals are restrained to allow a 2.5m distance between each person for the entire visit. It's best if visits take place in a well-ventilated area, preferably outdoors, with only one person from the farm present.
"If someone is self-isolating on the farm, it is essential to let the practice know ahead of the visit so extra precautions can be put in place. For example, two members of the practice could attend, with one handling the animal, so the farmer can maintain self-isolation."