Poultry meat processors are having to grapple with labour shortages at a time when consumers are demanding ever more convenient formats, leading manufacturers of processing equipment to create new solutions.
By Michael Barker
The challenge for processors and manufacturers of processing equipment is supplying a multitude of SKUs at a time when political issues are complicating matters – Brexit and labour shortages being at the top of the list.
That is driving investment in automation in the UK, says Charles Swift, a key account manager at Cutting Edge Services. "Processing equipment that can reduce labour is top of our customers' priority lists. That includes things like automatic tray denesters, flex picker robots for picking and packing breast fillets – it's about taking away that need for people doing it manually. That's driven by rising labour costs and the scarcity of it, as well as the need to be ever more efficient, quicker and faster."
Speeding up
A major advantage of automation is faster line speeds, with more plants moving towards 15,000 birds per hour (bph). This can be challenging because so much of the UK's processing infrastructure was built in the pre-robot era, when space for large machines was not such a key requirement. Meyn's senior layout designer is Cees van den Berg.
He says the layout design on a fast automated line "becomes stricter because of the higher line speeds that are involved with a 15,000 bph project". According to van den Berg, Meyn has defined so-called 'layout business rules' for high-speed processing lines, which ensure a correct infeed to the machines to avoid instability and inconsistency, minimising machine interference and ensuring labour safety.
The role of big data
Torsten Giese, marketing manager at Ishida Europe, says poultry processors who want to stay competitive should be working to build up a smart factory and making use of "big data" solutions with monitoring systems such as Ishida's Sentinel software, providing web-based analysis of manufacturing and packing data in real time to make it possible to optimise production lines remotely and prevent faults from occurring.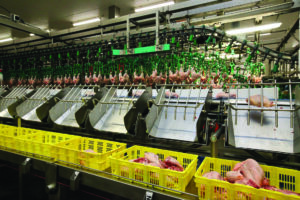 Data analysis is becoming a crucial factor in efficient cutting, slicing, weighing and portioning. "Data is going to play a starring role in the future of food production," Giese says. "The entire production process will be mapped digitally and analysed in real time. This data-focused approach should ideally be accompanied by a cloud solution, which makes it possible to access all relevant information from any given location, meaning that any necessary action can be set in motion immediately."
Meanwhile, Giese adds, employing big data and machine learning enables processes to be continually optimised, quality standards to be raised and allows predictive maintenance for all connected equipment.
Giese adds that while there is demand for faster speeds, "that cannot be at the expense of efficiency or excessive product giveaway. "Equally important, high speeds must not compromise product quality, as today's consumers are becoming more quality-conscious and expect products of the highest standards in terms of freshness, taste and consistency."
Also important is flexibility with the variety of products and pack formats, covering everything from modified atmosphere packaging (MAP) gas flushing to skin packs. Machines must be future proofed with the ability to deliver even higher yields or handle the widest variety of pack types so they can grow with a business.
Processors splash the cash
On the industry side there is huge anticipation around Cranwick's new purpose-built chicken processing facility in Eye, Suffolk, and in its recently published annual report, Cranswick unveiled new details of the processing equipment set to feature in the £75 million facility, which will produce up to 1.2m Red Tractor-assured birds each week.
The latest technology will be supplied by Marel, with equipment including robotics, automatic deboning, X-ray bone detection and efficient fifth-quarter harvesting. Cranswick said the machinery would allow the company to process faster and more efficiently than any of its UK competitors while still focusing on premium quality. The facility will have a dedicated marinating area and a 'ready-to-cook' production space, allowing Cranswick to respond to demand for convenient poultry options.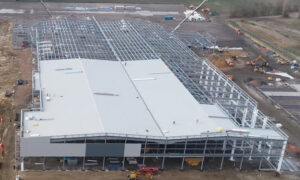 Avara Foods, meanwhile, has spent over £1.5m upgrading its site at Abergavenny, expanding the range beyond primarily turkey-based products into more value-added and convenience food, as well as diversifying into chicken and duck lines.
The project at Abergavenny is part of a company-wide commitment to invest around £100m throughout its supply chain by 2021.  "Ongoing uncertainty, largely driven by Brexit, is making it harder to plan with certainty, but we remain confident in our business and optimistic about the future," says a spokesman.
Three of the major investment programmes at Avara currently underway include a £6.5m investment in operations at its Hereford site, updating and upgrading existing equipment;
A new packing hall at the Brackley plant, which will be fitted with state-of-the-art automated handling technology in the latter part of 2019.  And at Telford a new £2.3m frozen bagging line is mid-installation and on track to be commissioned during October this year. 
Moy Park has also invested heavily in its processing facilities. Earlier this year, commercial director Gary Leslie told Poultry Business about the changes that were driven through the business to enable the company to increase production to six million birds per week. This figure has now fallen back by 300,000 because the Ballymena plant has stopped slaughtering birds in order to upgrade the machinery, but will reopen in the new year.
"We had a growth project team that looked at our complete supply chain base from our agricultural capacity, to hatchery ability, to feed milling through to production capacity.
"So, we pulled that together and we looked at a plan to go from 4.8 million to six million over a three-year period, and then we put that challenge back to the commercial guys to deliver an order book to match that capacity."
In the firm's processing plants, this meant big changes. Moy Park expanded its Dungannon facility and invested in its Anwick facility. It made smaller investments in its Ballymena and Ashbourne sites.
The aim was to expand the overall processing capacity and increase speed. "At Dungannon we invested in the two existing kill lines with a speed increase that matched the latest technology and we added increased chilling capacity," says Leslie. "Then we repositioned the product flow to make it much more efficient to match the increase in pace. We added inline cutting equipment along with additional deboning equipment and also robotic pick and place equipment to allow us to be able to process the additional volume with the same number of people we employed."
Once the blueprint had been established at Dungannon, the same plan was enacted at Anwick two years later. Marel was chosen to supply the cutting, deboning and robotic pick and place equipment. Meyn was the firm's slaughtering partner for two sites. Marel was also able to provide equipment to harvest the livers, gizzards and hearts as part of an inline solution.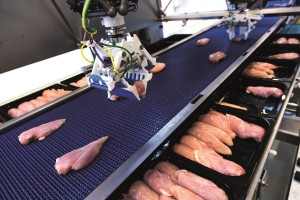 It all underlines the big convenience opportunity facing the poultry sector right now. Last month food industry analysts IGD predicted that the UK convenience market would grow by almost £7 billion to reach £48.2bn by 2024, and with the trend for more protein-based diets showing no sign of slowing down the poultry sector looks well set to capitalise.
New machinery for convenient poultry 
Convenient and value-added products are clearly a major focus of new builds, and manufacturers are giving processors plenty of options to kit out their facilities. New machinery on the market includes Ishida's Orbicote, which was launched this year and aims to deliver marinated product more efficiently and consistently.
Portions of chicken are accurately weighed using advanced multihead weighing technology and then channelled into individual mini-drums within the Orbicote system where they are tumbled with a set dose of marinade. This ensures that product is thoroughly coated before the contents are cleanly dispatched into a tray, and as the weighing process takes place before the product is marinated, the waste traditionally associated with this process is avoided.
Cutting Edge Services has some new kit from German manufacturer Nock for poultry skinning, slicing and dicing, highlighting that the big advantage is that the equipment is purpose built for the poultry industry. "There's a lot of equipment for the pork and meat industry that has been adapted, and there are certain characteristics of poultry such as the chicken skin and fat content that other machines cannot process as efficiently because they get jammed up," explains Swift.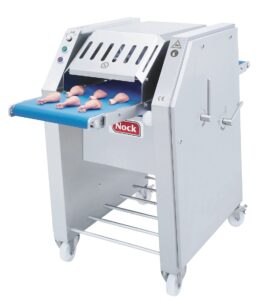 "The Nock machines are designed top and tail specifically for poultry, meaning output is far more efficient. With multiple sales this year, the range of machines are viewed as real game changers."
Marel's lineup includes the I-Cut122 TrimSort, which the company describes as the highest throughput portion cutter currently available and has a dual-lane configuration that features independently adjustable cutting angles meaning different patterns can be cut on both lanes simultaneously.
The machine was developed to address the problem of the fact that broilers and the products cut from them are getting steadily bigger around the world, with these cut products no longer fitting into a tray and having to be portioned themselves. The idea behind the I-Cut122 TrimSort is therefore to make sure that these off-cuts can be turned into a range of other products rather than simply sold as low-value mince. The TrimSort module is fully integrated into the I-Cut 122 portion cutter.
Marel also recently launched a new chicken wing part grading and distribution system called Q-Wing, which is integrated into the ACM-NT cut-up system and is made up of a range of wing-cutting modules, an IRIS visual grading system, sophisticated logistics and Innova control software.
That will all help strengthen the arsenals of processors looking for the flexibility to supply ever-more complex retailer demands. With little sign that the labour situation is ever likely to improve, it is clear that it will be through machinery and robotics that the factories of the future will provide the products to market in exactly the way consumers want to eat them.