Two Christmas turkey producers are celebrating their 20-year association with the KellyBronze turkey – and one of them is using the anniversary to produce a calendar supporting a charity special to their family.
In 1999 Susan and Mark Gorst of Moorgate Farm, Potterspury, Northamptonshire, and Judith and Martin Dryden of Murton Moor Farm, Seaham, County Durham, began producing the premium turkeys as part of the Kelly Turkeys franchise scheme.
The Gorst family chose to link the anniversary with a charity to help raise awareness of Huntington's disease.
"The disease has affected our family and all profits from the sale of this calendar will go to the Huntington's Disease Association," said Susan Gorst. "They are the only national charity supporting people and families affected by Huntington's disease across England and Wales."
"Loyalty is the word that comes to mind when Susan is mentioned, followed closely by enthusiasm," said Derek Kelly, chairman of Kelly Turkeys which led the reintroduction of traditional bronze-feathered turkeys to the UK 30 years ago.    
"We were indeed lucky when we selected Susan as a potential franchisee. Although they were not conventional farmers with empty buildings, her personality won the day. We've no better ambassador for KellyBronze than Susan."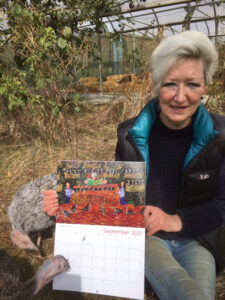 The Gorst family have built up a reputation for their turkeys. From 180 in their first year they are now selling more than 450, and promote the product through two tasting Sundays and a 'one-stop Christmas shop' for collection day. 
The turkey themed calendars can be purchased by contacting Susan Gorst on 07922 134915 or visiting www.moorgatefarm.co.uk