A strong gut microbiome is important for poultry health. Now an artificial intelligence tool is aiming to fine tune performance even further.
The gut microbiome is an important driver in determining the health and performance of the host.
In the case of the broiler, "it's the engine room," says David McBride, Cargill's commercial poultry manager.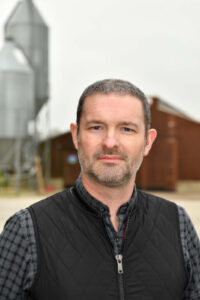 But it's complex because it is made up of thousands of organisms, or microbiota, mostly bacteria. And the combinations of these organisms determine different outcomes. The gut microbiome for each flock plays a crucial role in determining the birds' performance.
Variations in gut microbiome can be seen within and between flocks to varying degrees, and are affected by many factors.
"This is why farms with the same inputs and systems can have different results," says McBride.
"The more detail we know about a flock's gut microbiome, the better we can manage the birds and the more precisely we can formulate diets to support improved performance or help overcome a limitation," he says.
Now Cargill has launched a new service called Galleon, which uses artificial intelligence to help understand the state of a flock's gut health.
The service involves the farmer or field staff collecting faecal material from the cloaca of a few birds using a swab, and sending the samples to the lab for analysis. Individual bird variation is minimised by sampling a representative group – typically 24 per shed.
Collected samples can be stored at ambient temperature in sterile tubes and pose no biosecurity risk, as all microorganisms die in the preservation solution.
This non-invasive procedure can be performed on live birds to determine the gut microbiome and is also an alternative to carrying out a post-mortem by the vet so it is an improved technique in many aspects.
Swabs are analysed and the results identified against the company's poultry microbiome database.
Cargill has collected a profile of gut microbiome from flocks globally for the past decade. This database now holds more than 25,000 samples now and keeps growing. "UK poultry producers have access to one of the world's largest microbiome databases, and as more samples are added, this database accuracy increases," says McBride.
The platform links automated laboratory analysis that focuses on a list of microbial biomarkers shortlisted along the years and a proprietary intelligence tool. This tool combines powerful statistical designs with advanced artificial intelligence models to extract the most important relationships that can be converted into insights for practical application.
The validation of this platform includes more than 100 datasets between research trials and field exercises across a range of countries and farm conditions.
"This is where the knowledge and skill really step in – the results on their own are meaningless, without specialist knowledge to interpret the findings," adds McBride.
"This interpretation is a job for a specialist team in poultry gut microbiome. It's not something we can do on farm, but once we know the details, our technical team can work with producers to suggest interventions to help improve performance."
Detailed and accurate information about the farm's unique gut microbiome profile can be applied to practical farm management and nutritional practices.
"It's a link to meeting the challenges between microbiome composition, bird and flock performance, and interventions in commercial practice."
Information, specific to a flock, can be used to assess health status, resilience to disease, livability and overall performance. The information can also be used help understand the effect of changes in diet or management.
Galleon is being used in flocks in the UK already. "In one case we used the test, analysis, and interpretation – known as an event – to help identify and confirm the pathogen causing leg health issues. We were then able to put an action plan in place to assist in reducing the problem.
"The analysis can also be used to demonstrate the effect of an additive on gut microbiota. Even if a particular additive does not result in a big gain in performance, the information can help determine the cost-effectiveness of the additive."
In other cases, microbiome results are used to fine tune formulations to promote bacteria that will help improve feed use, feed conversion and support production sustainability.
And it's also proving to be a useful prediction tool for vets to identify certain pathogens and implement strategies to help reduce their impact, and for nutritionists, to anticipate and plan the outcome when the nutrient profile in raw materials or feed ingredients changes, say in a new wheat crop or other seasonal variations. Nutritionists can predict how these factors can impact gut microbiome under the particular farm conditions."
"Most units can benefit from more detailed knowledge of flock microbiome, accessed in a non-invasive way and on a regular basis. And from what we've seen so far, these detailed gut microbiome profiles enables most flocks to identify some low hanging fruit where improvements can be made to their unit performance."
Read more
Have a look at our health and welfare news pages