A new trial carried out in Belgium by the Experimental Poultry Centre has found that early treatment can reduce poultry red mite populations by 84% when compared to untreated poultry houses.
Ken Black, national account manager at Bayer Environmental Science, says monitoring and early control is key in reducing mite populations before they take hold and impact bird health, welfare and performance.  
"A move from a reactive to a proactive approach is needed when it comes to red mite control," says Black. "Many farmers start treating mites too late when populations are already high, whereas taking action when infestations are low means keeping control of the pest can be much easier."
Trial results
The red mite monitoring and treatment trial carried out by the Experimental Poultry Centre found that by targeting mites early on, producers are more likely to achieve successful control.
"The trial consisted of applying Harmonix Poultry Red Mite, a solution which controls mites through a physical mode of action. This treatment contains a food grade cellulose polymer which when applied to the mites immobilises and 'shrink-wraps' them. This breaks the development cycle (egg-larva-protonymph-deutonymph-adult) of the mites, reducing populations," says Black.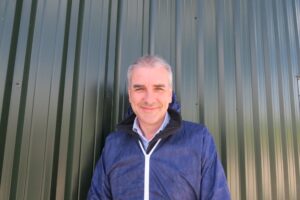 In the trial, Harmonix Poultry Red Mite was applied two hours after the lights were switched off. This was done because mites are more active at night.
"Three treatment groups were used: group one was used as the control and had a medium level of infestation (51-250mg/mites/trap) and no product was applied. Group two had a medium level of infestation (51-250mg/mites/trap) and group three had a high level of infestation (>250mg/mites/trap), both of these received the same treatment," says Black.
Mite monitoring traps were used to identify the populations before and after treatment, and this played a fundamental role in the application timings.
"The results of the trial showed that where medium to high infestations (51-500mg/mites/trap) were present, the treatment significantly reduced the level of mites. The effects of the product used lasted up to five weeks when two applications were made seven days apart, whereas the non-treated control groups had exceedingly high populations throughout the trial," he says.
"After the first treatment, group two saw red mite populations decline over a six-week period to 42mg/mites/trap. Whereas group three, saw a reduction in populations to 79mg/mites/trap, taking this down to a medium level of infestation. The non-treated control group (group one) had significantly more mites at the end of the six-week period, coming in at 507mg/mites/trap.
"This shows that after the first treatment, group three had 84% less mites than group one, the control," he adds.
Gradual increases in mites were seen after the initial application due to the reproductive life cycle being so rapid and some mites not initially being exposed to the product. But, the following treatments meant the populations remained stable at a low infestation level.
"As mite's are an ectoparasite, the size of the population can't always be easily estimated. Furthermore, poultry red mite hide in cracks and crevices, so the majority of the population is hidden. Without proper monitoring tools, mite infestations are only noted when aggregations are visible and when there are blood spots on the eggs. 
"Once you can see mites, it's too late. However, by placing simple corrugated cardboard traps in poultry houses, populations can be monitored closely.
"This trial clearly demonstrates that monitoring is key to allow producers to make proactive applications to stop the life cycle of mites, before they reach a high infestation level," says Black.
He adds that monitoring mites is a simple, cheap process that allows producers to make informed decisions, when controlling this pest.
"When measuring infestation levels, put the traps in a freezer for 48 hours to kill the mites and prevent further reproduction, then weigh them to find out the volumes of mites per trap and subsequently if treatment is required. It's advised that applications should be made even if a low level of mites can be seen (1-50mg/mites/trap) as they're much easier to control at this stage," explains Ken.
"It's important to be proactive. Take a preventative approach by applying Harmonix Poultry Red Mite, so that you can tackle poultry red mite before they start impacting bird health and welfare.
"Good monitoring and early treatment are increasingly important as we begin to have less solutions available to control these pests, which can have a significant impact on bird health, welfare and performance," he adds.