Two frozen chicken products have been recalled by Food Standards Scotland after it was shown that they had been repackaged in an unapproved premises.
The two products – Tasty Chicken Co. Chicken Fillets in Tomato and Herb Marinade 400g and 3 Chicken and Spinach Escalopes – were also the subject of a number of labelling and traceability contraventions. They may have 'best before' or 'use by' dates that have been extended beyond those set by the manufacturers without authorisation from the manufacturer.
MDA Products manufactured the chicken and it was supplied to three retailers: Frozen Value, Factory Foods and Home Bargains. Despite investigations by the enforcement authorities, it has not been possible to obtain the full distribution details or product traceability record for these products, so they may be available in other outlets.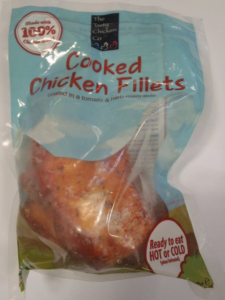 The products should not be eaten, Food Standards Scotland has advised consumers.
Action to recall the products from sale has already been carried out by Frozen Value and Factory Foods and point of sale notices have been issued in stores where the products were on sale. Home Bargains is also carrying out a recall and have been advised to issue point of sale notices in stores where the products were on sale.
Local authorities are advised to contact the premises in their area who may sell the affected products to ensure that they are removed from sale, if necessary using powers under Food Safety Act 1990.