Dalton Engineering was named Trade Supplier of the Year at the 2022 National Egg & Poultry Awards. Michael Baker heard about how they did it.
With all the talk around pressure on farmers and festive food shortages, it would be easy to forget that there are numerous other vital cogs in the wider poultry supply chain that keep the industry's wheels turning.
One such cog is the equipment supply sector, and for Cumbria-based Dalton Engineering, it's been a busy few years responding to the changing demands of the sector as it manoeuvred through the challenges of Brexit, Covid and now bird flu. The company was named Trade Supplier of the Year at the 2022 National Egg & Poultry Awards in the only category that was voted for by readers of Poultry Business.
Keeping up with demand
Dalton Engineering has been in the poultry game for over 30 years, supplying a range of feeding, drinking and ventilation systems. Its portfolio includes installing everything from pan and chain feeders to augers, bulk feed hoppers, mist cooling systems and much more, and in recent years the firm has expanded its spare parts supply in response to industry demand.
"In the last few years the spares businesses has really taken off and it's not just spare parts any more – it's consumable items that the poultry industry needs," explains sales director Gary Walker. "We're doing a lot more around bird flu, such as biosecurity products, disinfectants, disinfected mats and that side of it. We just try to fulfil the industry's needs and supply the best quality products we can."
The team of 10 has had its hands full keeping up with demand for spares, firstly during Covid lockdowns as major installations were put on hold and secondly as farmers tighten their purse strings as input costs spiral.
"What we're finding is a lot of new-build projects we were quoting for have basically stopped, because if a customer is looking at a payback time for a site it's gone up to a point where the timescales would be a lot longer than they were previously," Walker points out. "Steel and equipment prices have gone up, and some people have just put the brakes on until there's some stability. It's not just the build costs going up either, it's the running costs with feed prices and electricity and gas all rising, which all has a knock-on effect. So while new builds have stopped, farmers are putting some of that money into refurbishing sheds and keeping the existing equipment going. We went through something like this before with the Edwina Currie thing, and it gets to a point where certain pieces of equipment that would normally just get thrown away are seen as economically viable to repair again."
Development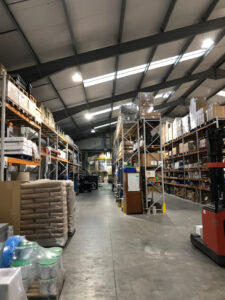 Dalton Engineering is happy to pivot towards industry needs, and its success is reflected in the fact that the company completed its second extension on its warehouse in March 2022, and already thinks it may have to extend again. Its web sales are also going great guns, with almost 50% of customer orders now placed online, and in another new development Dalton is producing its own heat recovery system, for which it is currently tweaking and testing a prototype with a view that it will be ready to take to market in early 2023.
The development is timely. As Walker stresses, energy efficiency is top of mind for poultry producers right now when it comes to capital investments – unsurprising given the huge rise in gas and electricity costs. In a similar vein, Dalton is also seeing brisk business for its LED lighting, while it is fielding requests for comparisons for fans and ventilation units. In other words, keeping running costs down has never been more essential.
Walker believes that "honesty and integrity" is the key ingredient to being a successful trade supplier, and says having the award voted for by Poultry Business readers was "extra special". "Like most businesses, we do have stressful times, and having that commendation from our customer base just makes it all worthwhile," he concludes.
More information
Read more about the 2022 National Egg and Poultry Award winners here.
For news and updates about the NEPA awards 2023, follow
National Egg and Poultry Awards