UK poultry businesses and innovative products are strongly on display at SIAL Paris 2016 this week, the international food and farm business trade fair which is held in the French capital every two years.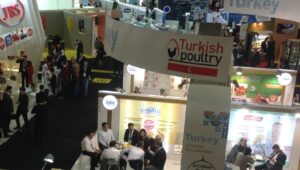 The gateway to the poultry section of the five-day event, which regularly draws an audience of more than 150,000 business visitors, from 200 different countries, was dominated by Moy Park's chicken bar, complete with a steady queue of SIAL "tasters".
At the same time, the event's leading contenders for a product innovation award includes "super turkey burgers" from the Irish Republic's Greene Farm Foods, who are based Rathowen, Co. Westmeath. The contest will be settled this week.
Headline image shows the Moy Park "van" bar in action. One visitor, sadly off camera, managed to fall over the company's decorative tree in his enthusiasm to taste the chicken nibbles on offer.