German farmers are seeking a deal to ensure they can still supply food to the British market, the head of Germany's farm association DBV has said.
Speaking to Reuters last week, DBV president Joachim Rukwied said Brexit negotiations should include provision for continued access for German farmers.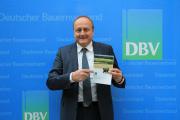 "An open market with the United Kingdom for us should have a high priority in the Brexit negotiations," Rukwied said.
"The United Kingdom is an important market for the German farming industry."
Germany exported about 4.8 billion euros (£4.16 billion) of food and farm products to Britain in 2015, giving Germany a 3.4 billion euro food trade surplus with Britain, Rukwied told an event at the Green Week food trade fair in Berlin.
Sales include German meat, milk, grains, fruit and vegetables.
Rukwied said last week German farmers were greatly concerned about a potential huge gap in EU funding when net EU budget contributor Britain leaves, according to Reuters.