Cargill has launched a new agreement to supply FareShare, an organisation fighting hunger by tackling food waste, with fresh chicken every week free of charge. The agreement will help FareShare grow its capacity to redistribute even more food to communities in need in the South West of England.
As a part of its commitment to sustainable nutrition, Cargill has partnered with FareShare since 2009 with providing over £600,000 in funding to help the charity address food waste and turn an environmental problem into a social solution. 
According to FareShare, an estimated 8.4 million people in the UK – the equivalent of the entire population of London – are struggling to eat. At the same time, at least 270,000 tonnes of surplus food from the U.K. food and drink industry could be redistributed to feed people each year – enough for 650 million meals.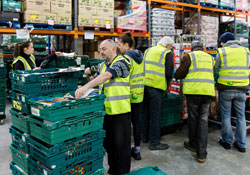 Volunteers working in the FareShare distribution centre in Bristol
"By setting up a fresh chicken supply chain, Cargill is helping FareShare provide communities with access to a steady supply of safe, nutritious and affordable food," said Chris Hall, General Manager for the Fresh Chicken Business at Cargill. "Cargill is delighted to expand its support to FareShare by helping to set up this critical supply chain."
"Fresh meat is the most in-demand food category for FareShare and demand always outstrips supply," said Charlie Mason, Operations Manager at FareShare South West. "The new Cargill chicken supply chain will supply our charity customers with a regular source of high-end protein with which to supply their service users."
Cargill began supplying in mid-June into the FareShare Regional Centre in Bristol.