UK livestock vaccine firm Ridgeway Biologicals is to be integrated with IDT Biologika.  The deal was confirmed on 5 January.
IDT Biologika has a strategy of global acquisitions, and also recently acquired Canadian Gallant Laboratories in November 2015.
"As a leading supplier of autogenous vaccines for production animals and aquaculture, Ridgeway Biologicals is an optimal fit to our global activities in autogenous vaccines," said Andreas Kastenbauer, managing director at IDT Biologika. "Ridgeway will be an integral part of our vaccine services offering bespoke solutions to veterinarians all over the world."
Ridgeway Biologicals is the leading manufacturer for autogenous vaccines in the UK, with 25 employees working at its facility in Compton, Berkshire.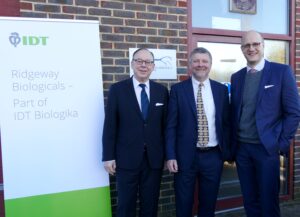 The company has an R&D department focused on developing bacterial vaccines. Poultry, pig, ruminant and aquaculture vaccines of Ridgeway Biological are sold throughout Europe.
"We are excited by the opportunity that IDT brings us to move our services internationally," said Dr Tim Wallis, managing director of Ridgeway. "Currently, antibiotics are used in farm animals in the absence of alternatives to control disease, such as effective vaccines for disease prevention. There is huge pressure to reduce antibiotic usage and autogenous vaccines, formulated to the specific requirements of our customers, should be able to help with this aim."