The latest grocery market share figures from Kantar Worldpanel, published today for the 12 weeks ending 29 January 2017, show Aldi is now Britain's fifth largest supermarket.  With sales up 12.4% year on year, the retailer increased its market share by 0.6 percentage points to clinch fifth place for the first time. 
Fraser McKevitt, head of retail and consumer insight at Kantar Worldpanel, explains: "Just a decade ago Aldi was the UK's tenth largest food retailer, accounting for less than 2% of the grocery market.  Since then the grocer has grown rapidly, climbing the rankings by an impressive five places to hold a 6.2% market share.  Underpinned by an extensive programme of store openings, the past quarter has seen Aldi attract 826,000 more shoppers than during the same period last year.
"Despite being overtaken by Aldi, Co-op's 2% sales increase was well ahead of the market, continuing a run of growth stretching back to July 2015.  A significant own label sales increase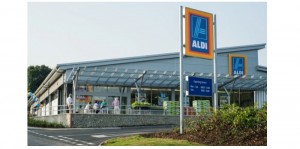 of 7% was behind the strong performance, with healthier ranges successfully catering to consumers' good intentions for the new year.
"Not all shoppers were convinced by the health message though: while overall sales of healthy own label lines increased by 3%, a dry January was certainly not on the cards for many of us – sales of beer increased by 4% over the past 12 weeks, with wine up by 1% over the same period."
The market continues to grow faster than it did in 2016, with supermarket sales up 1.7% on last year: eight of the nine major retailers saw positive sales growth during the past 12 weeks.  Although not significant enough to dampen the market, well-publicised supply issues over the past few weeks have affected sales in fresh produce.  Fraser McKevitt comments: "11 million households buy courgettes annually, but supply issues contributed to 759,000 fewer shoppers buying them this January – that's a 31% drop in spending compared with the same month last year.  Sales of spinach also fell by 12%, in a clear sign that the poor weather in southern Europe has had a tangible impact on British shopping baskets."
"Meanwhile rising prices – which we saw at Christmas for the first time since 2014 – have continued into the new year, with like-for-like inflation on a basket of everyday groceries climbing to 0.7%.  If prices continue to rise at the same rate for the rest of 2017, shoppers will find themselves around £27 worse off."
Morrisons was the fastest-growing retailer within the big four, increasing its market share for the first time since June 2015 with a sales uplift of 1.9% year on year.  Although growth came from across the store, premium own label was a real bright spot – sales were up by 35%, while its revamped The Best range made its way into 14% of Morrisons baskets.
Growing for the fifth period in a row – albeit at a slower rate than previously – Tesco's sales were up 0.3% year on year as its market share fell to 28.1%.  Sainsbury's sales remained flat, while its share fell by 0.3 percentage points to stand at 16.5%.
Meanwhile Asda's 1.9% fall in sales signalled a decline which continues to slow.  Although its share dropped by 0.6 percentage points over the quarter, the retailer did manage to increase the number of shoppers visiting its stores compared to the same period last year.
Elsewhere, Waitrose, Lidl and Iceland all continued to grow.  Boosting sales by 3.4%, Waitrose increased its share of the grocery market to 5.3%, while Iceland – up 8.6% year on year – saw sales growth for the tenth consecutive period.  A 9.4% year on year sales increase for Lidl buoyed the retailer's market share by 0.3 percentage points, leaving the discounter holding 4.5% of the UK grocery market.