Make the most of Christmas 2020 by promoting your turkey business on social media, and transform your farm into a (drive-through) festive grotto for collections.
The NFU's annual turkey marketing meeting went virtual for 2020, with around 100 people tuning in for an evening discussion of all things turkey.
Chief poultry advisor Aimee Mahony presented an overview of the cost of production. The methodology was based on industry intelligence and anecdotal evidence, including feed costs and poult costs.
The costs were based on producing a 5.5kg turkey, with feed costs based on bagged feed with the spot price from August. Increased feed costs of around 10% were the biggest increased costs, although nearly every other cost of production was also up, resulting in an almost 5% increase in the cost of production year-on-year. Plucking and EV costs both rose 6%, in line with national living wage. Overall, a 5.5kg turkey will costs on average £37.12 to produce this year.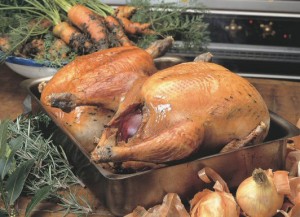 Cost comparison 2019 to 2020

Costs components
2019
2020
% change year on year
Feed costs (a)

£10.49

£11.54

10.05%

Poult

£3.98

£4.07

2.26%

Brood

£0.56

£0.57

1.79%

Farming costs (b)

£3.64

£3.71

1.92%

Pluck

£2.67

£2.84

6.20%

EV

£2.80

£2.97

6.2%

Packaging costs (c)

£1.48

£1.48

0.00%

Distribution costs

£0.85

£0.87

2.35%

Overheads (d)

£8.87

£9.03

1.80%

Waste removal

£0.04

£0.04

0.00%

TOTAL TURKEY

£35.38

£37.12

4.92%
Feed costs are based on prices quoted for delivery August 2020
b) Farming costs includes: gas, litter, shavings and labour costs (including family labour)
c) Packaging costs based on NFU's individual boxes
d) Overheads incorporates the following: shed depreciation over 20 years, machinery, office rents, insurance, admin and IT plus costs for any promotional/marketing activities
Feed strategies
Forfarmers' UK poultry director David Hilldrith provided an overview of the key phases of turkey nutrition, looking at the ideal crumb diet for turkey poults, and then the finishing period.
Will Foote then shared his market insights into the raw materials of turkey feed. Domestic prices for wheat have risen due to a poor harvest.  The UK is expected to only produce around 10 million tonnes of wheat this year, compared to 16 million tonnes last year, so imports will increase from the southern hemisphere where harvests have been bigger this year.
Market insights
Turkey is very much still the centrepiece for most families at Christmas, according to Kantar data discussed by Mahony.
Last Christmas, Kantar data looking at the till roll data from 30,000 households, showed fresh turkey volumes were down -0.3% volume and -2.2% in value. Frozen turkey volumes were down -2.3%.
Shoppers are continuing to move towards smaller birds and crowns, and younger families and larger households are spending less on Christmas food, the data showed.
This year is difficult to predict because there has been so much interruption, Mahony said. However, she highlighted that normally during a recession, consumers begin to trade down to standard ranges from premium. "This behaviour could increase as unemployment increases," she said.
Marketing and merchandise
Mahony gave an overview of promotional tools for turkey producers selling direct to the public, including the online Turkey Finder, where shoppers enter their postcode and are given their nearest turkey producer, and Christmas dinner images, which are useful for anyone who may be generating their own marketing materials.
The #buymyturkey campaign is now in its fourth year and this year the social media focus will be taking place on Friday 4 December. The campaign aims to raise the profile of turkey producers, encouraging consumers to back British farming and choose local.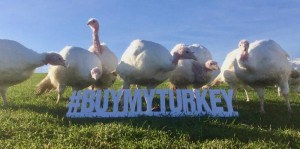 The social media day has proven successful in previous years with over 10,000 views on the Turkey Finder webpage in the first week of December in 2019 and on the social media day itself there were 40% more views than the previous year.
Paul Kelly's Christmas
Turkey producer Paul Kelly spoke about the importance of getting poults off to a good start, correct brooding temperatures, clean air, clean water, good food. Where possible his preference is for whole house brooding, reducing the temperature by 1°C degree a day from a starting temperature of 35°C.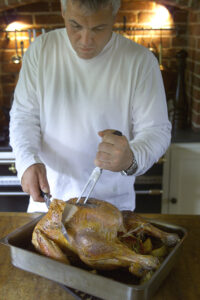 Farm gate sales are a big part of Christmas trade for Kelly's and 90% of all orders are made through the website. "Without it I don't know where we would be," said Kelly. "We have invested a lot of time and money in it and it's an area where we can tell the customer a story and sell our products."
He then discussed his usual routine for Christmas, creating a grotto on the farm to make collecting the turkey a magical experience. This year he is planning to convert it to a drive-through format, but will all the usual Christmas touches.