Two years ago, Moy Park built a brand new green field hatchery in Newark-upon-Trent, Lincolnshire, which now produces 2.4 million chicks per week and is the UK's biggest hatchery. PB was given a tour to discuss the project and the wider business

By his own admission Dan Ashmore spent many long days sitting in Portakabins eating too many chocolate biscuits. Overseeing the build of the biggest hatchery in the UK, which opened in Newark-upon-Trent on September 4, 2017 (a date "burned into my brain," he says), was at times stressful and followed hot on the heels of a £10 million major upgrade at Moy Park's Ashbourne hatchery, which opened in August 2016.
"We took Ashbourne from half a million eggs a week to 1.5 million eggs a week, and we maintained production throughout the build," says Ashmore, Moy Park's company hatchery manager. "That was a real challenge, and just when we were about to take a breath, we started digging the field here." The ambitious green field project in Newark-upon-Trent is now the UK's largest hatching facility, producing 2.4 million chicks per week.
Two years on from the opening, the Portakabins have gone, and the project has delivered everything Moy Park wanted it to. But at times there was stress and unexpected dramas.
Tunnelling under the A1 to secure electricity was just one challenge the teams overcame. "I don't even remember much about the first two months," jokes Gavin Collinson, the hatchery manager. "It took 53 weeks from first grass being turned over to first eggs coming in. We took the eggs in on Monday 4th, and they went in the machines on Tuesday 5th, and five weeks later, give or take a machine, we were full," says Ashmore.
"It was a great thing to do and there was camaraderie but far too many chocolate biscuits in Portakabins. There were challenges and a bit of hair pulling but it was always going to hit the targets."

Supply chain control
The business case for a new hatchery was clear. The Moy Park business had grown and it didn't have enough hatching capacity in its existing facilities.
"We were selling hatching eggs to a third-party hatchery then essentially buying the chicks back," says Ashmore. "And our business had grown to such a degree that we were buying in 1.1 to 1.2 million chicks a week."
Justin Coleman is Moy Park's agri-business and live production services director. "We had a piece of our chain we didn't control," he explains. "We wanted control of that supply chain and we wanted to manage every element."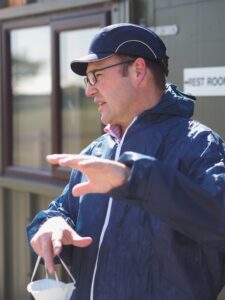 After a long period of site selection, Newark was picked because of the growing base in Lincolnshire and the proximity to the slaughtering plant at Anwick. 80% of the output of the Newark hatchery will finish up at Anwick. David Graham, the recently retired head of group engineering, oversaw the project, and Ashmore pays tribute to the way he brought his breadth of 47-years' experience in building factories to the site. "We were really fortunate to have him," he says. "It was his swansong project."
The hatchery employs the latest automation, including camera chick counting technology in chick take-off and a fleet of purpose-built state of the art chick carriers for transit to farms. It has a 2.908 million egg set capacity per week (151m p/a) hatching 2.45 million day-old chicks per week (128m p/a).
All the eggs are supplied from Moy Park breeder farms. Circa 1.5 million come in from Northern Ireland on a 30 cell tray format, and 1.4 million come from GB farms on a 162 cell tray format. 484,704 eggs are set per day, six days per week. The hatchery uses x48 24 trolley setters (132,192 hatching eggs per unit); x16 16 trolley setters (88,128 hatching eggs per unit); and x66 hatchers (22,032 egg equivalents per unit).
The scale of the project, coupled with the £20m investment, and the impressive results so far integrating it into the rest of the business secured the business the title of Hatchery of the Year at the National Egg & Poultry Awards 2019.
There is the potential to expand capacity even further than 2.4m a week, if in future it's needed. "Part of the design was that there's a level piece of ground that is specifically the right size to put a further setter and hatch hall on that would get you half as much again," says Ashmore.

Learning on the job
Once the deadlines had been hit and the hatchery opened in 2017, the big challenge was learning how to operate it and work seamlessly within the broader business. Securing experienced workers was one of the main obstacles. "One of the challenges was 90% of the people had never been in a hatchery before," says Collinson. "And because it was a new site, those who had been in hatcheries before had to nigh on throw away what they knew. It was probably as challenging to those with experience as without."
To try and mitigate some of those challenges the business set up what they called the Hatchery School. It gave staff training in incubation, Control of Substances Hazardous to Health (COSHH), health & safety, a full induction to Moy Park, and a welfare morning with vets.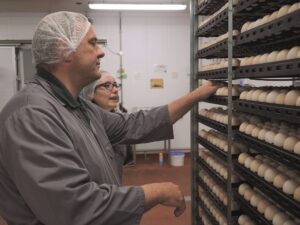 But despite all this, says Ashmore, "It took probably the first 12 months for the staff to settle, and now the second 12 months there's a bit more refining and training and developing. It isn't 'oh its six months in everyone is up to speed'; no it's two years in and we're starting to feel comfortable and confident."
Securing labour
Aside from getting the staff up to speed at the hatchery, there are clearly wider issues at play with labour. Moy Park, like all businesses in the poultry sector, is experiencing difficulties in finding enough people who want to work in farms, hatcheries and processing factories.
According to Coleman, there are two main reasons for this: a generational shift meaning young people now have higher expectations of work and aren't prepared to do repetitive work in uncomfortable environments like refrigerated factories, and the squeeze on migrant workers, partly driven by Brexit, encouraging workers to return to their countries of birth. "We're into generation Z now, and they have a very different outlook on life and different skills, he says. "There's less and less migrant labour coming in too."
For this reason, Moy Park's capital projects are now focused on removing labour and making as many processes automated as possible. £45m will be spent this year, and another £45m next year. "We are not restricting capital investment in the face of Brexit." "There [is] a much bigger focus on capital projects to remove headcount," says Coleman. "And if that means double or three times the payback, it's still a really great project to do because getting hold of labour is difficult, keeping labour is sometimes even more difficult. So, any capital projects that can take those awkward jobs away from people and give them more comfortable jobs is certainly where our thinking is."

The Irish Border
Brexit may not be holding back Moy Park's capital investment programme, but it's certainly occupying a big space in the minds of Moy Park's directors. As the largest private sector employer in Northern Ireland, transporting multiple movements of livestock, meat, by-products and waste back and forth across the border to the Republic each day, Coleman knows better than most what a frictionless border means in practice. "Our business is in NI, it is in England and it is on the continent. So, we have operations across all three of those and we move product on short shelf life, whether it be chicks or eggs or breeding stock east to west and north to south. So that is interesting and tricky."
There are still many unanswered questions, just weeks away from the deadline of October 31 when the Government says the UK will leave the EU. Potential delays at the Irish border, the introduction of tariffs, and customs checks are all issues still hanging in the air. Uncertainty is the biggest problem, says Coleman. "There are some big questions hanging. We've got to try and work out what is the impact of two or three-day delays on lorries? What is the impact of tariffs if they come in? "Then you start to work on things like rendering and getting rid of farmyard waste [Moy Park currently transports much of this over the border from NI to the Republic]. There are all those things that haven't been hugely brought to the fore and as an industry we haven't worked through the impact."
Discussions with politicians are "ramping up" as Brexit day approaches. "We have an almost full-time Brexit steering group, which covers everything from commercial impacts to logistics to agriculture to veterinary," says Coleman.
Although no-one knows what will happen, Coleman says: "My gut feeling is, and I have nothing to base it on, I think a deal of sorts will be struck as it comes to crash land. "It has to, for the sake of stability. It would feel awfully irresponsible in the short range to crash, when we can create a deal and then work out the detail after. That's maybe a pragmatist's view, and someone who works in industry's view."

Better Chicken pressures
Another major issue occupying the industry right now is the Better Chicken commitment. The NGO-led campaign to get retailers, caterers and fast food firms to sign up to lower stocking densities and slower growing breeds has taken a firm hold through the summer, with the likes of KFC joining retailers such as Waitrose, M&S and caterers such as Compass and food manufacturing giants including Unilever in making the pledge. Even Tesco has recently committed to launching an indoor-grown fresh chicken line that meets the requirements of the scheme and integrators are being forced to adapt.
There's been criticism of the scheme from the NFU, which argues that it fails to recognise the progress towards improved welfare that's been made in broiler growing in recent years.
The increased attention on broiler farming has "upped the ante from an NGO point of view, wanting to have a polarised view about what indoor production is all about," says Coleman. Over the summer there has been "unauthorised access and filming during the night and taking pictures and releasing those with limited knowledge of bird behaviour," he adds.
It's put broiler farmers in a difficult position. "As a sector you get into defence mode. It feels like you're coming across as defensive, when actually it's an opportunity to be proactive about a great system that's well managed, well controlled and incredibly well invested."
He stresses that it's important to focus on facts when discussing welfare. "One of the key things we aim to do as a business is talk about facts and have fact-based answers. So, what is good welfare for a bird? How do you measure good welfare and how do you define  good welfare? We can often make the mistake of looking at the world through our own eyes and not through the eyes of a chicken.
"We have good working relationships with all sorts of animal scientists and researchers. As much as people are saying Better Chicken Commitment is great and what we do is not as great, there is a degree of needing to demonstrate this factually before we can get behind any one system. "Will there be a mass switch over to every chicken product? Probably not. Will it morph subtly into higher welfare tiers that carry more sway? Probably, yes."
Coleman stresses it's important to keep in mind the consumers who simply can't afford more expensive chicken. "And the debate should never forget what we currently do is world-leading from a welfare and a bird health point of view," he says. "We should never forget our baseline is significantly higher than a lot of places in the world. We already have a great offer and we need to work out how it fits with an already good offer."

The net zero challenge 
In addition, slower growing chicken with lower stocking densities require more feed over a longer period of time. This increased use of resources runs counter to the need to reduce the environmental impact of agriculture in order to meet the NFU's aim of reaching net zero on carbon emissions by 2040, and the government's legal commitment to a net zero economy by 2050.
"When you start to weigh up things like the Better Chicken Commitment and how things like that affect net zero 2040, naturally that system is going to be less efficient from an input point of view," says Coleman. "It doesn't necessarily mean it's going to be bad for the animal, but it will be less efficient because it will grow slightly longer and therefore we will have to work out bigger and better ways of offsetting that if we want to maintain net zero. You're using more resources to deliver the same outcome." However, Coleman says the poultry sector, generally, is well placed to step up to what he describes as 'ambitious targets'.
"The poultry sector is hugely efficient already, but it can get more efficient if you  start to think about carbon sequestration on farm or solar panels. We have a lot of square metreage of roof space. "I think we can also do a lot more from a waste management point of view, with combined heat and power, and ammonia scrubbers in the future." He is also positive about the growing appetite for poultry meat and the responsiveness of the industry to change.
With 21 million birds produced in the UK each week, and between seven and eight million bird equivalents imported, there is the potential for greater self-sufficiency, Coleman believes. "One of the biggest challenges is always going to be farming space and factory space, and planning." However, if demand for UKproduced meat increases as a result of Brexit, he's optimistic about how poultry producers would respond. "Our industry could mobilise quite quickly around that," he says.