More businesses are adopting precision livestock farming – modern feeding concepts along with appropriate digital technologies and connectivity. Evonik has developed a guide for developing a digital strategy for your business.
The poultry industry is not one to stand still, especially as it faces the challenges of reduced antibiotics use – along with other legislative requirements – and meeting the increasingly high standards of animal welfare consumers require. Increased production levels are also needed to match the growing demand of our rapidly expanding population.
Automation and ICT technologies offer an increased ability to monitor, control and manage production more efficiently. This can enable poultry businesses to comply with market and consumer demands while maintaining their own objectives.
However, in an era of big data and constant technological development, it can be easy to get lost or left behind and it is important that poultry companies take a strategic approach to digital in order to maximise their opportunities.
So, how do you build a digital strategy?
Step 1 – Digital as part of your company culture
When you are introducing a digital approach, or changing your existing one, you are usually transforming the way you work. It's important that everyone is on board at an early stage. Employees, and other stakeholders, need to understand why any change is necessary and the opportunities that will arise. They should be involved and co-develop your digital strategy. For example, should you get automatic weighing scales? Do you need full stack environmental sensors? Which dashboards do you need? Involving the people directly engaged in tasks can help with these questions and others.
Step 2 – Understand your production process
It's important to understand where you are starting from. Accurately describing production processes, and the steps involved, means you can set realistic objectives for the digital strategy. For instance, what are the main key performance indicators (KPIs) you are looking to meet? How are you measuring them? Do you measure enough for full understanding of how the process is doing? This can be on each level of your organisation, from the breeder department to the slaughterhouse, from rearing to egg processing.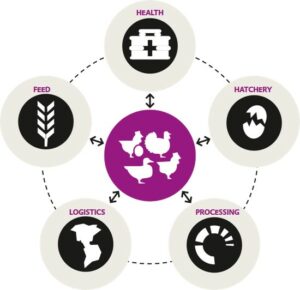 Step 3 – Start with monitoring
The advantages of going digital are clear. Using sensors in your poultry facilities allows you to collect a variety of live data, 24 hours a day, every day of the year, and then take immediate action. It also means you can compare historical data allowing you to identify trends and any emerging longer-term issues. Most of all, it enables you to look ahead, in the near and far future.
This can all be automated, freeing you up to spend time elsewhere. Using cloud-based software also allows poultry producers to process and analyse data from anywhere in the world.
Step 4 – Improve by analysing
Welcome to the data mine! Once you've collected an array of data, you have the potential to connect the dots and see how different factors, such as feed composition, lighting schedule, and vaccination scheme, impact the flock performance. Such data can be displayed in a variety of visual forms, through dashboards using icons and graphs. This makes data easier to understand for everyone involved and means trends are easier to identify.
Step 5 – Now you are optimising
The aim of a digital strategy is to optimise the performance of your flocks and business. Making predictions can be effective but being able to plan based on evidence is far better. Once you have collected and analysed your data you can focus on any weak spots in your production processes. These could be in the growing, transport or processing activity; and may be things you are only aware of thanks to data management. This can mean better monitoring and analysis of health and biosecurity programs to ensure safe food production, or the avoidance of waste through more efficient planning.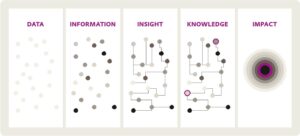 A virtual helping hand
Innovative management tools are available for the poultry industry, based on scientific self-learning algorithms, that use enterprise data to further improve and optimise production and business processes. They are designed to support managers in taking proper decisions.
Utilising data-driven solutions enables those involved in livestock production to better manage, predict, and optimise their operations with the aid of big data and the potential use of artificial intelligence. Going digital ensures a better chance that you will deliver the right product at the right time.
Evonik Precision Livestock Farming is convinced that precision livestock farming – modern feeding concepts along with appropriate digital technologies and connectivity – is the only way forward. Its Porphyrio service uses enterprise data intelligently, based on self-learning algorithms, to improve and optimise your production process and business process. Its expertise in livestock science, livestock production chain, biostatistics and big data ICT means it can provide applications for use in layer, broiler, turkey, or duck farming.