The new standard has been agreed upon, but there's a hefty price tag attached for producers
By Rachael Porter      
The recently agreed British Lion Code of Practice for barn eggs has left producers and packers with one key question: who will pay for it?
The industry could be looking at an investment of above £200m – just ten years after many invested heavily in converting battery to enriched cages.
Noble Foods' head of agriculture Jean-Paul Michalski says securing long-term contracts with retailers will be vital to give producers the confidence to invest such large sums – again – into converting to new aviary barn egg systems.
"It's early days – discussions around supply are in the very early stages. Ideally we would be looking for contracts of at least 10 years – the time is takes for equipment to depreciate to a point where any return on investment has been recovered.
"This is particularly important given the previous huge investments made on many units to upgrade to enriched cages. Producers are, quite rightly, wary of making further investment without some sort of security in place. There has to be some financial and this is the best way to offer that support."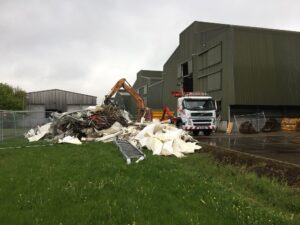 There are currently around 14 million birds in enriched cages in the UK and the move to the new barn standards will see numbers fall, approximately, by between 30% and 35%, due to the new reduced stocking rates permitted.
Noble's enriched caged 'colony' comprises 4.5 million birds – 1.5 million are owned and managed by the company and the rest produce eggs under contract.
The company recently converted one unit on its 1.1 million bird site, based in Nottinghamshire, using Vencomatic's high-welfare Veranda Aviary 2 (VA2) nest system into a multi-level barn.
This flock, which now numbers fewer than 100,000 birds, is around 27 weeks into lay and the results are already looking promising, according to Michalski.
"We're monitoring performance closely so we can work out the exact cost of production, following installation. And this should help in further discussions around long-term supply contracts with all our retail customers.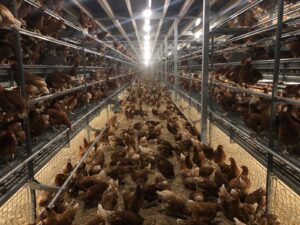 "It's important that the price producers receive for their eggs reflect the additional investment required to make this significant change.
"It's important that they can still buy eggs at an affordable price and that the 'value' eggs don't become a premium product.
"We're supplying a 'value' egg, which can't really command a premium on the shelf, so there has to be some form of commitment from the retailers to provide security for producers and packers."
This is even more important now it's become clear not all retailers will support barn. While Tesco has publicly committed to supporting barn eggs, other retailers have made the decision to go 100% free-range. Sainsbury's and Morrisons have decided to cut out the value tier altogether in shell egg, bringing them into line with Waitrose and M&S, leaving Tesco, Asda, and the discount retailers Aldi and Lidl to stock barn.
BEIC's Mark Williams argues barn egg has a vital role to play in ensuring that the retailers' 'cage-free' commitment can be met. Barn eggs also need to have a secure market and producers need to know that they can receive a good return in order to cover what is another substantial investment.
Another major packer, Glenrath Farms, is also investing heavily in barn production and is converting its Millennium site, near Peebles, from the existing colony production units into an impressive barn system with Big Dutchman equipment.
The switch from battery to enriched cages, back in 2012, saw the industry invest around £400m, according to the BEIC, and some producers have yet to see a full return on it.
"The industry was concerned that it would invest in a new system again and that this could then come under criticism from certain animal rights NGOs," says Williams. "In this respect we have worked closely with CIWF to ensure that the new barn system has a long-term future.
"We also worked closely with Tesco – everyone had their say and everyone is happy with what's been agreed.
"I think producers and packers can feel secure in the knowledge that the goal posts will not move again any time soon – and certainly not before they've seen a return on their investment.
The new standards will apply for all converted and newly built barn units with immediate effect, with a derogation for existing units until 31 December 2025.
"The system has been designed very much with bird welfare in mind, as well, of course, as cost. Many will be taking out enriched colony cages that are yet to be amortised."
Vencomatic sales director for poultry Kevin Howse believes that some of the smaller units – those with around 50,000 birds in enriched cages – may not be able to find the capital to convert. "I think they may choose to stay as they are and sell wholesale or liquid egg. Many have yet to pay for their enriched cage systems and have little choice now."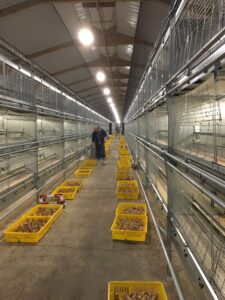 The remainder of the UK flock – typically those with larger flocks – will find the capital and get the returns from supplying the Lion barn egg market. "The major players are looking – certainly. And they will also be looking for long-term contracts from their buyers for security against that investment – and you can hardly blame them. It will be the only way, as a business, that they can justify further spending on this upgrade."
Howse says it's difficult to say exactly how much conversion will cost the UK industry as each farm and system will vary. Some will be able to install tiered systems and other will be limited by building size and design. "But I think an estimate north of £200m across the industry is realistic."
"The buildings themselves can remain, but they will have to be re-fitted with equipment and facilities to meet the new guidelines, which include the maximum floor stocking density, two enrichments per 1,000 birds, a maximum colony size, and superior nest boxes," says Williams.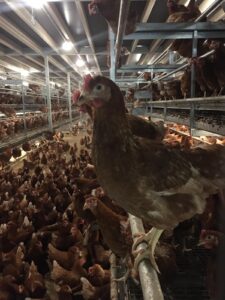 Howse agrees that it's vital that barn eggs are a success – particularly for free-range egg producers. "The availability of barn eggs will allow free-range eggs to hold their premium price and not become just another commodity. Free-range is still seen as a niche – just. If the market became 100% free range then this would disappear – along with the premium."
Welfare organisation pleased with outcome
Compassion in World Farming's Tracey Jones is also pleased with the outcome.
"The standards go significantly further than those set out in EU legislation, which permit the use of higher stocking densities – up to 24 birds per square metre at floor level – and intensive Combi systems.
"They also go even further than Germany's KAT cage-free system, which stipulates a maximum of 18 birds per square metre at floor level, compared to the Lion barn egg standards, which allow a maximum of 16.5 birds per square metre.
"We believe that these new standards are fit for the future and are capable of delivering better levels of bird welfare. It's a huge step forward, particularly for the value egg, and one that should not be undermined by lower-welfare imports.
"We're aware that this will mean producers and packers will be shouldering significant costs if they want to meet these new standards," adds Jones.
"The confidence to invest in the infrastructure required has to come from firm and long-term retailer contracts. These guidelines have been passed, but it's important that producers and packers feel in control. They have to be rewarded for their efforts to optimise bird welfare and have a degree of financial security going forward."
"It's vital that we all work together to create a sustainable cage-free future – one that industry, government and consumers alike can feel proud to support and will ensure better lives for our hens in the future."