Award-winning producer St Ewe Free Range Eggs has put the welfare of both animals and humans at the heart of its success. Michael Barker reports
Not many hens can say their diet has been developed under the guidance of a Michelin-starred chef, but it's fair to say St Ewe Free Range Eggs does things a little differently from the rest.
This summer the Cornish supplier was named Poultry Business of the Year at the 2023 National Egg & Poultry Awards, capping an extraordinary journey of growth over the past 16 years that has been characterised by original thinking and a relentless focus on both animal and human welfare.
The company in its current form started life in 2007, having been born out of a family business that was traditionally focused on dairy farming. Egg production only started in the early 1980s, when the father of current chief executive Rebecca Tonks decided to raise a flock of 1,500 birds at a time when milk production was not proving profitable. Selling the cows after the foot and mouth crisis in the 1990s, the poultry business started out selling through Noble Foods before finding its feet as an independent packer focused on the local region. From there things expanded and today St Ewe has 466,000 birds, 64 people and packs eggs from 28 farms across England, Wales and Northern Ireland.
St Ewe supplies a range of retailers and a significant customer base in the foodservice market with a wide selection of eggs under brands such as Rich Yolk and Super Eggs, and in sizes including Original medium, large and Grand. As well as hen eggs, it has expanded its portfolio in the past year with the addition of duck eggs under the Dabbling Duck label and, in April, quail eggs under the Quirky Quail brand.
Speaking to Tonks, it immediately becomes clear that the wellbeing of both the animal and human sides of the business is central to its success. The key selling point of St Ewe eggs is the way the birds are fed, with bespoke feeds having been developed for each of its brands to get the right balance between nutrition, energy and performance. "We designed the feed for our Rich Yolk brand with a Michelin-starred chef – Chris Eden, who now works at Gidleigh Park," Tonks recounts. "It's rather like the elves and the shoemaker in that Chris would come in and collect his eggs on the way to the hotel where he worked, and he would come back with his thoughts, and we worked with Humphrey Feeds & Pullets for months to get the formulation right. We worked with them to tweak the pigment levels to make sure we've got a product that wouldn't oxidise and that the colour would always come through and be vibrant and beautiful, even through the cooking process, because people eat with their eyes."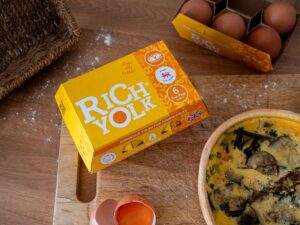 The human side of the business is equally important to Tonks, who speaks passionately about the importance of staff and supplier morale – particularly after such a turbulent few years, for both the industry and the country generally. "Covid really made us think more about where welfare starts, and welfare starts with the farmer," she explains. "We love a party and good food, so it's really nice getting all our farmers together. We regularly invite them together and chat about how we can do things differently. If there are things that they think we can do better, we want to hear about it because we can't improve if nobody tells us. It's all about that connection throughout your business and without the farmers we don't have a business. Our values-led approach means that we always strive to have a transparent, honest and nurturing attitude to business, from hen to farmer, to our team and to our customers."
That sense of cultivating human connection has served the company well at a time when many producers report increasingly fraught relationships with their customers. For Tonks, good communication is essential, and she describes the level of open engagement with St Ewe's customers as never having been better, even at a time of having to discuss price increases. "The currency is confidence, it's not money," she maintains. "In order to keep that confidence, you need good communication, and the same goes for all our producers as well. It's about keeping that communication absolutely up to date all the time."
Communication also extends to the way the company speaks to the public, and Tonks believes that honesty and transparency is vital when it comes to explaining the USPs of St Ewe eggs and the taste and quality benefits they have. When it comes to gauging the public mood, there's inevitably an ideal moment to launch new products, which Tonks readily admits when it comes to the story of Super Eggs' background. The brand originally started life as Boost the Roost in 2012 following three years in development, but the market headwinds were not right, and it wasn't until Covid struck and consumers started looking for immune-boosting products that the line was rebranded as Super Eggs and really took off. Now, as shoppers become more aware than ever of what they are putting in their bodies, St Ewe's products are well placed to capitalise on the trend.
That versatility to adapt to changing circumstances is serving the producer well. In difficult times comes opportunity, and when professional rugby team Exeter Chiefs lost its shirt sponsor during the early days of the pandemic, it led to a valuable opportunity for St Ewe to step in, which Tonks seized upon. "We were getting around four million viewers every Saturday afternoon on the back of that, and we've now gone on to supply Arsenal, Chelsea and Bradford football clubs following the recommendation of the nutritionist at Exeter Chiefs. These eggs have got higher levels of DHA Omega-3 and selenium, which is like the maestro of the orchestra of all your nutrients. If you haven't got enough selenium in your body, you can't absorb all the other goodness from your food very well. It's so important and nutritionists know that, so it's about trying to convey that to the general public."
Having chefs and sports nutritionists in their corner is a valuable marketing tool for St Ewe, especially as Tonks freely admits that's not her original area of expertise. Indeed, she didn't follow the well-trodden path of heading straight into the family business at all after completing her studies. Instead – after admitting she "got married too young" – she embarked upon a nomadic early career that included running small pubs, estate agency, working for a frozen food company and even being a jockey, before finally moving back to the farm in 2004 and setting up the packing centre in 2007. In those last three years she also put her talent for baking to good use, setting up a bakery on the farm called the Cake Tin, which earned some valuable extra income.
Despite the seemingly unconnected nature of those experiences, they actually stood her in good stead as she learned skills from intellectual properly to barcoding and packaging, all of which helped in the establishment of the new egg-packing business. One doesn't sense an attitude of hierarchy, but instead one of collaboration and togetherness where every member of staff's contribution is as valuable as another's.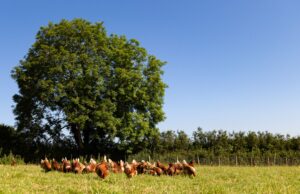 Aside from work, St Ewe puts a great amount of stock in its charitable endeavours. The company holds no less than two Guinness World Records, most recently achieving the feat for the longest egg and spoon race. The record was broken in July as staff, well-wishers and the backing of celebrity chefs including Michel Roux Jr and Gordon Ramsay, helped egg on the teams around the 300 miles of the undulating Cornish coastline. As well as a fun teambuilding activity, the initiative helped raise over £37,000 for the Cornwall Air Ambulance and Hospitality Action.
That's not all: the Super Eggs brand was originally inspired by a desire to help Tonks' father's ill health as a way of getting higher levels of selenium into his body, and as part of the company's altruistic work, it donates 5p from each carton of Super Eggs sold towards Pancreatic Cancer UK, raising £16,000 at the time of writing.
Tonks believes winning the award shows that St Ewe is "a brand to be reckoned with" and is honoured to have been recognised by the industry. "It crystallises a point of where we've got to in our business," she says. "It's been nearly 17 years of growing the business and when you start out people think you'll only be here for five minutes, but we have earned our place and it's really good to be able to show that to prospective producers and give them confidence in who we are."
Tonks teases some exciting new developments in the coming months, which are being kept under wraps for now. But if St Ewe's recent activity is anything to go by, you wouldn't bet against it being anything other than another success.