Business excellence, outstanding individuals, and investment in the future were all celebrated in style at the National Egg & Poultry Awards 2019.
Over 200 guests gathered for the event at London's Royal Garden Hotel in Kensington, where England rugby legend Ben Kay hosted the event, handing out a total of 14 awards covering all aspects of the industry from excellence in production multi-national businesses investing millions in new units, to individuals in the early days of their poultry careers showing enormous promise.
The National Egg & Poultry Awards was launched in 2018 as an annual event by Poultry Business magazine and Lewis Business Media to recognise excellence and innovation in the egg and poultry sectors. Now in its second year, the standard of entries from across the country was excellent.
Everything from innovative poached egg products, to red mite deterrents, and brand new hatcheries was recognised with a judging panel made up of BPC chief executive Richard Griffiths, turkey farmer Paul Kelly, BEIC chief executive Mark Williams, poultry farmer Charles Bourns, NFU poultry advisor Gary Ford, and Poultry Business editor Chloe Ryan.
Business leaders from all the major egg and poultry firms and representatives from industry bodies gathered to celebrate the achievements from across the spectrum of the sector.
Over £1,000 was raised for the Farming Community Network through a game of heads and tails with the winner walking away with a magnum of Veuve Clicquot.
Guests enjoyed a drinks reception, and after dinner the bars stayed open late and guests chatted and caught up with old friends into the early hours.
Here is the full rundown of all the deserving winners
Traditional Norfolk Poultry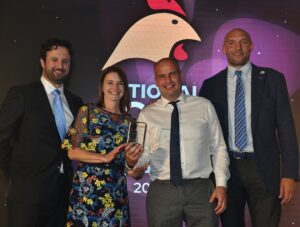 TNP is a free-range higher welfare poultry business supplying the market with both free-range chicken and free-range turkey to extremely high specifications. Formed over 30 years ago with growing a handful of turkeys it is now one of the leading independent free-range producers in the UK.
The business' poultry is grown in East Anglia where it is given an abundance of environmental enrichment, last year some of the turkeys even had musical instruments to play with which caused endless enjoyment for the turkeys and much amusement to the farming teams.
1.4 million chickens are on TNP's farms at any one time and this is increased significantly when also growing turkeys. Each week the business sells around 90,000 chickens including organic, corn fed, free range and the Norfolk Black. All slowly grown and grown to Red Tractor, RSPCA and for Organic OF&G accreditation.
There is ongoing investment on the farms and with a new turn-key package offered to farmers to diversity their business growing higher welfare free range chicken.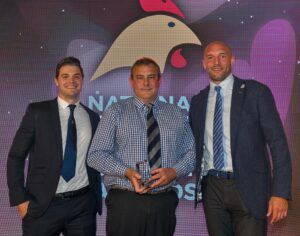 Moy Park, Newark-on-Trent, Nottinghamshire
Moy Park is one of the UK's top 15 food companies and one of Europe's leading poultry producers. It supplies branded and own label chicken products to leading retailers and foodservice providers throughout the UK, Ireland and Europe and is the industry leading manufacturer of organic, free-range and higher welfare chicken.
In September 2017, one year after starting with a green field site, Moy Park completed a £20 million investment in a state-of-the-art broiler hatchery at Newark-on-Trent in Nottinghamshire, creating 55 new jobs in the area.
The new facility which supplies 60 farms across Lincolnshire is one of the first of its kind in Europe and hatches 2.5 million chicks per week, making it the largest single-build hatchery in the UK. Employing industry leading technology to ensure the best possible production, animal welfare, hygiene and biosecurity standards, the facility utilises the latest automation techniques and energy efficient equipment reducing electrical energy usage by 25%.
The efficiency of egg transportation was seen as an opportunity for operational cost efficient and sustainability. Innovative Egg handling systems have been utilised and eggs are supplied locally in trolleys and from distance on pallets. This flexibility has resulted in almost 800 fewer lorry movements on to the site with cost savings and significant CO reductions for the system.
Maelor Foods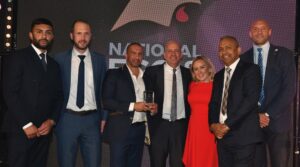 Maelor Foods is a state-of-the-art purpose-built poultry slaughtering facility based in Wrexham, North Wales, which uses the most innovative processing methods to ensure it operates to the highest standard.
It currently processes 400,000 birds per week, with ambitions to increase this to one million per week in the near future. It employs 140 people with the aim of creating a further 80 jobs. It was opened in 2017 following a £20m investment by its sister company Salisbury Poultry with the support of a £3.15m grant from the Welsh Government's Food Business Investment Scheme. Maelor Foods has installed the most advanced systems possible by Baader Linco and Marel Poultry.
Maelor Foods began production in November 2017 with 25 chickens and, 18 months later, it now processes 400,000 per week. It has a licence from Natural Resources Wales to process up to 1 million birds a week and has just secured the relevant planning permissions to achieve this.
The operation of the plant is energy efficient and Maelor Foods has maximised the latest efficiencies with the workflow of its production lines. A large portion of the investment focused on providing the most innovative and technologically advanced equipment to ensure the highest welfare standards could be met whilst delivering a streamlined processing programme.
William Maughan, Darlington, County Durham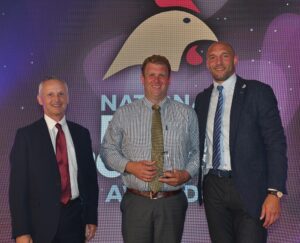 Farming in the Tees Valley, William and David Maughan are part of a now three-generation family business based near Darlington, the family have two sites over which they manage 30,000 free range laying hens producing for a range of retailers and brands including Noble Foods' happy egg company, Co-op and Tesco.
There are two separate sites with poultry houses. At one site is a 9,000 flat deck Harlow shed. The other site now houses 21,000 hens, with a 5,000 flat deck unit and a new build Big Dutchman Step multi-tier unit which housed in January 2019 and contains 16,000 hens. All poultry houses are stocked with the Bovan Brown breed from Joice & Hill.
The family ventured in free range egg production in 1999, where they started with the smaller shed, then in 2002 put up the second larger unit, followed more recently by the new multi-tier unit at Denton Grange.
William Maughan is very engaged within the poultry industry having previously won BFREPA Poultry Producer of the Year (16,000 hens and under) in 2017, and he regularly attends all workshops and training course put on by Noble Foods, most recently a modern slavery training and a workshop on worm treatments and Exzolt.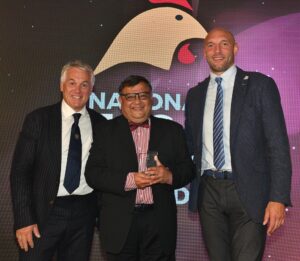 JustEgg is a manufacturer of hard boiled eggs, poached eggs and egg mayonnaise. The company boils and prepares eggs and then packages and preserves them ready for use in the catering and food retail industry.
JustEgg has state-of-the-art boiling plant and packaging processes all within their purpose-built factory in Leicester. JustEgg's latest innovation is the introduction of pre-packed poached eggs in a new oval shape which is ideal for hotels, restaurants and the catering industry. With a focus on quality and presentation, the new shape perfectly compliments a range of dishes and provides a welcome addition to any menu. They are expected to be used by caterers and chefs and come pre-packed in easy to peel packaging. The eggs are simple to prepare and compliment JustEgg's existing round-shaped poached eggs, which were successfully launched last year. The oval poached eggs are a great innovation for the catering industry as they ensure a high quality, appealing and consistent poached egg without the hassle of cooking from scratch.
Technology Innovation of the Year
Vencomatic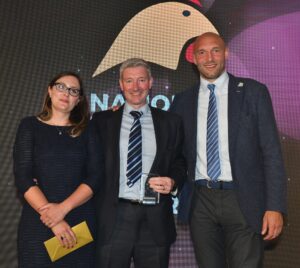 The Miteperch is a perch that kills red mite without harmful chemicals. It provides a strong secure grip due to the mushroom shape and the ribbed surface.
Underneath, two low voltage electrodes prevent red mite reaching the birds when they perch at night. It has been successful in eradicating red mite at the sites where it is installed and helps to reduce keel bone injuries sustained when birds fall off standard perch tubes.
It was trailed on two sites late in 2017 and was made available on general release in May 2018.
Marketing Initiative of the Year
Noble Foods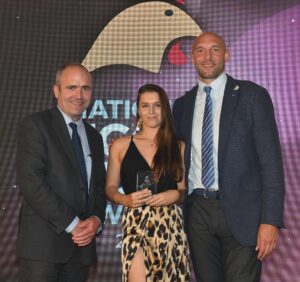 In recent years retailers have increased their private label free range egg offering to address consumers' concerns around animal welfare, making it increasingly challenging for Happy Egg to grow on hen welfare and taste credentials alone. In order to maintain relevance as a household brand and within the category, the brand has recently been re-positioned and with is comes a new campaign with a brand purpose 'Full of natural tasty goodness'.
The business has three key initiatives.
National Schools Partnerships: By partnership with We Are Futures, Happy Egg have provided schools across the UK with engaging educational stimulus to educate Key Stage 2 students on the nutritional benefits of eggs and the importance of healthy eating. This partnership has enabled Happy Egg to create brand appeal within households and schooling communities –reaching parents with branded homework tasks.

Parkrun: By partnering with parkrun UK for the next three years, Happy Egg has a platform to reinforce the brand purpose and champion living happily and eat healthily.

On-Pack Promotion: To continue to bring our brand mission to life in store, Happy Eggs are activating an on-pack promotion over the warmer months designed to give people the inspiration they need to leave the screens at home, fuel up on Happy Eggs and take an outdoor adventure with a 2 for 1 entry offer with the purchase of specially marked Happy Egg packs.
Mid-way through the campaign, the school packs have educated 122,700 pupils on the nutritional benefits of eggs. At Parkrun, each week, Noble Foods has delivered weekly newsletters to 733K park-runners. There are plans in place for 17 more events and will be at a Guinness World Record attempt to crack the largest egg and spoon race. Regarding on-pack promotion: Over 600 venues have now signed up to the summer campaign.
Chippindale Foods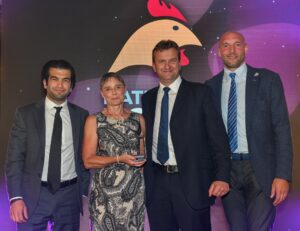 Chippindale Foods has been packing eggs for the UK retail and food service market since 1930. In 2018, it became part of Morrisons Manufacturing, bought by Wm Morrison as part of its vertical integration strategy.
Chippindale Foods directly employs 50 staff including 28 in the packing centre, as well as jobs in technical and operational support. Being part of the Morrisons' business means the site is now one of 18 manufacturing sites and 8,000 manufacturing colleagues.
Through an active programme of farmer recruitment, Chippindale Foods now services a significant part (55%) of Morrisons' shell egg business in the UK; all egg through the plant is from free range farms. The site currently runs a Moba Omnia 330.
Due to its successful policy of sustainable growth Chippindale Foods has recently moved to a four-on -four-off 12-hour shift pattern, so the site is now running seven days a week. The Moba grader has been operating at 90% capacity throughout 2018.
The Chippindale Producer Group has been growing at 30% year-on-year for the last three years. Producers are spread across the North of England but remain within 75 miles of the company's Flaxby base. All producers are paid within 14 days of the week their eggs have been collected.
Being owned by Morrisons, Chippindale's customers are now the shoppers in the 496 Morrisons stores throughout the country, who give direct feedback on the products they buy. Initiatives have included local 'pick your own' loose eggs in produce departments which have added significantly to incremental egg sales in Morrisons stores; 1 million loose eggs per week are now sold across the UK from its stores.
All producers have at least 20% woodland in their ranges and new for 2019 have a least one acre per 16,000 birds of pollen and nectar mix for Morrisons new bee-friendly range. Over 50 acres of pollinator friendly plantings are being done in spring 2019.
Humphrey Pullets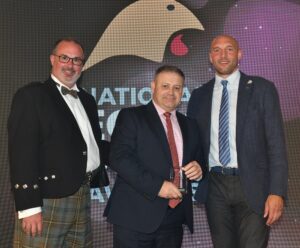 Humphrey Pullets is a pullet supplier to independent free range and organic farmers, rearing day-old chicks to 16 weeks of age. The firm works with all breeding companies. The rearing houses are equipped to match the varying different systems on customers' laying farms with the jump-up, multi-tier system as standard.
Feed and water are located in such a way as to train the pullets to be mobile, so that they can make a great start with the range of systems they will encounter on customers' farms, reducing stress at transfer.
The company currently supplies 1.5 million pullets annually from its rearing farms. Sites range in size from 30,000 to over 100,000 birds and are operated as single age units. The company rears to order and from its understanding of customers' requirements, produce robust birds that are able to best meet their full potential.
Humphrey's team of poultry field specialists visit customers regularly to ensure that rearing and laying conditions can be matched as closely as possible, and to advise them on how to prepare for delivery.
Customers are encouraged to visit their flock at the rearing farms, to see for themselves their birds' progress. They receive weekly rearing reports, detailing how their flock is developing, with comprehensive details on body weights and mortality.
Jonathan and Margaret Kirk, Leggygowan Eggs, Saintfield, County Down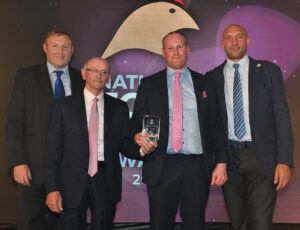 Leggygowan Eggs is a family run broiler breeder unit which has been producing hatching eggs for Moy Park since May 2013. It has produced six crops of birds. The farm achieved top flock in 2015 with Ross 708s and has also been runner up twice in 2018 and 2019 with Ross 308s.
The Kirks started with two bird houses and 16,000 birds and in 2018 built a third house, bringing the total to 24,000 birds. All eggs to date have been hand packed.
The farm is set off a country road just outside Saintfield in County Down and is located on the outskirts of the Kirks' 160-acre home farm, where they also have 50 suckler cows with young stock taken through to beef.
Biosecurity is of the utmost importance to the Kirks' poultry unit. The unit itself has its own separate barrier-controlled entrance with wheel sprayer and foot dip. Another foot dip is located at the locked door entrance to the houses. This entrance goes through to a locked changing room with central barrier controlling personnel access to the egg corridor and bird house entrances.
Chris Wright, Maidenhouse, Mill Farm, Grantham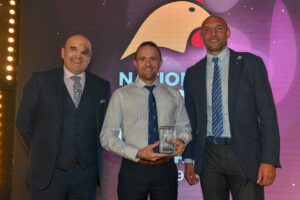 Chris Wright is a farm manager on a modern broiler unit with eight sheds, placing 340,000+ birds per crop. The business is a contract grower for Moy Park. Wright has worked in broilers for 10 years and manages a young team, consisting of an assistant and apprentice. He has worked for his current employer for over three years and has taken short courses for his poultry passport, including the Workplace Diploma in Agriculture.
Within his first year at Maidenhouse, Wright was awarded 'Best Grower in Lincolnshire' by Moy Park with a 384.16 EPEF with a 1.52 FCR. He started thinking about ways to progress even further, firstly researching chemicals used at wash and then what works best to achieve the most at the start of the crop. In 2017, on his 340,000 bird unit, Wright achieved an average EPEF result of 403.66 and 1.48FCR over eight crops. For 2018 he achieved an EPEF result of 402.77 with a 1.50 FCR over another eight crops.
Between 2017 and 2018 he has had nine consecutive 400 EPEF results with just over 2.93 million birds sold to market from these crops alone without dropping out the Aviagen 400 club.
There is a no-nonsense approach to biosecurity. Staff shower on and off-site with clothes that are specifically for the farm and that stay on farm, including being washed on site. They use a 3-way barrier system with shed specific wellies that are also over-booted for added protection. In addition, there is an automatic wheel wash on the entrance of the site, which makes it incredibly easy for the lorry drivers and maintenance staff, minimising any risks of carrying anything dangerous to put the birds in danger.
Nick Burgess, Moy Park, Anwick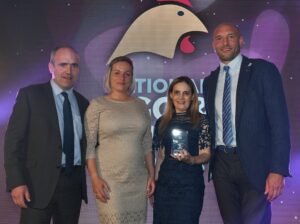 Moy Park Anwick is part of Pilgrim's Europe. The plant employs over 1,500 colleagues and processes upwards of 2.1m broiler chickens per week for multiple retailers, food service customers and other processing businesses.
Nick Burgess joined the business as a process operative in 1998 and has always worked in the poultry industry. In his 21 years with the business Nick has earned the roles of senior team leader, trainee production manager, department manager, production manager, business unit manager and operations manager.
Burgess is now the factory manager, responsible for a team of over 1,450 people. In 2018, he achieved over 4m worked hours without a lost time accident. In 2018, he achieved three record production weeks, supporting Moy Park's delivery of a 6m birds per week processing target. He has delivered class-leading yield and labour productivity performances in 2018 which have continued into Quarter 1 2019.
Under Burgess' leadership the Anwick plant has been awarded the Moy Park site of the quarter award for three consecutive quarters.
Trade Supplier of the Year
Phillips Brothers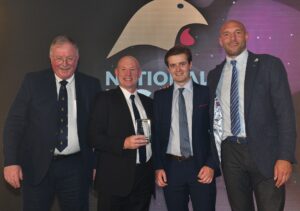 Established in 1894, Phillips Brothers Wood Shavings have been providing wood shavings and sawdust throughout the southeast of England for 125 years for poultry houses and offers a range of bedding products. Phillips Brothers offer a wide range of poultry bedding and services including initial lay spreads that experienced operatives will carry out using an AG dispenser, ensuring even coverage throughout the sheds. When it comes to our poultry bedding, biosecurity is the number one priority.