As we enter what is certainly an interesting time for the poultry sector, some of the top producers in the UK will be planning their trip to the industry's main event; the British Pig & Poultry Fair. We speak to three producers about what makes the event so special and to get their outlook on the year ahead.
Jonty Hay, an independent broiler grower from Herefordshire, produces 30 million birds a year from South Wales to North Yorkshire for retail and Halal markets, supplying most factories in the UK. Hay also produces turkeys all year round and runs a renewable energy diversification.
Having previously invested in poultry housing and renewables, Hay is now looking to improve the atmospheric and environmental controls in his sheds. "The birds are growing faster and we're having to control the environment better to keep up with water intakes and manage air heating."
The most useful technologies on farm are simple ones; a water meter and scales, he says. "We monitor water consumption, especially in the first 24 hours of growing, to watch out for any challenges or changes. And the scales are vital because they give a trend of how the birds are growing over time."
In terms of outlook for the industry, Hay is preparing for a challenging period. "It's the unknown; we don't know where we're going to be in two years. There are opportunities I haven't taken because the market won't take it.
"People are seeing retail pressure; the biggest threat to the industry is the unknown, uncertainty and the extremely tight margins. People who are new to the industry are just breaking even but the older ones are not able to reinvest."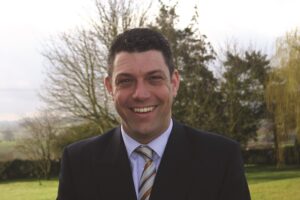 So what brings him to the Pig & Poultry Fair? "The most important part for me is the networking; everyone is there. I have a list of people I want to see – including the people I don't deal with or see on a day-to-day basis, like MSD Animal Health; they bring all their staff with them so you can speak to all the technical team."
The retail representation at the show is also an important factor, says Hay. "I like catching up with the likes of Tesco, Sainsbury's, and Marks and Spencer – to make sure we're all singing from the same hymn sheet. Attention to detail for me is everything; that will stand you in good stead going forward."
It's a philosophy which is mirrored by James Mottershead, who farms with his family in Shropshire, producing six crops of 215,000 broilers a year for the independent market. He stocks a 50:50 mix of pullets and cockerels, producing weights between 1.5kg and 3.7kg over a 30-48 day stocking period.
Although the six houses are between 30 and 45 years old, Mottershead pays great attention to detail to make the site work, with a biomass boiler and combined heat and power (CHP) unit keeping the sheds perfectly heated year-round. He also produces his own home-grown mash-based diet to feed the birds. "This gives us better birds and performance, plus it allows us to be in control of what goes in our feed."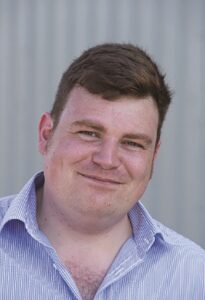 His most recent investment was the 65kW CHP unit, which he installed two years ago. "Apart from feed and chicks our next biggest cost is energy – so if we can take that in-hand it gives us more options going forward," he says. "And with more heat we have drier litter and cleaner, better quality birds."
So what's next on the shopping list for this chairman of the NFU / ABN Poultry Industry Programme? Although he doesn't have anything specific in mind ahead of his visit to the Pig & Poultry Fair, Mottershead is looking forward to seeing what new technology is on offer. "Visiting the Fair is a great opportunity to have a look round, engage with new technology, meet like-minded people and catch up with the whole team of people we deal with," he says.
In the past, he has purchased an incinerator, hot water heaters and new cleaning products from the Fair, but the next major investment for the site is likely to be windows to keep the farm's Red Tractor status.
 "I think there is a decent future out there. The market supply is tight, which gives me confidence, and there is demand for Red Tractor chicken. In Asia they have had to cull a lot of the pig herd due to African Swine Fever, so there is potential to supply those countries with chicken instead."
The push towards slower growing birds and lower stocking rates will further tighten supply, which should drive prices up, says Mottershead. However, he is under no illusion as to the challenges that will place on the industry.
"With environmental and welfare pressures we are going to have to steer ourselves through change and it's going to take a few years. Also, while the industry has made good progress in reducing antibiotic use, it's going to keep getting harder."
When it comes to Brexit, Mottershead is optimistic that British retailers will resist the temptation to sell imported chlorinated chicken, but he is concerned about future trade deals, which could open the doors to cheap imports and potentially impose export tariffs on British produce. "In addition, we have to be realistic in that our input costs are all going up, and we need the market to reflect that."
Given the turbulent times, it's more important than ever to attend the Fair: "As things change we have to pick peoples' brains to get new ideas to implement at home."
So what's the view from the free-range egg sector? British Free-Range Egg Producers (BFREPA) chairman, James Baxter, admits that it's challenging to get a fair return from the market. "I want to get the value back into a large egg, but we're fighting against misinformation."
That said, there is plenty of opportunity. "Eggs are such a healthy product, they're the cheapest form of protein and so versatile," explains Baxter. "We're always looking to make the hens more efficient and easier to look after and that's why I make everyone in my business go to the Fair; it could be the best few pounds you've spent."
Baxter has 128,000 free-range layers in Stranraer, Scotland, supplying eggs to Noble Foods, and one of his most useful recent investments was a Fluid Bed Biomass CHP boiler system in 2017. "As well as the reduced electricity bill, we have seen improvements in litter quality, mortality, feathering, and seconds because we are heating the sheds, and we're selling the ash produced as a high quality fertiliser," he says.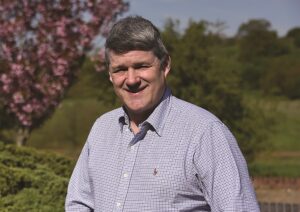 The Fair is a useful place to research new products, which you wouldn't otherwise see, adds Baxter. "You could be missing out on the next big thing; you cannot afford not to go. In the past I have bought feed additives, various pieces of poultry equipment and an incinerator which we still use now."
This year, he has a keen interest in robotics. "Our next investments will be in robots like egg handling systems or pallet stackers, as we look to become more efficient."
So what advice would Baxter give to his younger self? "Don't listen to the people trying to pull you down – surround yourself with like-minded, positive people."
The British Pig & Poultry Fair is the leading event for the UK pig, poultry and egg sectors, and will be held on 12-13 May 2020 at Stoneleigh, Warwickshire. The Fair is free to attend, registration will soon be open via pigandpoultry.org.uk.