Nuffield scholar Jamie McIntosh argues the case for better marketing of the benefits of eating eggs
By Rachael Porter
Nuffield Scholar Jamie McIntosh, recently completed his report after a world-wide study tour to explore new ways that eggs can be marketed to maintain a steady increase in consumption.
And not only did his travels and research highlight considerable potential for egg consumption to increase – and the myriad of products that can enhance the way that they're presented to consumers – but his scholarship also reignited his own love of eggs.
"I embarked on this study as a non-egg eater," admits McIntosh, who works as a regional technical manager for Lohmann GB, which supplies day-old chicks to egg producers throughout the UK and Ireland. "But I'm now delighted to say that I'm eating them again – particularly the yolks."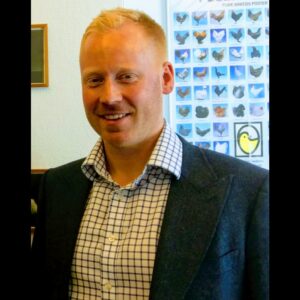 He's not the only one to add eggs to his diet. Despite growth in recent years, egg consumption in the UK is only 199 eggs per person per year. This is behind Italy, at 215, Germany, at 230, and Colombia, 280," he says. "So, I wanted to research new marketing techniques and the likely potential for the UK market."
During his study tour he travelled to countries with high egg consumption and strong market growth, including the US, Canada, Japan and China. And he spoke to many experts in the industry.
"My study tour just reaffirmed my belief that the egg has a bright future. Arguably the most nutrient-inclusive, cost-effective and versatile food out there, it has the right ingredients for continued market success. "An egg contains the highest quality protein, an abundance of other essential nutrients, and is only around 75 calories."
And this matters on two levels. "Not only will increased egg sales be an obvious benefit to the industry, but also a significant contributory for addressing a critical issue of our modern society. The UK is facing a major health crisis. Obesity rates have risen dramatically during the past 25 years, as has the number of people living with diabetes.
"Cardiovascular disease and mental illnesses are also on the increase and inadequate nutrition is a leading cause. Evidence suggests that increased egg consumption can help," adds McIntosh.
His research highlighted that eggs are a natural medicine, promoting health and wellbeing and should be considered instrumental in preventing and alleviating existing health conditions.
Eggs also have a healthy and 'safe' reputation the UK. The UK egg market has a solid grounding based on the work of the British Egg Industry Council, including its respected food safety trademark the Lion, which has led to recent positive news stories on the health benefits of eating eggs.
But more could be done to better advertise the benefits. "I have discovered many examples of how different marketing techniques have been used to promote the egg through social media and street events; and different ways of targeting both the consumer and improved interaction with large food manufacturers," he says.
Street food
A street event that he saw in Canada is one of the stand-out moments from his tour. Organised by Egg Farmers of Canada (EFC), a national organisation that represents Canada's 1,000 egg producers across all provinces, this was part of an outreach programme that invests in evidence-based research and community engagement.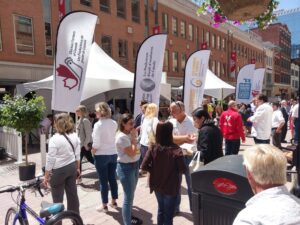 Downtown Diner was one such street event held in Ottawa to promote the dairy and egg industries. And, being a short walk from parliament, it attracted politicians including Prime Minister Justin Trudeau.
"It was also an opportunity for farmers to meet with the public and I saw a lot of engagement between producer and consumer," says McIntosh. "Producers helping at the event were wearing 'Ask me I'm a farmer' slogans on clothing, which made them approachable. 
"I saw constant interaction between farmers and members of the public – this occurred for several hours during the lunch period. Free food was served that used eggs and milk, helping attract workers from nearby businesses. And the famous Canadian TV chef Lynn Crawford, who is a big supporter of EFC and the egg industry, was also there."
McIntosh stresses that the street event was not just about promoting the nutritional benefits and versatility of the egg. "Engaging with the consumer on bird welfare, food safety and environmental concerns also need to be addressed and communication, education and transparency in these areas are all important.
"Threats to consumption, particularly in the western world, include not only consumer expectations on bird welfare but also investment in, and promotion of, alternative plant-based proteins.
"It's unclear if plant-based alternatives to eggs will come anywhere close to the nutritional value of the real thing."
He says that events like the one in Canada could be rolled out across the UK, with great effect. "They could make a positive impact both in terms of public engagement and education about egg production, and egg consumption," he adds.
Social media
The Canadians were also using social media to spread the word about eggs. "EFC's Rowan Weerdenberg stressed the importance of using social media and how to manage the content. Supported by an agency, she manages posts and comments.
"Over time, by building advertising groups, it becomes clearer which ones are most likely to cause the wrong type of publicity, so offensive or negative posts can be controlled."
When it comes to managing social media, Weerdenberg's key points were to 'keep the content fresh', monitoring the negative, and targeting the most relevant groups, with quick and positive responses to genuine queries.
EFC also work closely with the medical profession and recently presented findings to every physician in the country about the latest research on cholesterol in eggs. "The result was that the number of physicians who limited their patient's egg consumption decreased from 65% to 25%.
"Overall, I think there's a lot going on in Canada that the UK could draw inspiration from."
McIntosh also spent time looking at new ways of selling eggs, including by the way they are packaged, sized and branded. "Branding can be used to target specific age, health and lifestyle groups such as pregnancy and the elderly.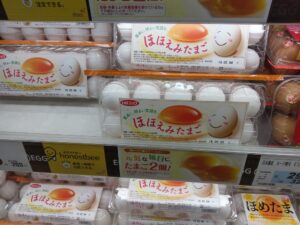 "There are also opportunities in catering and processing, many of which are not currently prevalent in the UK. The liquid egg market is a good example of this – this is huge in the US. There has been a little growth in this sector in the UK during the past five year – I know of relatively new plants that have been built in the UK. But there's scope for more growth.
Powdered products
"Currently, the UK does not have a powder egg plant and 30% of the processed egg market is imported. Powdered egg is another opportunity that the UK could be looking at."
He was particularly taken by a Danish powdered egg product that's targeted at elderly people, with smaller appetites. Danaeg's Care range, which is made from, whole egg and in powder form, contains increased amounts of protein and energy. It is available with chocolate, vanilla or neutral flavourings and is dissolved easily in water, or can be added to other foods and drinks such as porridge and milkshakes.
Essential nutrients 
"It's an innovative idea and a good ways to add essential nutrients to the diets of an age group where supporting sustained muscle mass is so important," says McIntosh.
Little wonder that another of Danaeg's egg products – it's Pure range of powdered egg white – is targeted at the fitness market, for people who work out and have an increased protein requirement. "It is advertised as something that can be taken anywhere and added to shakes or in meals, and is quickly absorbed by the body."
"The good news is that, however we promote, package or process eggs for the UK market, we have everything required in the UK to produce and market eggs locally. With an increased focus on the environmental impact of food production, that's firmly in our industry's favour. Much of the work to be done here is to simply convince consumers to 'put and egg on it', a take home message from the American Egg Board," concludes McIntosh.