The furlough scheme is coming to an end on 30 September. Could it help the poultry industry fill its vacancies?
On September 30 the furlough scheme will come to an end. The Coronavirus Job Retention Scheme, to give it its full name, was launched in on 20 April 2020, with the state paying 80% of the wage bill of furloughed staff, up to a maximum of £2,500 a month.
Last month, the founder of 2 Sisters Food Group, Ranjit Boparan complained the scheme was exacerbating labour shortages and stopping him filling vacancies that had risen to 15% in some processing plants. "Why is the Government still paying furlough to around two million people with the economy essentially open and yet we have an ongoing labour crisis?"
But as the crisis worsens, there is little optimism the end of the scheme will make a dent in the 500,000 vacancies currently unfilled throughout the food and farming supply chain.
"It is not going to help a huge amount," says Richard Griffiths, chief executive of the British Poultry Council, who along with other leaders from industry trade bodies have called on the government to bring in a temporary 12 month visa to allow EU workers to fill posts. "Geography comes into it," he says. "The majority of furloughed workers are not in the right place."
The situation now is the "worst environment anyone has ever seen" Griffiths adds. "There is no easy solution."
The shortages are universal across the poultry industry, with businesses reporting an average vacancy rate of over 16% of their total workforce. 
"Members are telling us that many have been forced to cut back weekly chicken production by 5-10%, all year-round turkey production by 10% and estimate Christmas turkey production to be cut down by a 20%," said Griffiths. "They are saying they are currently producing a reduced range of products for UK customers, and are seriously concerned that the supply of staple chicken products will be impacted. This is all down to labour shortages."
Structural changes
Avara Foods said it foresaw long term structural changes in the industry due to the lack of labour and the government's post-Brexit immigration policies, which end free movement and allow people in only if they accumulate enough points.
"We're monitoring the situation closely and are putting in place measures to mitigate the strain on our supply chain, but this can only go so far," said spokesman Thomas O'Neill. "It looks increasingly like this is a structural change in the UK labour market, which shows no obvious signs of being resolved quickly. We don't believe the conclusion of the furlough scheme will have a significant effect on the labour market, given the relatively small number of workers retained by it."
What is really needed, believes Griffiths, is for Government to acknowledge there is a problem, and that the source of that is the points-based immigration policy that was introduced in January 2021, which requires workers from abroad to meet criteria including earning a minimum of £25,600, speaking English and having particular skills and qualifications.
As an immediate temporary aid, in addition to the temporary 12 month visa, the BPC wants a seasonal worker scheme, similar to last year's, to be introduced in time to help with Christmas turkey production. At the moment the Government's seasonal agricultural workers scheme (SAWS) does not cover any sector other than horticulture. Griffiths says regardless of pay, producers are unable to attract British workers to slaughter, dress, pack and dispatch Christmas turkeys and geese. It needs to become easier to bring in EU workers to do these crucial jobs.
"Now that we have control of our borders why are we short-changing ourselves? Expanding SAWS is a tiny policy change that has no financial implication for Government coffers, but it would make an enormous difference to the businesses – large and small – that produce seasonal poultry."
Turkey numbers on the ground are 20% lower this year than last, says Griffiths, a reflection of the lack of confidence among producers.
"All roads lead back to the Home Office and Brexit ideology," said Griffiths. "We are fire fighting. This is the worst environment anyone has ever seen. And the government does not seem to care."
A spokesperson for Defra said in a statement: "The British people voted for us to end free movement and take back control of our immigration system, and that is exactly what we have delivered. We have implemented a new points-based system which works in the interests of the UK by prioritising the skills we already have in the UK while attracting the talent our economy needs to grow.
"As the independent Migration Advisory Committee concluded in its most recent report, the sector has been over-reliant on migrant workers for many years.  It is important that businesses make jobs more attractive to UK workers by improving training, career pathways, pay and working conditions increasing salaries rather than relying on migrants, particularly as we recover from the COVID-19 pandemic. Immigration must be considered alongside investment in, and development of, the UK's domestic labour force, rather than as an alternative to it."
"We have no idea how to manage Christmas this year"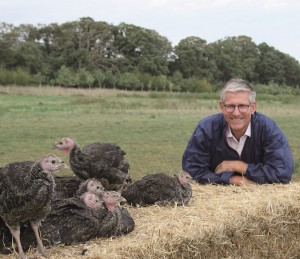 In a normal year, Traditional Norfolk Poultry takes on between 400 and 500 seasonal workers to handle turkey production over the Christmas period. They come from Poland, Lithuania, Bulgaria, Portugal and are recruited through local agencies.
Mark Gorton, TNP's managing director said the workers typically stay for a few months in East Anglia before returning to their home countries.
But this year is different. "We are in a pretty dire situation," says Gorton, who has not managed to secure any seasonal workers. "Normally by now we would have all of our labour allocated and signed up for Christmas, and all our hauliers in place."
Turkey orders were taken early in the year, so the usual number of birds are on the ground. Cutting back on numbers is not an option.
"We have got to find a way to deliver these turkeys, but problem is we can't make any plans, and it is huge operation to grow and process these turkeys."
Gorton does not believe the end of the furlough scheme will make any difference. "It might throw up a few people but we are looking for hundreds of people," he says.
"25 years ago we were in the same situation wondering how can we grow our business. The labour wasn't there. Then on the back of eastern Europeans being able to come into work, were were able to grow. But since Brexit, we have had rug pulled out underneath it. I'm now starting to think, what are we going to do in the future?"
He said expanding the seasonal workers scheme might help, but time was of the essence. "We have to plan. Last year they turned round in November and announced a scheme, but we need to know now and people need to start finding those people."
And while seasonal production is a pinch point, workers are needed year-round. "We are processing chickens every week," he says. "Our vacancy levels are between 10% and 15%."
Every business is introducing more automation to try and plug the gaps, but it is not a "magic wand," Gorton says. "We always try to drive costs out, everybody is doing that. But there will always be a certain amount of people you need."
"Every business is having to make decisions now to deliver Christmas and they are quite hard decisions. How do we save labour? We are looking at the spec of all the products: added value, crowns, whole birds. What are the easiest products for us to produce? Do we need to do so many chickens? What can we do to simplify everything in the event of having only half or a quarter if the people? How can we extend the life of the turkey, to try and release as much pressure as we can from the seasonal campaign?
"The only group of people who can change this is politicians," he says. "When we had the labour everything was fine. We are all telling the politicians, but they are not acting on it."