Derek Kelly has spent seven decades in the poultry industry and has been an important cog in its growth. Now, he has devised a Poultry Hall of Fame to honour the industry's big players
There are very few people who have seen the poultry industry develop over the past 70 years – or been a key part of the way it has developed – so much as Derek Kelly.
The chairman of KellyBronze Turkeys, which he founded in 1971, is now 93, and started his career in the 1950s, when the modern poultry industry was in its infancy.
Derek's achievements are many – he resurrected the traditional bronze turkey in the 1980s from obscurity when more commercially successful white turkeys were taking over the industry. He built from scratch the business that bears his name and is now run by son Paul, with grandson Toby also working within the business. Before starting his own business, he ran three major poultry breeding companies – Arbor Acres UK, Bernard Matthews Turkeys, and River Rest UK – and travelled the world.
Lifetime achievement
He was awarded an MBE in 1998 for services to the industry, and has spent numerous decades giving his time to poultry boards and industry bodies at home and abroad to share his knowledge and expertise. In July, he was awarded a Lifetime Achievement Award at the National Egg & Poultry Industry.
He handed day to day running of the business to his son Paul in 2008, but is still heavily involved in both the turkey business, and a cattle breeding project that is his personal passion.
But anyone who thinks at 93, Derek might be ready to put up his feet, is very much mistaken. He has a new project underway, one that he first conceived back in the 1960s, when his work with Arbor Acres regularly took him to the United States.
There the industry had devised a Poultry Hall of Fame. It was set up in 1953, run by the American Poultry Historical Society, with the status given to a maximum of five recipients every three years. The basis for selection is the effect their accomplishments have had on the north American poultry industry, and the recipients photographs and biographies are placed on display at the annual International Production and Processing Expo (IPPE) in Atlanta, which draws 30,000 visitors.
New people would be inducted every three years, says Derek. "It was quite a buzz to see who would be inducted."
Bottom of the in-tray
He thought at the time we should have something similar in the UK. "The idea literally stayed there for 50 years," he says. "I was so busy building up my own business."
Then in the winter of 2022, Derek finally had some time on his hands. "The ironic thing is I only got to the bottom of my in-tray during last year's AI epidemic."
Like many other businesses, Kelly's had to deal with several outbreaks of AI among its turkeys. They decided to kill the turkeys early and freeze them for Christmas to avoid any more disastrous losses. This meant Derek found for the first time ever he had time on his hands in December. "I finally had time to think about the hall of fame and I thought, I should resurrect that."
After speaking to friends and contacts in the industry, he agreed with Howard Birley and Stephen Lister, both of whom are on the organising committee at EPIC, that the hall of fame would be launched as part of this year's conference in November.
One aspect that appealed to Derek of collaborating with EPIC was that the organising committee would provide "a ready made panel of judges" to approve new entrants.
In America, says Derek, inductees had to go through a daunting process of giving a presentation on their achievements to each of nine judges before their application could be voted upon.
The first inductees of the hall of fame will be presented this November. Seven people have been approved to kick things off, and despite his modesty and misgivings, the panel decided Derek should be among them. With 93 years of memories, Derek has in depth knowledge of them all.
Nine decades
One of them, Bernard Matthews, was a man Derek knew particularly well. He first met him in the 1950s at poultry industry meetings.
"He had at that point started a turkey breeding programme and he wanted someone to compete with British United Turkeys (BUT)," says Derek. "I general managers of Arbor Acres when they first came to Europe and was doing some work on genetics."
Matthews invited Derek to join the Bernard Matthews business and he joined what was then an emerging business.
"When I joined him, he really was thriving," says Derek. "It was a really successful business. The genetic programme was the most successful in the world. And socially he was a fantastic companion.
"When it came to business he was a very hard-nosed businessman," said Derek. "He was very ambitious. We had a gene pool from America with 12 leading breeders and we crossed every bird with every other bird, and measured their progeny. It was very expensive."
"He was very clever," adds Derek. "He started by doing most of the work himself. Very few people can transfer from doing the job himself, then employing people, then employing managers, then going public and dealing with the city. He was particularly good at marketing."
He fell out with Matthews over a dispute he does not want to go in to. Derek then spent several years as a consultant to chicken businesses wanting to branch out into turkey. "It was the early 1960s, and there was gig demand for chicken companies wanting to start in turkeys. The only countries with commercial turkey farms were Ireland and Denmark. In the rest of Europe, there was the odd spot here and there. I realised chicken companies all wanted to start turkey operations," says Derek.
In 1971, Kelly Turkeys was born. He had enough knowledge and cash to start his own business. Initially it was just white birds, but he kept a few traditional birds from traditional breeds on the farm, and around 10 each year ended up with the butcher he used. "We tasted them ourselves and realised how good they were," he says.
So, the resurrection of the bronze turkey breed happened by accident, and the Kelly Bronze ended up becoming a viable commercial product in 1980.
The Kelly Bronze is now a huge success story. The birds are grown free range, in woodland around Derek's original farm in Essex, and on other sites around east Anglia. The company also grows a number of white turkeys for customers including Cook, which has shops around the country selling ready made meals for people to cook at home.
They are killed and processed at the company's plant at Danbury, and the majority of Christmas turkeys are collected by customers themselves from the farm gate. Some people come as far as Southampton, journey of over three hours, for their Christmas turkey.
Avian flu knocked the whole poultry industry for six, but turkeys have been particularly badly affected, and Kelly lost several flocks last year before permission was given by Defra to kill and freeze birds early. As a result of the risks (and the lack of viable insurance available) some turkey producers have made the decision to step away. This includes some established names. Copas will no longer be rearing turkeys for the Christmas market, and Kelly will instead grow birds on their behalf. The same goes for Calcotts, another established seasonal turkey producer, which this year has outsourced its growing to Kellys.
Today, Derek is still optimistic about the poultry industry, despite all the set backs the sector has endured, especially with avain influenza over the past few years. "I am optimistic especially about niche markets," he says. He believes the industry will continue to polarise, with both very large companies and small niche producers faring well. "I think these niche markets will thrive," he says.
His various new projects are also keeping him fully occupied. He is breeding beef now, and Paul jokes he can often be found chasing cows along the A12. And, of course, his long dreamed of hall of fame is coming to fruition. When the names are formally announced at EPIC this year, it will be the culmination of a project 50 years in the making for Derek and a chance to reflect on the extraordinary developments in the industry he has both witnessed and driven himself.
The first seven inductees are:
Aled Griffiths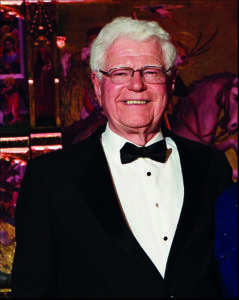 John Aled Griffiths was born in North Wales in June 1930. With an early interest in farming and animals, he successfully reared his first day old chicks at the age of 10 and went on to buy Oaklands Farm in 1969, which grew into Griffiths Family Farms, one of the best known and most successful egg businesses in the UK.
Bernard Matthews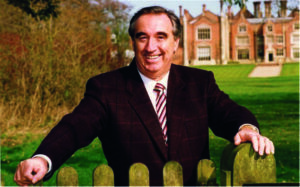 Bernard Matthews was born in Norfolk, the son of a mechanic. After working as a trainee auctioneer in a local livestock market he began his turkey career in 1950 with the purchase of 20 eggs and a second-hand incubator, and went to found the business that earnt him a personal fortune of over £300m, and still bears his name.
Robert Gordon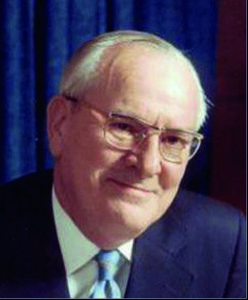 Aberdeen-born Robert (Bob) Gordon qualified as a veterinary surgeon in 1933. He became an expert on salmonellosis and developed the rapid whole blood stained antigen test for pullorum disease, enabling its eradication from the United Kingdom. He went on to developed the Houghton Poultry Research Station which became the largest centre for poultry disease research in the world.
John Eastwood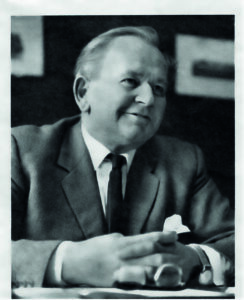 John Eastwood, better known as Jack, was born in 1909, and became an innovative poultry farmer, keeping turkeys, broilers and layers. His business grew rapidly and when he opened a packing plant, he operated what was the first integrated poultry business in Britain, which went public in 1959. In the 60s, Eastwoods came close to supplying 10% of the national market for both chickens and eggs.
Peter Kemp
Born in 1930, Peter Kemp was always destined to join the family business, Yorkshire Egg Producers and by 1970 had taken over as owner and managing director. When it was later acquired by Dalgety, later to become Deans Farm Eggs, Kemp served as chairman of the National Egg Marketing and was instrumental in establishing the British Egg Industry Council in 1986.
Dr Harold Temperton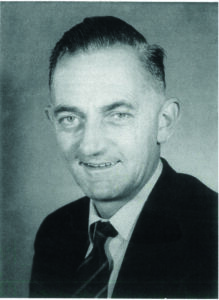 The father of British poultry education, Dr Harold Temperton was born in 1913, and enrolled as a poultry student in 1932 at Harper Adams College in Shropshire. He obtained a doctorate in poultry nutrition and went on to have more than 50 published scientific papers. He became a research officer at Harper Adams, and later became vice-principal of Harper Adams, a position he held until his retirement in 1974.
Derek Kelly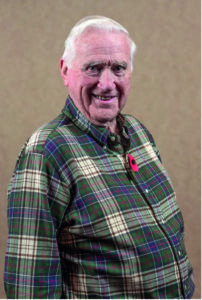 Born in 1930 in Durham, Derek Kelly fell in love with farming at a very early age. In 1960s he became either managing director or general manager of three international poultry breeding companies – Arbor Acres UK, Bernard Matthews Turkeys, and River Rest UK. He started his own company, KellyBronze Turkeys, in 1971 and has been active in industry politics, including being a British Poultry Council member, a poultry delegate on the NFU Council, president of the Anglian Turkey Association and patron of the Turkey Club UK.
The poultry hall of fame will be officially launched at this year's Egg & Poultry Industry Conference. The 2023 conference theme is "Food Security – Poultry's Place in a Sustainable Supply Chain", and will take place at the Celtic Manor resort in Newport, over 5 and 6 November.