There is more chance of the US negotiating a future free trade agreement with post-Brexit Britain than there is of a similar deal ever being concluded with the EU, according to USA Poultry & Egg Export Council president, Jim Sumner.
"There's certainly a greater likelihood of the US and the UK reaching agreement on trade than there is of the same happening with the rest of the EU," he told Poultrynews during a visit to the council's exhibition stand at SIAL Paris this week.
"I've always been very sceptical that the Transatlantic Trade and Investment Partnership (TTIP) between the US and EU will ever come about and currently see no likelihood of an agreement being concluded in the foreseeable future.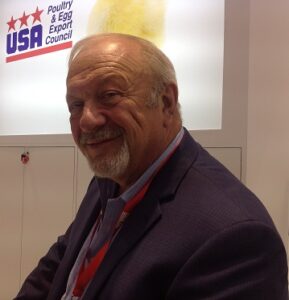 "As for the UK, I think there's a much greater chance that we could reach agreement. I also believe such a relationship makes more sense than is the case with the EU in total.
"On poultry issues, for example, the UK already realises the importance of controlling pathogens in relation to meat and is coming to the realisation that you can't treat everything at the farm level, but have to treat some at the plant level, which is what we already do in the US."
The USA Poultry & Egg Export Council is a regular exhibitor at both SIAL Paris and Anuga in Germany, using both events to support its export efforts in Eastern Europe, the Middle East, Africa and Asia. In relation to the EU, of course, USA poultry shipments to the EU are currently blocked for veterinary reasons.