Growth in global consumption of meat proteins over the next decade is projected to increase by 14% by 2030 with poultrymeat expected to rise 13.1%, driven largely by income and population growth.
The Agricultural Outlook 2021-2030 is a collaborative effort of the Organisation for Economic Co-operation and Development (OECD) and the Food and Agriculture Organisation (FAO) of the United Nations.
The report states poultry meat will continue to be the primary driver of meat production growth, albeit rising at a slower rate in the projection period relative to the past decade. 
Protein from beef, pork, poultry, and sheep meat is projected to grow 5.9%, 13.1%, 17.8% and 15.7% respectively by 2030. In high income countries, however, changes in consumer preferences, ageing, and slower growing populations will lead to a levelling off in per capita meat consumption and a move towards the consumption of higher valued meat cuts. Meat consumption has been shifting towards poultry. In lower income developing countries this reflects the lower price of poultry as compared to other meats, while in high-income countries this indicates an increased preference for white meats which are more convenient to prepare and perceived as a healthier food choice. Globally, poultry meat is expected to represent 41% of all the protein from meat sources in 2030, an increase of 2 percentage points when compared to the base period.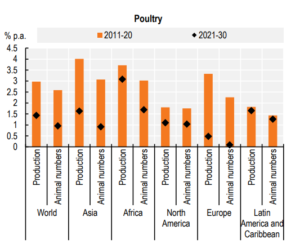 Rapid expansion is foreseen in Asia as the shift away from pigmeat in the short term will benefit poultry in the medium term.
It is estimated that  poultry represents 70% of all live birds. It is projected that stocks of farmed animals for meat will increase during the next decade, rising 11%, 9%, 2% and 18% for poultry, pigs, beef cattle and sheep respectively.