Noble Foods is spending big on robots as it faces up to the challenges of the future. But how well is it handling the transition to cage-free, and the oversupply of egg?
At Noble Foods' egg packing centre in Scarle, Lincolnshire, construction workers in orange vests are pumping concrete into trenches and unloading building materials from delivery trucks. Work is under way on a 10,000 sq ft extension that will form part of a total overhaul of the site, one of four main freerange packing centres operated by the UK's biggest egg company.
By February next year close to £16 million will have been spent on automating nearly every process inside the Scarle egg packing centre, and the extension is needed because, as operations director Patrick Wood says, "robots are space-hungry". Dutch egg packing equipment specialist Moba won the contract for the whole line – the company's biggest ever order – and inside, the first of the robots is being tested and tuned by engineers. When it's brought into service it will lift the packs of eggs into shelf-ready boxes, ready to be shipped out to retail customers.
THE ROBOTS ARE COMING
And that's just a taster of the transformation. "We are going to be using drones to carry the egg from the warehouse," says Wood. "The eggs are lifted by robots from the trays and on to the grading system, which itself is twice as fast as the old grading system. The grading system scans the eggs for defects, looking for colour variations, looking for minute cracks, and then weighs the eggs.
Then the eggs are sorted into streams of small, medium, large and extra large, then the seconds are sorted. "Then the eggs are automatically placed into packs and the packs are robotically packed into shelf-ready boxes, in secondary siting bulkers or in rolling shippers. Those are all robotically packed, then automatically palletised, then robots will wrap the outer pallets, then a pilotless forklift truck will take the pallet and place it in a warehouse management system."
This investment is part of a wider £100m planned spend across the group, including Gü, on automation, and spent hen processing as well as shell egg, which Noble Foods' chief executive Dale Burnett discussed at last year's EPIC, where he said finding staff was increasingly difficult and automation was the only way forwards 
CAN'T GET THE STAFF
So far around £35m has been spent on the egg packing side of the business, including the business' first fully automated packing centre in Standlake in Oxfordshire, which opened in 2014. "It was a green field site and we set out to build a very high-quality packing station, which was also heavily automated," says Wood. "We produce around 40,000 cases of product at that site and a similar volume at this site. We are now at stage one of fitting Scarle to basically replicate what we did at Stanlake, but with latest generation equipment."
Veli Moluluo, managing director of Noble Foods' consumer food division, says: "If you'd asked me five years ago if we'd be looking to make similar investments to Standlake on this site I'd have said no, because labour has never been an issue. But availability is really beginning to tighten. The number of applicants per role is dropping year on year and it's starting to bite. "To some extent the commitment to invest is a necessity. Businesses don't invest if they don't have to. It is as much a defensive investment as anything else."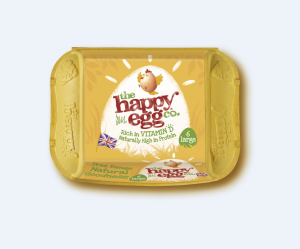 The simple fact is fewer people are prepared to take a job where they will spend all day packing eggs. "The UK is now near full employment and fundamentally working in an egg packing centre or working in any of our operations whether that is a poultry processing site, our milling sites, our egg processing sites, it's hard work." Wood adds: "We're only following the trend generally. People don't want to work in difficult manufacturing environments when there are other jobs in warehousing and retail that are much easier."
Once the Scarle plant is fully automated, Noble will turn its attention to its other sites. "The technology constantly upgrades and updates and this will be a cycle, much like investing in people and training and development. We will continually have to make sure we've got the latest software and engineers are trained and developed. Also, we will have to reinvest and update the robots, I'm thinking specifically packing robotics, which is where a lot of the newer innovation seems to come in," says Moluluo. And although staffing requirements will decrease, those that remain will need to be skilled up. Wood says: "You need people to set the robots up, operate them and feed them."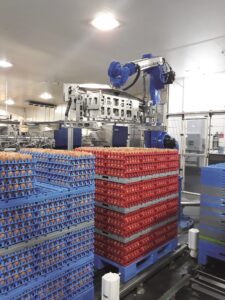 SCALE OF THE BUSINESS
Noble Foods is the largest of the 41 registered Lion egg packers in the UK, and in addition to its shell egg business it has, through Gü, successfully created an added value outlet for its seconds. Total sales for the group were £305.3m, with a pre-tax profit of £2.2m, for the year to September 2017, the most recent annual report shows. Noble Foods was the first business to turn shell eggs from a pure commodity into a branded product, launching its first caged egg brand Big & Fresh in 2002, followed by Happy Egg, its free-range brand in 2009.
Last year, Noble was recognised at the National Egg & Poultry Awards, winning the marketing initiative award for its work in growing demand for Happy Egg products, particularly among women. It has recently expanded those brands by launching new convenience products such as Happy Egg sandwich fillers and cartoned egg whites and scrambled egg. And two new shell egg brands, Golden Yolks and Purely Organic have come on stream this year, to try and drive some much-needed value back into the egg sector.
Noble has four free-range packing centres in Fife, Cannock, Scarle and Witney. "The simple principle is we are able to cover the entire country," says Wood. "We are able to collect from the nearest farm then through outbound deliveries we service the closest customer depots from those sites, minimising the road miles and the movements."
The business also has a two colony sites. The biggest is in Nottinghamshire, with just over a million birds, which comprises a colony laying operation and an inline packing facility. A second smaller operation is in Scotland and it also has a number of contract colony producers around the country, both laying and packing in line. All of this packed product is then brought into the four free-range packing centres so customers get a one-stop shop with mixed deliveries of free-range, colony, organic and barn production.
THE MOVE TO CAGE-FREE
Over the next few years the egg industry will undergo one of the biggest changes since battery cages were phased out in 2012, as all of the major retailers move away from colony cage egg production by 2025. Since retailers first announced the move, the industry has been debating how to proceed.
Many producers will switch to barn production, but industry-wide standards are yet to be fully hammered out. Noble has decided to trial a higher welfare aviary barn system, with equipment supplied by Vencomatic, in order to satisfy NGOs such as Compassion in World Farming and try and make sure that any investments in new systems aren't kyboshed by public demands for even higher welfare. It's currently trialling the new veranda and aviary barn in Nottinghamshire before deciding how to proceed.
On the morning of my visit, unconfirmed reports emerged than Sainsbury's had decided to delist barn eggs and would be moving to a free-range only position. Moluluo was in the dark, but said it would be "no great surprise" if it did happen.
THE FUTURE OF BARN STANDARDS
Noble supplies around 10% of Sainsbury's own label eggs, and a larger chunk of branded, and Moluluo estimates Noble's eggs account for around 20% of Sainsbury's egg sales. "From an own label perspective, I would imagine there would be more strategic suppliers with a significantly higher share than ourselves, who if it were true, those packers would be more heavily impacted. If it's true, I'm sure we'll find out in the coming months. 
"As for what other retailers think, if you look at Aldi, Lidl, Tesco, Morrisons, Iceland, Farm Foods and their percentage of caged, they're significantly more exposed than Sainsbury's, and if you look at the demographic breakdown of those shoppers of those retailers versus Sainsbury's it skews towards more economic products, so they're in a very different position.
"Fundamentally, all the research we've done over the past two years indicates that although animal welfare is an important factor for a majority of people, there is still a demand and a desire for an entry level egg. Our research shows between 20% and 25% will still buy into entry tier if it remained as colony, or transition to barn [if colony is unavailable]. That tallies with research that's been done by large retailers more recently. "If you look at foodservice or food manufacture, a high percentage is cage or barn. The ball's already rolling. Barn is already being put into place. The welfare standard we get to is critical though."
RULING OUT COMBI CAGES AND FREE-RANGE
After considering options including combi cages, where the fronts of existing colony cages are simply removed, the Noble team decided any barn system they used would have to be a demonstrably higher welfare option than colony. "It wasn't about just looking at the assets we had, ripping cages out and filling every square foot with birds and calling it barn," says Moluluo. "That would have been disingenuous to consumers. If we weren't going to go fully free-range we had to make sure the barn systems deliver from an animal welfare perspective while also allowing us to market egg cheaper than free-range so it doesn't defeat the object.
"Also, we had to make sure the structure of the facility delivered for the birds and allowed them to exhibit natural behaviour. So, what's important for that is integrated nest boxes, to go somewhere and lay their eggs in an environment that feels more natural to them and with feeders and drinkers on every level. The ability to move around the system, to perch and roost, these things were very important. We did a lot of work with Big Dutchman and Vencomatic and both their systems were excellent and could have met the requirement. "We chose to go with Vencomatic, partly because we liked the veranda aviary 2 system when we went out to see them in the Netherlands, and partly because the infrastructure of the sheds that we would be converting from colony into aviary lent themselves to that at this time as well."
In developing the new trial barn, the company has worked closely not just with retailers but also NGOs. "We have spoken to RSPCA Freedom Foods, although they've had little involvement in the most recent development. CIWF have been heavily involved in developing a standard they think will give longevity and allow producers to invest with confidence and I think that's the critical thing," Moluluo says. "The industry invested £400m in colony cages and I imagine there's going to be some significant write downs between now and 2025." He adds if the whole colony sector converts to barn, the cost is likely to be in the region of £200m, so it's crucial whatever system is chosen has longevity.
As well as investing in barns, Noble has had to look at rearing systems. "That's what unique about the investment we're making in to the Vencomatic veranda aviary 2 laying system; we're also coupling that up with the same Vencomatic rearing system," says Moluluo. "It's critical because it's fair to say in the UK from a rearing perspectivewe're significantly behind our European counterparts. I don't think we prepare our birds as well as they do and I don't know if that's because there's a reluctance to pay the pullet costs.
"If we are to roll this out into just more than one shed, we will always demand whoever we partner up with understands we also need the rearing system alongside the laying system to get the birds to perform in the right way. We offset some of the fact we are going to reduce stocking densities with a bird that will perform and gives us the welfare outcomes."
OVERSUPPLY
Aside from the huge challenge of transitioning away from cages, Noble is also grappling with the oversupply of egg in the marketplace, as farmers have increasingly diversified into egg as a way to spread their investments. "If the market is oversupplied, the pressure bears when we come to negotiate retail contracts," says Moluluo. "You can't blame the retailers, if there is an oversupply in the market, they will look to benefit from it.
Any buyer worth his or her salt will track the market and buy products at the optimum. If you look at deflation over the past three or four years and look at the price of eggs in the nine years I've been in this industry, the only beneficiary in all of this is the consumer. "We're still growing so we're in a better position than some other commodity products, but the market has to find better ways to regulate production being brought on."
Producer organisations such as the British Free Range Egg Producers Association have been critical of packers, arguing producers are getting a raw deal when prices fall, and arguing contracts are often weighted in packers' favour. Moluluo says its important any producer considering entering the egg market should talk to a packer first. "Ensure that demand is there and is real, and fundamentally set up with at least an outline view of what a contract would look like. That contract should be formalised before any investments are made in my opinion," he says.
A DIFFICULT SUMMER
"The oversupply situation I think it will get worse before it gets better," adds Moluluo. "This summer will be a very difficult summer, mainly from a free-range perspective. The colony market seems to have regulated itself, and it will be interesting to track that as we start to see more barn conversions heading into 2020. With free range we're in for a tough summer.
The wave of requests for new sheds seems to have slowed, however a lot of sheds are in the pipeline and when the egg hits the marketplace we could see issues into next year. "But as long as the market is growing, at some point we will re-find and element of balance. The last two to three years has certainly been out of kilter, and I can only blame Brexit and the move to cage-free."
MORE BRANDS
While all of this plays out, Noble is working hard to try and drive some value into the market, in the way it has pioneered over the past two decades – through brands. Purely Organic is now stocked in 200 Nisa, Morrisons and Tesco stores, and Noble expects this to grow. It's aimed at shoppers who value small family farms, biodiversity and rustic packs. "We really pared down the design, the word pure came up so many times in our research."
The second brand is Golden Yolks, which was established when a gap was spotted in the marketplace. Moluluo says: "There's significant price different between free-range and the likes of Clarence Court and Heritage. When you map out the relative price points, and why people pay more, the key difference was the golden yolk. The yolk was the moment of truth." So the eggs are produced on small farms, family run with natural feed. "We aim for a roche score of 12-13, not quite as dark as Clarence Court. Free range typically has a yolk with a roche score of 10 so this product is visibly different."
Moluluo believes Noble Foods has a considerable role to play in shaping the egg industry overall. But he's positive about how that position can benefit other businesses. "I feel Noble is a great business and at its best it supports the growth of the whole industry," he says. "The consumer is having a great time of it and we're not helping by oversupplying the market with too much raw material. But when you look at all the opportunities and when you look at consumption on continental Europe and the US, there are lots of opportunities." 
NOBLE FOODS, A FULLY INTEGRATED BUSINESS 
FARMS: In addition to its own farms that supply around 15% of its needs, Noble is supplied by over 340 producers, some of whom have more than one farm; in total Noble collects eggs from more than 385 locations, from the Highlands of Scotland to Cornwall.
FEED MILLING: The business manufactures around 750,000 tonnes of feed every year from five feed mills, supplying poultry and pig feed to livestock producers throughout the UK, as well as being able to supply home mixers with straight raw materials.
BRANDS: Happy Egg, Big & Fresh, Heritage, Purely Organic, Golden Yolks and supermarket own label are all supplied by Noble Foods.
MANUFACTURE: Eggs graded as seconds are sent on to Noble's manufacturing business. In the UK, Gü is now the number one premium dessert brand with well over 20% market share, while in France and Germany Gü is the second largest premium chilled dessert brand.
SALES & PROFITS FOR 2017 (The most recent year figures are available): Total sales were £305.3m, with a pre-tax profit of £2.2m. The annual report describes the marketplace as challenging but the directors said they were pleased with the results