Automation in egg processing and packaging is a major priority for many UK egg packers, and the technology is improving all the time.
How much more sophisticated can egg graders become? According to Moba, the industry has only just begun to realise the possibilities offered by sensor technology to detect cracks and shell strength in increasingly useful ways. By making use of more powerful computers to analyse multiple sensors, "things that were impossible a few years ago are almost within reach" according to the Dutch manufacturer of egg grading, packing and processing machines.
"Fusion of multiple sensor signals in the smart sorting algorithm of a grader results in better product quality, less waste of eggs and, in the end, more profit and a lower ecological footprint since the capacity of a flock increases," according to Moba. "One might think that there's not much left to be invented for egg grading, but that is far from the truth."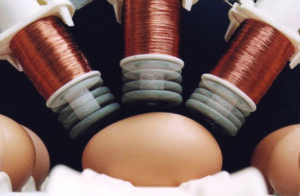 And then there are systems using vision technology. Moba was the first to apply vision technology for detecting leakers and removing them via an outlet very early in the process. The company says it is actively pursuing the capabilities of vision technology, because hairline cracks are often hardly visible to the human eye.
Vision technology is also being employed on equipment such as case inspectors. The most advanced machines can pack 900 full cases per hour and 1,600 half-cases per hour. The required product information, including a barcode, is marked to ease further identification, for instance at the palletiser. The product can be marked with a printed label or with direct print on the box. Vision technology is applied for the identification process. A camera makes an image of the top layer of the case and compares it against images stored in the database.
Measuring shell strength is another recent breakthrough, using magnetic driven probes. Moba introduced this technology last year and a handful of early adoptors have been enjoying the benefits of controlling their flocks in a better way, having better tools for improving the laying period of a flock and being able to filter weak-shelled eggs from premium products.
Examples suggest that when a supply of eggs is regarded as "unusable for grading", this is usually caused by less than 20% of the eggs. The remaining 80% are still of good quality, and by using the shell strength feature to remove the bad eggs, profits are increased dramatically for such a supply.
At Noble Foods' egg packing centre in Scarle, Lincolnshire, work is under way on a 10,000 sqft extension that will form part of a total overhaul of the site. By February next year close to £16 million will have been spent on automating nearly every process inside the Scarle site, which is one of four main free-range egg packing centres operated by the UK's biggest egg company. It's just one example of how the UK's biggest egg packers are investing in new technology.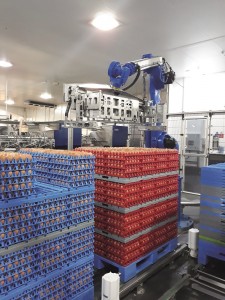 Veli Moluluo, managing director of Noble Foods' consumer food division, says just five years ago, the investment in automating the Scarle plant wasn't on the table, because labour had never been an issue. Now though, the situation is very different. "Availability [of staff] is really beginning to tighten," he says. "To some extent the commitment to invest is a necessity. Businesses don't invest if they don't have to. It is as much a defensive investment as anything else."
Machinery companies are responding by developing equipment that aims to provide ever more efficient production. This is happening both in egg packing, where increasingly whole lines are being automated. But it's also happening in egg processing, where efforts are being made to make marginal gains in yield and efficiency from the raw product.
Earlier this year, Sanovo launched a new system called ProductRecovery, which aims to avoid all waste in liquid egg production, avoiding the 0.5% – 1.0% of the liquid product that is typically lost during processing.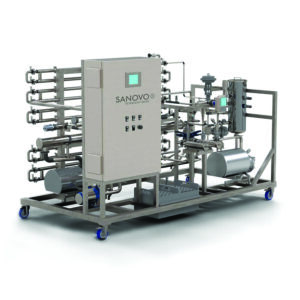 Before liquid egg production starts, pipes are filled with water, and then when production starts the water is pushed out by the liquid egg. When production ends, water is used to push the product out of the pipes. In both phases, water gets mixed with liquid egg and is usually considered loss.
The new system restores the solid content of the watery egg coming from the filling and emptying phase of any line – both raw and pasteurised. Instead of draining, it takes the water product mix and recovers the liquid egg product, which can then be integrated again into the production process. Sanovo says the recovered product performs as well as the original product.
LJ Fairburn & Son is another company making a big investment. It is one of the largest independent egg producers, packers, and suppliers in the UK – delivering more than 17 million eggs a week to leading retailers. Over the past 12 months, Fairburn's has invested almost £4 million across its entire business.
Focusing predominantly on the packing centre, Fairburn's hopes to invest in more robots at the end of the line for pallet stacking and order picking. Robotic forklifts to stack and pick are also being considered. Automation has been particularly important because the business handles so many different types of egg – 84 in total – from Taste the Difference Golden Yolk for Sainsbury's to Asda Extra Special, organic, blue eggs, and dozens of other lines for different retailers.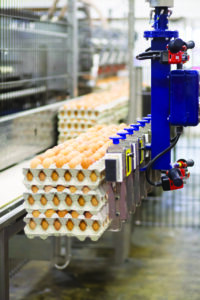 New Moba graders have been installed and two more are on the way, plus £2 million has been ploughed into robotics. "People can't physically pack eggs quick enough to keep up with capacity so the robotics just help us increase efficiencies, and they make everything run a lot more efficiently in the packing centre," says Sarah Louise Fairburn. "And because we've got such an increased growth in demand from customers, we need that. Literally every penny we're making it's going straight back into the business and that's the way it's going to continue.