Cobb veteran of 25 years and self-described "Suffolk farmer boy" Roy Mutimer has returned to East Anglia after a decade in Arkansas to take on the role of general manager of the EMEA region. In the midst of a global pandemic and with the threat of a no-deal Brexit hanging over the industry, his mission is to increase Cobb's market share to 50% within five years. He tells Chloe Ryan how he plans to do it
After a decade in Arkansas at Cobb's North America headquarters, Roy Mutimer has returned to East Anglia and his home county of Suffolk. He was appointed head of the Europe, Middle East & Africa (EMEA) region in April, as part of a new management team including sales and technical director Matthew Wilson.
Mutimer has relocated halfway across the world and his first priority is "reconnecting with everybody, as challenging as that is with all the COVID restrictions." "There are many, many familiar faces in our customer base and in our team that I know very well from times past and step one is to reconnect with everybody," he says.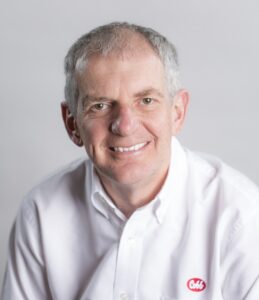 After that, the next stage is laying the foundations for the business to grow market share across the EMEA region. In the UK, Cobb is the second largest supplier of day-old chicks to the broiler market after Aviagen. "I want us to be more than 50% market share across EMEA and to me with the resources we have at the moment that is very doable, but I accept that is not where we are at the moment," Mutimer says. "Something I have learnt is in my role I need to be listening to customers and hearing what their needs will be. We are in the long-term business so the more insight we can get into the future the better."
What does Mutimer think UK broiler chick customers want from Cobb? "It goes without saying, everyone wants everything," he says. He adds robustness and animal welfare as essentials, then says reliability is crucial: "We need to be a reliable supplier."
LACK OF CLARITY
Reliability is obviously a complicated topic, given all the disruption caused by COVID-19. The pandemic has not only made normal working life far more difficult, with all technical support and meetings (including this interview) conducted via Zoom, but the transport of chicks and hatching eggs from the UK to other markets has been severely affected by the reduction in flights. "We cover a pretty diverse region geographically, but also in how the industry is set up.
Serving some of those more distant markets when we rely on air freight has created some problems," says Mutimer. "We ship chicks and hatching eggs and we use a combination of cargo freighters and wide-bodied passenger planes."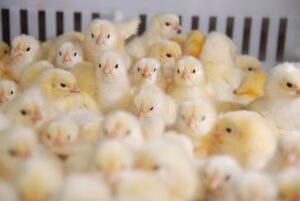 The restrictions have meant the company has had to adapt, but even with the resumption of many flights, things are still far from normal. "I am fortunate to have an extremely talented export team," he adds. "We have changed the mix of chicks versus eggs a little bit. We have made it work, and whether it is putting more on freighters or working with the airlines on the routes that are available, our customers have been very supportive."
BIOSECURITY
Strict biosecurity measures are already in place on Cobb's breeding farms, such as shower-in, shower-out facilities. Mutimer says: "In terms of the day-to-day production of hatching eggs and chicks, I think we have escaped relatively unscathed."
Technical support is now based around Zoom and webinars and using cameras so "our guys can see what is remotely going on in other facilities. So, we are trying to deal with those challenges but it is not quite the same as being physically together," says Mutimer. And, of course, disruption further down the supply chain, in poultry processing plants and in foodservice companies, has fed back down the chain to Cobb, affecting the number of chicks they need.
Different countries have faced different challenges, says Mutimer, with tourist economies such as Turkey and Mediterranean countries seeing a huge drop in demand for poultry in restaurants and hotels. "We are still in the middle of it and, honestly, I wouldn't want to predict where it is going to finish. I don't think anyone knows what the new normal is going to be," he adds.
And then there's Brexit. It is still unclear whether a trade deal will be agreed with the EU before the end of the year, meaning there is a risk of additional time-consuming veterinary checks at borders on the day-old chicks Cobb ships around the world.
Mutimer says the main challenges around Brexit are in the supply of day-old chicks from the UK to the rest of Europe, the Middle East and Africa. "A hard Brexit, if that introduces a lot of additional veterinary health legislation with customs checks, does present a challenge for us in the UK. But we have faced challenges before that this won't be a new one," he says. "The plea from me would be let's have some clarity as soon as possible, then we can work out how we deal with the eventual Brexit fall out. For us as a company, supplying UK customers poses very little challenge because we have a UK production footprint."
AMERICAN CHICKEN
After a decade in Arkansas, Mutimer is well placed to discuss the differences between the US market and the European market. He says the most significant difference is the sheer scale on which chicken is produced in America, and the economies of scale that produces. "Whether it is feed, raw materials, logisitics, all those translate to a very significant advantage in terms of cost of production," he says.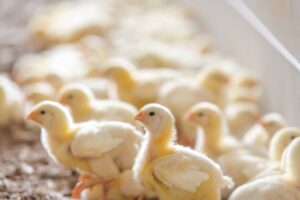 "The soya and the corn are grown locally so that is another big advantage." He notes that "because of those advantages they haven't had to be so innovative as in western Europe, places like Holland in particular." But he suggests they are ahead of the curve in processing technology, and "really maximising the value from the chicken meat they produce."
Mutimer says because of the scale of production in America, and a "lighter touch in terms of regulation", it is sometimes "easy to underestimate the level of skill and professionalism the US industry has." But he says: "They are totally focused on supplying what their customer needs, just as we would in Europe. But to assume they don't have food safety rules or environmental rules, that would not be correct. They are there and are increasing."
What about chlorinated chicken? Mutimer says he sees the logic in using a process "at the end of the processing plant rather than the farm to fork" to tackle salmonella, listeria and campylobacter, but adds that "realistically in western Europe that is just not acceptable."
IMPROVING ANIMAL WELFARE
One of Mutimer's new responsibilities is to lead the company's efforts on improving animal welfare. He believes that the industry in general and breeding companies, have all done a pretty good job of improving the welfare outcomes chickens.
Mutimer describes animal welfare outcomes as being "an interaction of genetics and environment." "Those two are always key predictors of the outcome you are going to get. So in our world we want to be doing the right thing around genetics and improve the outcomes. We know our customers want to do what they can to ensure the environment is optimal to contribute to that desired outcome.
"We are working with customers on improving infrastructure and management. Because at the end of the day the level of stockmanship that is out there today compared to what it was years ago is noticeably improved and that makes a big difference on animal welfare outcomes."
RESPONDING TO THE BETTER CHICKEN COMMITMENT
The Better Chicken Commitment (BCC) is one of the biggest issues in the broiler industry at the moment. It was devised by a group of European welfare organisations, including the RSPCA and Compassion in World Farming, and urges the adoption by 2026 of additional standards for chicken production which exceed the requirements of current legislation in the UK and the voluntary standards set out in the Red Tractor assurance scheme.
One of the key components is the use of slower growing breeds. Many foodservice brands and retailers have signed up to the scheme, and up to 25% of production at some processing plants in the UK is now BCC. So how will this affect breeders such as Cobb? "We know we need to have an offering in the slower growing sector," says Mutimer.
"Our main focus is ensuring every bird we produce has a good welfare outcome and is robust and is able to deliver that in a whole range of environments. But we know that there will be a portion of the population that will want something different. For us that is not a big problem. We believe we are in a position to provide whatever the consumer wants."
"A portion of the population is going to want slower growing," he adds. "To me, we are all about providing what the end consumer wants. The challenge is then if we go into the slower growing market, how do we balance the environmental elements that are not so positive around production systems."
Does this mean Cobb will be developing a new slower-growing bird aimed at BCC growers? Mutimer cites Cobb's current collaboration with Sasso, and the slower growing bird the companies already market, but adds: "There will be efforts to make sure that we are able to cover future developments in that area."
Mutimer says it is "too early in my role here to get into the details" of whether that means a new bird entirely, but he adds: "We will look to play in that area, and we understand it is something that a portion of supply will require."
YOUNGER PEOPLE
Another major challenge facing the industry is how to recruit talented young people to come and work in the poultry sector. The British Poultry Council is running an awareness campaign around the #goodjobs available in the poultry industry, and Mutimer is in full support.
He adds: "I'm a microbiologist and have had an amazingly diverse career – nutritionists, veterinarians, food technologists, the career options are just amazing. In many areas I don't think our industry has told an excellent story about all the good things we do. We are all aware that sometimes we stumble and there are people who are not keen to portray us in a good light but really if you look at what we do and how we do it, particularly in the UK, we have got a great story to tell.
"As our industry has become more sophisticated, the level of expertise in our industry and the diverse specialisms that have come together to deliver the successful outcome, that has been quite a change. I encourage people because there are just some amazing careers in the chicken industry today.
"There are good careers in processing plants or on a hatchery or a farm. But all the other support disciplines that go into delivering a great outcome are opportunities too. I really encourage young people to seriously think about our sector."
He also thinks it is important the industry answers its critics head on, and counters misinformation with openness. "In my welfare role I have seen some surveys and to me it is shocking how many people think that broiler chickens are grown in cages," he says. "We must work out how we connect with the younger generation today and tell our story and try and have a meaningful dialogue and understand how the consumer sees the future."
BIGGEST CHANGES
During his 25 years with Cobb, Mutimer has seen many changes. But one of the biggest for him is how much more efficient broilers have become over the past few decades. "To me it is a great environmental story," he says. "Those gradual year-on-year improvements, if you add those all up in terms of carbon footprint and less damage to the environment, while feeding a lot more people nutritious protein, it is amazing.
The feed industry nutritionists have played their part in achieving that. It is not just the breeding companies that have achieved that." Other challenges he is anticipating for Cobb are similar to what the whole industry is facing: "Our costs are going to continue to increase and our consumers are going to continue to have higher expectations."
But he is keen to begin. And he is also happy to be home. "I am a Suffolk farmer boy and it is good to be back with my family," Mutimer adds. "There is no shortage of food in Arkansas but they don't have fish and chips, and fried catfish isn't quite the same as fish and chips on the Suffolk coast. That is something I am looking forward to."