Pankaj Pancholi has reaped the rewards of his hard work and innovation in creating a pre-packaged poached egg that isn't just round
By Rachael Porter
Pankaj Pancholi sees his company's win at this year's National Egg & Poultry Awards as a victory for all small businesses. "There's not enough championing of smaller business like ours – it's usually all about the big boys, so it's good to be on the map and flying the flag," he says.
Having said that, Just Egg Chilled Foods – winner of the Innovation of the Year category for its pre-packaged poached egg – is no small fry. It processes between 1.2 and 1.5 million hard-boiled eggs each week. The business also produces between 20 and 25 tonnes of egg mayonnaise each week. And it has a nationwide customer base. Pancholi has a degree in microbiology and has worked in the egg industry for several decades.
He set up Just Egg in 2002 and built a plant to process hard-boiled eggs, as well as manufacture egg mayonnaise, on an industrial estate in Leicester. "Many people didn't take me seriously.  It took me six months to set up the plant  and I sank everything into the business," he says. "I even re-mortgaged the house and joked with my wife, Bina, that we could end  up living in a council house if it didn't work out. But deep down I knew that it would succeed. I have very good knowledge of,  and experience in, the industry."
Suffice to say Pancholi's business took off and he supplies to makers of Scotch eggs, sandwiches and sandwich fillings, salad bowls, gala pies, pasta pots and pickled  eggs. One of the keys to success was an efficient production line. "I built a plant that was fast, reduced waste, and would easily meet all the food hygiene standards and regulations," he says.
He also adopted an egg-shelling system he'd seen in Germany, developed by EBM. "It was more efficient than systems being used in the UK and was easy to clean and run,' he says. Another opportunity with the new plant was to change the packaging system.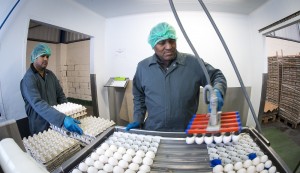 At that time, hard-boiled eggs were supplied in large 10-litre plastic buckets. "That's a lot of plastic waste, taking up a lot of space. It had to be recycled, too – usually at a charge from the local authority,' he says. "So I thought about this and came up with a different solution." His eggs are now supplied in 'pillow packs' that are packed in cardboard trays. "The cardboard is easy to recycle and the pillow packs are low cost, lightweight and are also easy to recycle. Again, all the other companies now package their eggs this way. 
The development of a pre-packed poached egg began in 2016 when Pancholi was asked by a friend, who worked for a large sandwich shop chain, if he could supply pre-cooked poached eggs. "At the time, they were importing eggs from France. He said if anyone could do it, it would be me. I took that as a challenge and, with my experience and some help from him, we managed to crack it – if you'll pardon the pun – in 2017," he says.
That was only the start, though. The poached egg was round, to complement the shape of a burger patty. "But the higher-end restaurants and outlets wanted an ovalshaped poached egg. So that was the next thing we perfected, and launched it in 2019." All the eggs used at the plant are Grade 1 Class A British free-range eggs. "We cook either small or medium eggs for hard-boiled, depending on their end use. And poached eggs are large or medium."
The poached eggs are pasteurised in the process and no additives or preservatives are used. "If you look on the packaging it just says 'egg' – that's it. And we're proud of that," he says. The poached eggs, which are also sold through supermarket outlets, can be eaten cold. "But they're better warmed – and served on toast," he says, adding that they only need to be warmed in water for  between three and five minutes. "Poached egg sounds simple, but you  can either make them or you can't.
For restaurants wanting a quick, uniform dish, this is the way to serve up a perfect poached egg – every time. "I think that's why they're going down so well – particularly with consumers," adds Pancholi. "Whatever I produce, I do it with the person who is going to actually consume it in mind. Not the retailer. "If the consumer has a bad experience they won't buy it again.  So I have to meet their needs first."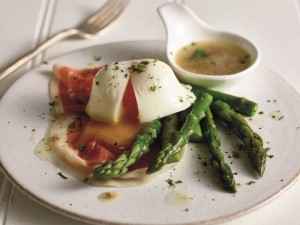 Pancholi's favourite way to eat eggs is fried. So, is that the next pre-packed egg product he'll be working on? "No," he laughs. "We're still focusing on poached eggs for now – there's plenty of growth in the market yet. And hardboiled eggs are always going to be our biggest volume in terms of production – they are our bread and butter."
At the moment, the plant runs for 50 hours a week to produce poached eggs, compared to 80 hours for hard-boiled. "So poached eggs are still a much smaller part of the business, but growth has been rapid," he says. "And, depending on what happens with Brexit, there could be further growth if more restaurants and high-end cafés look to source their poached eggs from the UK."
The plant employs 64 staff – Pancholi took on an additional four full-time members of staff to produce poached eggs. And his sons are now working in the business, too. The youngest, Sagar, has been with Just Egg for 10 years and is in charge of food tech. And the eldest, Nishal, came back from London, where he was working as a computer engineer.
Their combined focus, for now, has swung back to hard-boiled eggs. Pancholi is in the process of building a new and more efficient plant, next door to the existing one, which should triple productivity. "And we'll keep the plant we're using now for poached egg production – we're not standing still," he says.
So what of the innovation award – what does it mean for the business? "It's always great to be recognised by the industry and your peers for a good idea, a great product and sound business acumen," he says. "And we really were thrilled to win. "But the best thing about it for me is that it underlines that you don't have to be a huge company to win an award and have an interesting and innovative product. I feel like we were representing all the other smaller companies in the egg and poultry industry that are doing great things and often fall under the radar."
EGGSHELL RECYCLING PROGRAMME
Just Egg is also working on a project to recycle eggshells – or more specifically calcium carbonate. Around 12% of an egg is its shell. "And I thought that rather than throwing it away, there had to be a use for it," says Pancholi.
He spoke to the chemistry department at Leicester University and, with funding from Just Egg, they have developed a technique to turn the shell into calcium carbonate. But what to do with it? There are several projects going on at the moment, to find the best use for this pure form of calcium carbonate – from making top-quality glass wear and extra 'grippy' tarmac, through to making compostable bowls and spoons, and porous concrete blocks that can support plant life without crumbling – perfect for 'green' walls and buildings.
"Work is still on going so, for now, we have seven tonnes of calcium carbonate in storage, says Pancholi. "We also have to find out if this is classed as an animal by-product. But we also know we won't get any answers from anyone in authority on this until Brexit has been dealt with. "But it'll be exciting when we do get to move this project forward. And it will reduce the cost of waste disposal, recycle a valuable resource, and will also be much better for the environment," adds Pancholi.