Brexit: Ingredients for success' – that's the theme of this year's NFU Conference at the ICC in Birmingham, which kicks off today, 21 February 21.
NFU President Meurig Raymond will set the scene with an opening address from 10.15am. Delegates will then get an idea of the sort of legislative framework which might emerge during the crucial post-Referendum period when Defra Secretary of State Andrea Leadsom takes the stand (from 10.35am).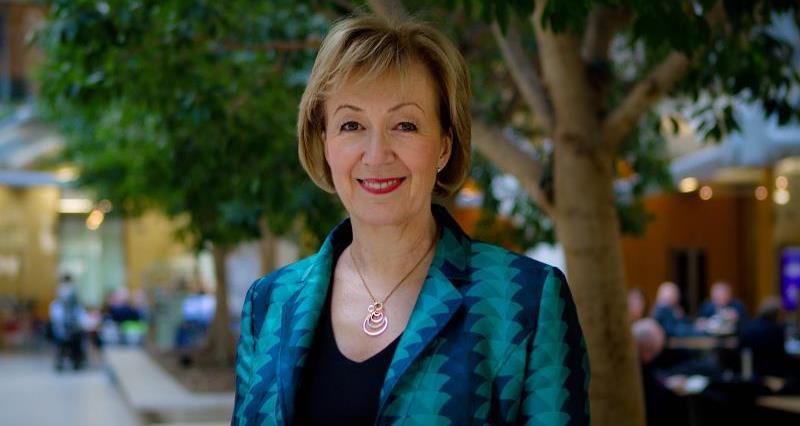 Defra Secretary of State Andrea Leadsom
Then it's on to the farming bottom line.
Trade and Investments (11.30am – 12.30am) looks at the external factors which will determine how future farmers fare. NFU Deputy President Minette Batters chairs a sessions featuring expertise from the Food and Drink Federation director general, Ian Wright, and Allie Renison, head of European and trade policy at the Institute of Directors.
In a departure from the traditional programme, the commodity breakouts move to day two. That means three cross-sectorial workshops run after lunch (from 2.15pm), focusing on the themes Produce, Trade and Consume.
The Produce session aims to present a picture of the pipeline from science-based policy and regulation to the adoption of innovative practices on-farm. In short – how can the research and policy landscape better deliver gains in both productivity and environmental performance? Defra's chief science adviser Prof Ian Boyd joins Calum Murray from Innovate UK, the AHDB's chief technical officer, Richard Laverick, and Jake Freestone of Overbury Enterprises.
What will our access to European markets look like? That's the top question for panellists in the Trade session. It will feature views from those working to open up external markets and who are already trading agri-food products. Wyke Farms' Richard Clothier will share knowledge along with Karen Morgan, agriculture and food counsellor in China at the UK Embassy, USDA's Stan Phillips and Alexander Downer, high commissioner to the United Kingdom for the Australian government.
The Consume workshop, meanwhile, is all about the characteristics and trends that will drive our marketplace. What does the food industry think will be the next big thing (and how will it impact farming)? What are the emerging expectations of shoppers on their food producers? Is artisan food or commodity production the key to thriving in the 2020s? Top thinkers from Nestle (Robin Sundaram), Red Tractor (Jim Moseley), Kantar (Nathan Ward) and EFFP (Stuart Thomson) will scan the agri horizon.
Day One is rounded off with Competitiveness: Keeping ahead of the game (4.15pm). Harper Adams University's robotics and automation expert, Prof Simon Blackmore, covers the technological advances, with winning advice from W Bradshaw & Son's Tom Bradshaw, David Speller of Allied Group, Harry Hall (Hall Hunter Partnership) and Andrew Griffiths of JM Griffiths & Son.